Abstract
In the present investigation, metabolites of Streptomyces sp. MTN14 and Trichoderma harzianum ThU significantly enhanced biomass yield (3.58 and 3.48 fold respectively) in comparison to the control plants. The secondary metabolites treatments also showed significant augmentation (0.75–2.25 fold) in withanolide A, a plant secondary metabolite. Lignin deposition, total phenolic and flavonoid content in W. somnifera were maximally induced in treatment having T. harzianum metabolites. Also, Trichoderma and Streptomyces metabolites were found much better in invoking in planta contents and antioxidants compared with their live culture treatments. Therefore, identification of new molecular effectors from metabolites of efficient microbes may be used as biopesticide and biofertilizer for commercial production of W. somnifera globally.
Access options
Buy single article
Instant access to the full article PDF.
USD 39.95
Price includes VAT (USA)
Tax calculation will be finalised during checkout.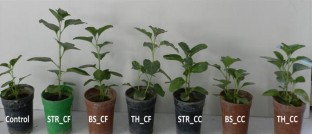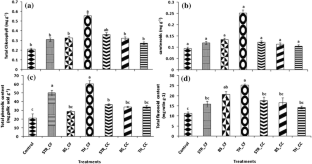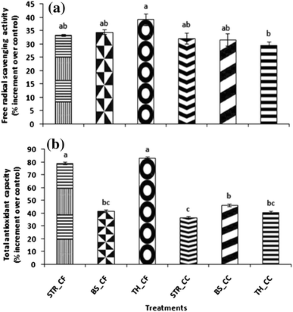 References
Ahuja I, Kissen R, Bones AM (2012) Phytoalexins in defense against pathogens. Trends Plant Sci 17:73–90

Arnon DI (1949) Copper enzymes in isolated chloroplasts, polyphenoloxidase in Beta vulgaris. Plant Physiol 24:1–15

Bhattacharya SK, Satyan KS, Ghosal S (1997) Antioxidant activity of glycowithanolides from Withania somnifera. Ind J Exp Biol 35:236–239

Borisova SA, Circello BT, Zhang JK, van der Donk WA, Metcalf WW (2010) Biosynthesis of rhizocticins, antifungal phosphonate oligopeptides produced by Bacillus subtilis ATCC6633. Chem Biol 17:28–37

Brand-Williams W, Cuvelier ME, Berset CLWT (1995) Use of a free radical method to evaluate antioxidant activity. LWT Food Sci Technol 28:25–30. doi:10.1016/S0023-6438(95)80008-5

Gupta R, Pandey R (2015) Microbial interference ameliorates essential oil yield and diminishes root-knot infestation in sweet basil under field conditions. Biocontrol Sci Technol 25:1165–1179. doi:10.1080/09583157.2015.1036728

Gupta R, Saikia SK, Pandey R (2015a) Bioconsortia augments antioxidant and yield in Matricaria recutita L. against Meloidogyne incognita (Kofoid and White) Chitwood Infestation. Proc Natl Acad Sci Ind Sect B: Biol Sci. doi:10.1007/s40011-015-0621-y

Gupta R, Tiwari S, Saikia SK, Shukla V, Singh R, Singh SP, Ajay Kumar PV, Pandey R (2015b) Exploitation of microbes for enhancing bacoside content and reduction of Meloidogyne incognita infestation in Bacopa monnieri L. Protoplasma 252:53–61. doi:10.1007/s00709-014-0657-5

Gupta R, Singh A, Pandey R (2016) Microbes based technology ameliorates glandular trichomes, secondary metabolites and antioxidant in Pelargonium graveolens L'Her. J Sci Food Agric. doi:10.1002/jsfa.7617

Harman GE, Howell CR, Viterbo A, Chet I, Lorito M (2004) Trichoderma species—opportunistic, avirulent plant symbionts. Nat Rev Microbiol 2:43–56

Kothari SK, Singh CP, Vijay Kumar Y, Singh K (2003) Morphology, yield and quality of ashwagandha (Withania somnifera L. Dunal) roots and its cultivation economics as influenced by tillage depth and plant population density. J Horticul Sci Biotechnol 78:422–425

Leclère V, Béchet M, Adam A, Guez JS, Wathelet B, Ongena M, Thonart P, Gancel F, Chollet-Imbert M, Jacques P (2005) Mycosubtilin overproduction by Bacillus subtilis BBG100 enhances the organism's antagonistic and biocontrol activities. Appl Environ Microbiol 71:4577–4584

Lichtenthaler HK, Wellburn AR (1983) Determinations of total carotenoids and chlorophylls a and b of leaf extracts in different solvents. Biochem Soc Trans 11:591–592

Lugtenberg B, Kamilova F (2009) Plant-growth-promoting rhizobacteria. Ann Rev Microbiol 63:541–556. doi:10.1146/annurev.micro.62.081307.162918

Malfanova N, Franzil L, Lugtenberg B, Chebotar V, Ongena M (2012) Cyclic lipopeptide profile of the plant-beneficial endophytic bacterium Bacillus subtilis HC8. Arch Microbiol 194:893–899

Mishra LC, Singh BB, Dagenais S (2000) Scientific basis for the therapeutic use of Withania somnifera (ashwagandha): a review. Alter Med Rev 5:334–346

Nautiyal CS, Govindarajan R, Lavania M, Pushpangadan P (2008) Novel mechanism of modulating natural antioxidants in functional foods: involvement of plant growth promoting rhizobacteria NRRL B-30488. J Agric Food Chem 56:4474–4481

Pathma J, Rahul GR, Kamaraj KR, Subashri R, Sakthivel N (2011) Secondary metabolite production by bacterial antagonists. J Biol Control 25:165–181

Prapagdee B, Kuekulvong C, Mongkolsuk S (2008) Antifungal potential of extracellular metabolites produced by Streptomyces hygroscopicus against phytopathogenic fungi. Int J Biol Sci 4:330–337

Rajasekar S, Elango R (2011) Effect of microbial consortium on plant growth and improvement of alkaloid content in Withania somnifera (Ashwagandha). Curr Bot 2:27–30

Reino JL, Guerrero RF, Hernández-Galán R, Collado IG (2008) Secondary metabolites from species of the biocontrol agent Trichoderma. Phytochem Rev 7:89–123

Sarma BK, Yadav SK, Singh S, Singh HB (2015) Microbial consortium-mediated plant defense against phytopathogens: readdressing for enhancing efficacy. Soil Biol Biochem 87:25–33. doi:10.1016/j.soilbio.2015.04.001

Scartezzini P, Antognoni F, Conte L, Maxia A, Troia A, Poli F (2007) Genetic and phytochemical difference between some Indian and Italian plants of Withania somnifera (L.) Dunal. Nat Prod Res 21:923–932. doi:10.1080/14786410701500169

Shrivastava AK, Sahu PK (2013) Economics of yield and production of alkaloid of Withania somnifera (L.) Dunal. Am J Plant Sci 4:2023–2030

Singh A, Sarma BK, Upadhyay RS, Singh HB (2013) Compatible rhizosphere microbes mediated alleviation of biotic stress in chickpea through enhanced antioxidant and phenylpropanoid activities. Microbiol Res 168:33–40. doi:10.1016/j.micres.2012.07.001

Singh A, Jain A, Sarma BK, Upadhyay RS, Singh HB (2014) Beneficial compatible microbes enhance antioxidants in chickpea edible parts through synergistic interactions. LWT Food Sci Technol 56:390–397. doi:10.1016/j.lwt.2013.11.030

Singh SP, Gupta R, Gaur R, Srivastava AK (2015) Antagonistic actinomycetes mediated resistance in Solanum lycopersicon Mill. against Rhizoctonia solani Kühn. Proc Natl Acad Sci Ind Sect B: Biol Sci. doi:10.1007/s40011-015-0651-5

Singleton VL, Rossi JA (1965) Colorimetry of total phenolics with phosphomolybdic-phosphotungstic acid reagents. Am J Enol Viticul 16:144–158

Tarkka M, Hampp R (2008) Secondary metabolites of soil streptomycetes in biotic interactions. In: Karlovsky P (ed) Secondary metabolites in soil ecology. Springer, Berlin, Heidelberg, pp 107–126

Verma P, Khan SA, Mathur AK, Ghosh S, Shanker K, Kalra A (2014) Improved sanguinarine production via biotic and abiotic elicitations and precursor feeding in cell suspensions of latex-less variety of Papaver somniferum with their gene expression studies and upscaling in bioreactor. Protoplasma 251:1359–1371. doi:10.1007/s00709-014-0638-8

Vinale F, Sivasithamparam K, Ghisalberti EL, Marra R, Barbetti MJ, Li H, Woo SL, Lorito M (2008) A novel role for Trichoderma secondary metabolites in the interactions with plants. Physiol Mol Plant Pathol 72:80–86

Vinale F, Ghisalberti EL, Sivasithamparam K, Marra R, Ritieni A, Ferracane R, Lorito M (2009) Factors affecting the production of Trichoderma harzianum secondary metabolites during the interaction with different plant pathogens. Lett Appl Microbiol 48:705–711. doi:10.1111/j.1472-765X.2009.02599.x

Vinale F, Sivasithamparam K, Ghisalberti EL, Ruocco M, Wood S, Lorito M (2012) Trichoderma secondary metabolites that affect plant metabolism. Nat Prod Commun 7:1545–1550

Wang SY, Zheng W (2005) Preharvest application of methyl jasmonate increases fruit quality and antioxidant capacity in raspberries. Intern J Food Sci Technol 40:187–195

Zhang H, Xie X, Kim MS, Kornyeyev DA, Holaday S, Paré PW (2008) Soil bacteria augment Arabidopsis photosynthesis by decreasing glucose sensing and abscisic acid levels in planta. Plant J 56:264–273. doi:10.1111/j.1365-313X.2008.03593.x

Zheng W, Wang SY (2001) Antioxidant activity and phenolic compounds in selected herbs. J Agric Food Chem 49:5165–5170. doi:10.1021/jf010697n

Zhishen J, Mengcheng T, Jianming W (1999) The determination of flavonoid contents in mulberry and their scavenging effects on superoxide radicals. Food Chem 64:555–559. doi:10.1016/S0308-8146(98)00102-2
Acknowledgments
The authors express their sincere gratitude to the Director, CSIR-CIMAP, Lucknow, India for providing necessary facilities during experimental period.
Author contributions
A.S., R.P.: Conceived and designed the experiments, manuscript writing. A.S., R.G.: Performed and conceptualization of the experimental data. M.S., M.M.G.: Performed and analyzed the HPLC data. R.P.: Critical revision of the manuscript. All authors read and approved the final manuscript.
Ethics declarations
Conflict of interest
The authors declare that there exists no potential conflict of interest among them.
Electronic supplementary material
Below is the link to the electronic supplementary material.
About this article
Cite this article
Singh, A., Gupta, R., Srivastava, M. et al. Microbial secondary metabolites ameliorate growth, in planta contents and lignification in Withania somnifera (L.) Dunal. Physiol Mol Biol Plants 22, 253–260 (2016). https://doi.org/10.1007/s12298-016-0359-x
Received:

Revised:

Accepted:

Published:

Issue Date:
Keywords
Microbes

Lignifications

Secondary metabolites

Withania somnifera