Abstract
Phenotypic variation of important seed traits like seed length, seed breadth, seed thickness, 100 seed weight and seed oil content were recorded in a total of 157 collected accessions of Pongamia. Out of these, fatty acid profiles of 38 accessions selected based on their high and low oil content was analyzed. Fatty acid profile revealed high variability in stearic, oleic and linoleic acid which varied from 0.42 to 10.61 %, 34.34 to 74.58 %, and 7.00 to 31.28 % respectively. Variations in palmitic and linolenic acid were small. Iodine value, saponification number and cetane number (CN) of fatty acid methyl esters (FAME) of seed oil ranges from 186.99 to 201.25, 81.13 to 108.19 and 46.16 to 56.47 respectively. Fatty acid compositions, degree of unsaturation and CN are the important parameters, which are used to determine quality of FAME were used as biodiesel. Some of the Pongamia accessions identified were higher in oil content while some accessions showed higher degree of unsaturation and a few of them had CN values higher than 55. Genetic diversity analysis with six TE-AFLP primers generated a total of 334 bands out of which 174 (52.10 %) were polymorphic. The genetic similarity ranged from 0.11 to 0.47. These findings clearly showed high level of genetic diversity and all economically desirable traits were not present in a single genotype of Pongamia. All these traits could be selected from these CPTs and transfer to a single elite variety through selection and breeding programme and could be utilized for large scale multiplication and plantation to produce high quantity and quality biodiesel in future.
Access options
Buy single article
Instant access to the full article PDF.
USD 39.95
Price includes VAT (USA)
Tax calculation will be finalised during checkout.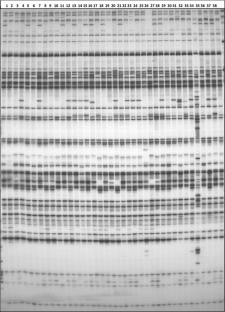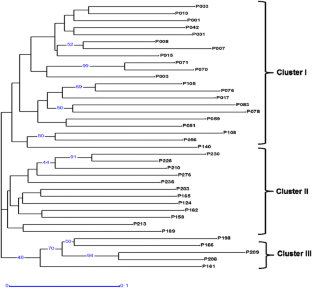 References
Arpiwi NL, Yan G, Barbour EL, Plummer JA (2012) Genetic diversity, seed traits and salinity tolerance of Millettia pinnata (L.) Panigrahi, a biodiesel tree. Genet Res Crop Evol. doi:10.1007/s10722-10012-19866-y

Azam MM, Waris A, Nahar NM (2005) Prospects and potential of fatty acid methyl esters of some non-traditional seed oils for use as biodiesel in India. Biomass Bioenergy 29:293–302

Bala M, Nag TN, Kumar S, Vyas M, Kumar A, Bhogal NS (2011) Proximate composition and fatty acid profile of Pongamia pinnata, a potential biodiesel crop. J Am Oil Chem Soc 88:559–562

BS (2002) Biodiesel Standard ASTM D6751, USA

Divakara BN, Alur AS, Tripati S (2010) Genetic variability and relationship of pod and seed traits in Pongamia Pinnata (L.) Pierre., a potential agroforestry tree. Int J Plant Prod 4:131–141

Elanchezhiyan M, Rajarajan S, Rajendran P, Subramaniyan S, Thyagarajan SP (1993) Antiviral properties of the seed extracts of an Indian medicinal plant, Pongamia pinnata, Linn., against herpes simplex virus: in vitro studies on Vero cells. J Med Microbial 38:262–264

Jaccard P (1908) Nouvelles rescherches sur la distribution florale. Bulletin de la Société vaudoise des sciences naturelles 44:223–270

Kalayasiri P, Jayashke N, Krisnangkura K (1996) Survey of seed oils for use as diesel fuels. J Am Oil Chem Soc 73:471–474

Karmee SK, Chadha A (2005) Preparation of biodiesel from crude oil of Pongamia pinnata. Bioresour Technol 96:1425–1429

Kaushik N, Kumar S, Kumar K, Beniwal R, Kaushik N, Roy S (2007) Genetic variability and association studies in pod and seed traits of Pongamia pinnata (L.) Pierre in Haryana, India. Genet Res Crop Evol 54:1827–1832

Kesari V, Rangan L (2010) Development of Pongamia pinnata as an alternative biofuel crop—current status and scope of plantations in India. J Crop Sci Biotechnol 13:127–137

Kesari V, Madurai V, Sathyanarayana Parida A, Rangan L (2010) Molecular marker-based characterization in candidate plus trees of Pongamia pinnata, a potential biodiesel legume. AoB Plants. doi:10.1093/aobpla/plq017

Krisnangkura K (1986) A simple method for estimation of cetane index of vegetable oil methyl esters. J Am Oil Chem Soc 63:552–553

Lakshmikanthan V (1978) Tree borne oil seeds. Directorate of non edible oils and soap industries, Khadi and Village Industries Commission, Mumbai, p 10

Martini N, Shell JS (eds) (1998) Plant oils as fuels—present state of science and future development. Springer, Berlin

Mukta N, Murthy IYLN, Sripal P (2009) Variability assessment in Pongamia pinnata (L.) Pierre germplasm for biodiesel traits. Ind Crops Prod 29:536–540

Naik M, Meher LC, Naik SN, Das LM (2008) Production of biodiesel from high free fatty acid Karanja (Pongamia pinnata) oil. Biomass Bioenergy 32:354–357

Pavela R (2009) Effectiveness of some botanical insecticides against Spodoptera littoralis boisduvala (Lepidoptera: Noctudiae), Myzus persicae Sulzer (Hemiptera: Aphididae) and Tetranychus urticae Koch (Acari: Tetranychidae). Plant Prot Sci 45:161–167

Pavithra HR, Gowda B, Prasann KT, Shivanna MV (2013) Pod and seed traits in candidate plus trees of Pongamia pinnata (L.) Pierre from southern peninsular India in relation to provenance variation and genetic variability. J Crop Sci Biotechnol 16:131–142

Pavithra HR, Shivanna MB, Chandrika K, Prasanna KT, Gowda B (2014) Genetic analysis of Pongamia pinnata (L.) Pierre populations using AFLP markers. Tree Genet Genomes 10:173–188

Perrier X, Jacquemoud-Collet JP (2006) DARwin software, Version 5.0.158. http://darwin.cirad.fr/darwin

Sahoo D, Aparajita S, Rout G (2010) Inter and intra-population variability of Pongamia pinnata: a bioenergy legume tree. Plant Syst Evol 285:121–125

Sarkar AK, Deb DL (1984) Micronutrient cation extracting ability of some improved rice cultivars. J Ind Soc Soil Sci 32:115–119

Scott PT, Pregelj L, Chen N, Hadler JS, Djordjevic MA, Gresshoff PM (2008) Pongamia pinnata: an untapped resource for the biofuels industry of the future. Bioenergy Res 1:2–11

Sharma SS, Negi MS, Sinha P, Kumar K, Tripathi SB (2011) Assessment of genetic diversity of biodiesel species Pongamia pinnata accessions using AFLP and three endonuclease-AFLP. Plant Mol Biol Rep 29:12–18

Sharma SS, Aadil K, Negi MS, TripathI SB (2014) Efficacy of two dominant marker systems, ISSR and TE-AFLP for assessment of genetic diversity in biodiesel species Pongamia pinnata. Curr Sci 106:1576–1580

Sharma SS, Islam MA, Negi MS, Tripathi SB (2015) Changes in oil content and fatty acid profiles during seed development in Pongamia pinnata (L.) Pierre. Ind J Plant Physiol. doi:10.1007/s40502-015-0160-9

Shivanna MB, Rajakumar N (2010) Ethno-medico-botanical knowledge of rural folk in Bhadravathi taluk of Shimoga district, Karanataka. Ind J Tradit Knowl 9:158–162

Sunil N, Kumar V, Sivaraj N, Lavanya C, Prasad RBN, Rao BVSK, Varaprasad KS (2009) Variability and divergence in Pongamia pinnata (L.) Pierre germplasm—a candidate tree for biodiesel. GCB Bioenergy 1:382–391

Tewari DN (2003) Report of the committee on development of Bio-fuel. Planning Commission, Government of India, New Delhi

Thies W (1971) Rapid and easy analysis of fatty acid composition in individual rapeseed cotyledons. Z Pflanzenzhchtg 65:181–202

Thudi M, Revathi M, Wani SP, Tatikonda L, Hoisington DA, Varshney RK (2010) Analysis of genetic diversity in Pongamia [Pongamia pinnata (L.) Pierre] using AFLP markers. J Plant Biochem Biotechnol 19:209–216

van der Wurff AWG, Chan YL, van Straalen NM, Schouten J (2000) TE-AFLP: combining rapidity and robustness in DNA fingerprinting. Nucleic Acids Res 28:e105
Acknowledgments
The authors sincerely acknowledge the funding received from the Department of Science and Technology, Government of India, for the project (Grant Number SR/SO/PS-08/2006). Mr. Shyam Sundar Sharma thanks to Council of Scientific and Industrial Research, Government of India, for providing fellowship for this work. We thank Dr. Y. S. Sodhi, The Centre for Genetic Manipulation of crop plants, university of Delhi for their assistance in fatty acid profiling.
About this article
Cite this article
Sharma, S.S., Islam, M.A., Malik, A.A. et al. Seed traits, fatty acid profile and genetic diversity assessment in Pongamia pinnata (L.) Pierre germplasm. Physiol Mol Biol Plants 22, 193–205 (2016). https://doi.org/10.1007/s12298-016-0356-0
Received:

Accepted:

Published:

Issue Date:
Keywords
Pongamia pinnata

Oil content

Fatty acid methyl esters

Gas chromatography

TE-AFLP

Genetic diversity