Abstract
Sesame is an important ancient oilseed crop of high medicinal value. In the present study, 37 characters including both quantitative and qualitative traits of sixty genotypes were characterized following IPGRI morphological descriptors for sesame. Multivariate analysis was computed to distinguish the varieties into different groups. Though thirty six microsatellite markers including genomic and Est-SSR markers were initially selected, but, finally, the accessions were genotyped by eight polymorphic primers. Altogether, 27 alleles were detected among the 60 genotypes, with an average of 3.37 alleles per locus. The number of alleles ranged from 2 to 6 alleles. From data of microsatellite markers, dissimilarity coefficients between varieties were computed following Jaccard's coefficient method. Principal co-ordinate analysis was used to represent the varieties in bi-directional space. Dendrogram was constructed using NJ method based on dissimilarity matrix. Cluster analysis based on morphological and molecular marker classified sesame genotypes into two major groups. Mantel test showed an insignificant correlation between phenotypic and molecular marker information. The genotypes belonging to the same geographical area did not always occupy the same cluster. The results confirmed that both genetic and phenotypic diversity in a combined way could efficiently evaluate the variation present in different sesame accessions in any breeding program.
Access options
Buy single article
Instant access to the full article PDF.
USD 39.95
Price includes VAT (USA)
Tax calculation will be finalised during checkout.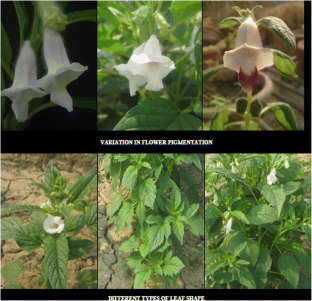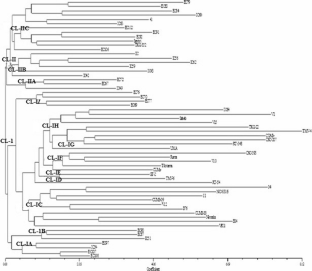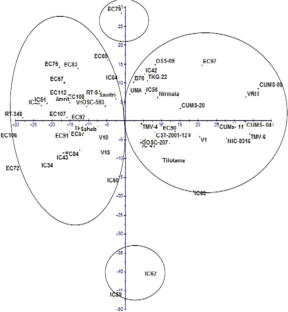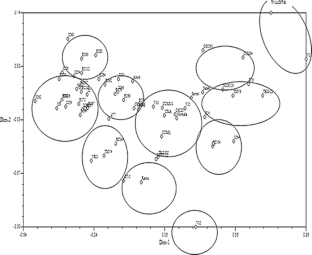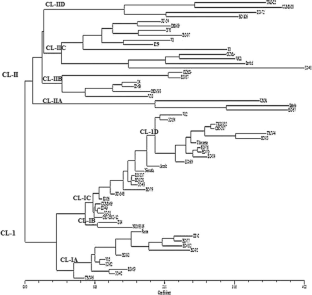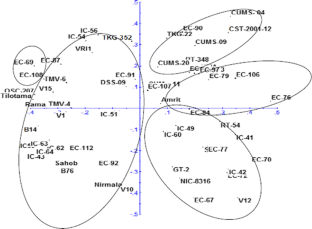 References
Ali GM, Yasumoto S, Seki-Katsuta M (2007) Assessment of genetic diversity in sesame (Sesamum indicum L.) detected by amplified fragment length polymorphism markers. Electron J Biotechnol 10:12–23

Anthony O, Ogunshakin R, Vaghela S, Patel B (2015). Towards sustainable intensification of sesame-based cropping systems diversification in northwestern India. J Food Secur 3(1):1–5.

Ashri A (1989) In: Robbelen G, Downey RK, Ashri A (eds) Sesame- Oil Crops of the World. McGraw-Hill Publishing Company, New York, pp. 375–387

Banerjee PP, Kole PC (2009) Analysis of genetic architecture for some physiological characters in sesame (Sesamum indicum L.). Euphytica 168:11–22

Bedigian D, Seigler DS, Harlan JR (1985) Sesamin, sesamolin and the origin of sesame. Biochem Syst Ecol 13:133–139

Bhat KV, Babrekar PP, Lakhanpaul S (1999) Study of genetic diversity in Indian and exotic sesame (Sesamum indicum L.) germplasm using random amplified polymorphic DNA (RAPD) markers. Euphytica 110:21–34

Bhattacharyya U, Pandey SK, Dasgupta T (2014) Identification of Est-SSRs and FDM in sesame (Sesamum indicum L.) through data mining. Sc0068 J Agric Sci 4:60–69

Dixit A, Jin M.H, Chung JW, Yu JW, Chung HK, Ma KH, Park YJ, Cho EG (2005) Development of polymorphic microsatellite markers in sesame (Sesamum indicum L.). Mol Ecol Notes 5: 736–738

Duhoon SS (2004) Exploitation of heterosis for raising productivity in sesame in new directions for a diverse planet: proceedings of the 4th international crop science congress, Brisbane, Australia Vol 26.

Ercan AG, Taskin M, Turgut K (2004) Analysis of genetic diversity in Turkish sesame (Sesamum indicum L.) populations using RAPD markers. Genet. Resour. Crop. Evolution 51:599–3607

FAOSTAT (2015) Food and agricultural organization of the united nations. Statistical Database

Fukuda Y, Nagata M, Osawa T, Namiki M (1986) Contribution of lignan analogues to antioxidative activity of refined unroasted sesame seed oil. J Am Oil Chem Soc 63:1027–1031

Hawkes J (1983) The diversity of crop plants. Harvard Unirversity Press, Cambridge

IPGRI and NBPGR (2004) Descriptors for Sesame (Sesamum spp.). International Plant Genetic Resources Institute, Rome and National Bureau of Plant Genetic Resources, New Delhi, India.

Kim DH, Zur G, Danin-Poleg Y, Lee S, Shim K, Kang C, Kashi Y (2002) Genetic relationships of sesame germplasm collection as revealed by inter-simple sequence repeats. Plant Breed 121:259–262

Laurentin HE, Karlovsky P (2006) Genetic relationship and diversity in a sesame (Sesamum indicum L.) germplasm collection using amplified fragment length polymorphism (AFLP). BMC Genet 7:10

Laurentin HE, Karlovsky P (2007) AFLP fingerprinting of sesame (Sesamum indicum L.) cultivars identification, genetic relationship and comparison of AFLP informativeness parameters. Genet Resour Crop Ev 54:1437–1446

Lopes MS, Santos MR, Dias JE, Mendonça D, Machado ADC (2006) Discrimination of Portuguese ape vines based on microsatellite markers. J Biotechnol 127:193444

Mantel N (1967) The detection of disease clustering and a generalized regression approach. Cancer Res 27:209–220

Morrell PL, Buckler ES, Ross-Ibarra J (2012) Crop genomics: advances and applications. Nat Rev Genet 13(2):85–96

Pandey SK, Das A, Dasgupta T (2013) Genetics of seed coat color in sesame (Sesamum indicum L.). Afr J Biotechnol 12:6061–6067

Park JH, Suresh S, Cho GT, Choi NG, Baek HJ, Lee CW, Chung JW (2013) Assessment of molecular genetic diversity and population structure of sesame (Sesamum indicum L.) core collection accessions using simple sequence repeat markers. Plant Genet Resour Charact Util:1–8. doi:10.1017/S1479262113000373

Perrier X, Flori A, Bonnot F (2003) Methods for data analysis. In: Hamon P, Seguin M, Perrier X, Glazmann JC (eds) Genetic diversity of cultivated tropical plants. Science Publishers, Inc and Cirad, Montpellier, pp. 31–63

Powell W, Machray GC, Provan J (1996) Polymorphism revealed by simple sequence repeats. Trends Plant Sci 1:215–222

Prasad R, Gangopadhyay G (2011) Phenomic analyses of Indian and exotic accession of sesame (Sesamum indicum L.). J. Plant breed. Crop Sci 3:336–352

Ram SG, Sundaravelpandian K, Kumar M, Vinod KK, Bapu JK, Raveendran TS (2006) Pollen–pistil interaction in the inter-specific crosses of Sesamum sp. Euphytica 152:379–385

Rohlf FJ (2000) NTSYS-PC Numerical taxonomy and multivariate analysis system In FJ Rohlf, NTSYS-PC- Numerical Taxonomy and Multivariate Analysis System. Applied Biostatistics, Exerter Publishing Ltd., New York, Software, ISBN 0–925031–18–6.

Saghai-Maroof MA, Soliman KM, Jorgensen RA, Allard RW (1984) Ribosomal DNA spacer-length polymorphisms in barley: Mendelian inheritance, chromosomal location, and population dynamics. Proc Natl Acad Sci 81:8014–8018

Sneath PHA, Sokol RR (1973) Numerical taxonomy, the principles and practice of numerical classification. W. H. Freeman and Co., San Francisco

Sun MM, Choi KJ, Kim HS, Song BH, Woo SH, Lee CW, Jong SK, Cho YG (2009) Genetic diversity and discrimination of recently distributed rice varieties in Korea by SSR markers. Kor J Breed Sci 41:164–125

Surapaneni M, Yepuri V, Vemireddy RL, Ghanta A, Siddiq EA (2014) Development and characterization of microsatellite markers in Indian sesame (Sesamum indicum L.). Mol Breed 34(3):1185–1200

Tabatabaei I, Pazouki L, Bihamta MR, Mansoori S, Javaran MJ, Niinemets Ü (2011) Genetic variation among Iranian sesame (Sesamum indicum L.) accessions vis-à-vis exotic genotypes on the basis of morpho-physiological traits and RAPD markers. Austr. J. Crop Sci 5:1396–1407

Wei LB, Zhang HY, Zheng YZ, Guo WZ, Zhang TZ (2008) Developing Est-derived microsatellites in sesame (Sesamum indicum L.). Acta Agron Sin 34(12):2077–2084

Weir BS (1990) Genetic data analysis. Methods for discrete population genetic data. Sinauer Associates, Inc. Publishers.

Wu K, Liu H, Yang M, Tao Y, Ma H, Wu W, Zuo Y, Zhao Y (2014a) High-density genetic map construction and QTLs analysis of grain yield-related traits in sesame (Sesamum indicum L.) based On. RAD-Seq Techonol; BMC Plant Biolog 14(274):1471–2229

Wu K, Yang M, Liu H, Tao Y, Mei J, Zhao Y (2014b) Genetic analysis and molecular characterization of Chinese sesame [Sesamum indicum L.] cultivars using insertion-deletion [InDel] and simple sequence repeat [SSR] markers. BMC Genet 15(1):35

Zeven A, Zhukovsky P (1975) Dictionary of cultivated plants and their centres of diversity. Wageningen, PUDOC

Zhang XR, Chen KR, Peng J, Xu ZY (2004) The RAPD analysis and genetic diversity of selected sesame germplasm. Chinese J Oil Crop Sci 26:34–37

Zhang P, Zhang H, Guo W, Zheng Y, Wei L, Zhang T (2007) Genetic diversity analysis of Sesamum indicum L. germplasms using SRAP and Est-SSR markers. Acta Agron Sin:1696–1702

Zhang YX, Zhang XR, Hua W, Wang LH, Che Z (2010) Analysis of genetic diversity among indigenous landraces from sesame (Sesamum indicum L.) core collection in China as Revealed by SRAP and SSR Markers. Genes and Genomics 32(3):207–215

Zhang H, Wei L, Miao H, Zhang T, Wang C (2012) Development and validation of genic-SSR markers in sesame by RNA-seq. BMC Genomics 13:316
Acknowledgments
The authors are grateful to Dr. A.R.G. Ranganatha, Project Co-coordinator (Sesame and Niger), Indian Council of Agricultural Research for providing us seeds of sesame genotypes.
About this article
Cite this article
Pandey, S.K., Das, A., Rai, P. et al. Morphological and genetic diversity assessment of sesame (Sesamum indicum L.) accessions differing in origin. Physiol Mol Biol Plants 21, 519–529 (2015). https://doi.org/10.1007/s12298-015-0322-2
Received:

Revised:

Accepted:

Published:

Issue Date:
Keywords
Sesame

Genetic diversity

Phenotypic

SSR

EST-SSR

Clustering