Abstract
Orthodox seed serves as easily accessible model to study desiccation-sensitivity in plant tissues because once they undergo germination, they become sensitive to desiccation imposed injuries. In the proposed study, effects of rate of drying on the viability, electrolyte leakage, superoxide accumulation, lipid-protein oxidation and antioxidant enzymes were explored in excised radicles of Cicer arietinum L. under dehydration and wet storage. For both the drying conditions, desiccation could be explained by exponential and inverse functions. Under rapid drying tissue viability as scored by germination efficiency and tetrazolium staining remained 100 % all through the analysis (24 h) but declined remarkably after 0.30 g g−1 fresh mass water content (4 days) under slow drying. Moreover, precipitous fall in tissue viability was observed after 2 weeks of wet storage. Rapid drying was also accompanied with limited amounts of electrolyte leakage, superoxide radical, malondialdehyde and protein hydroperoxide, together with enhanced level of protein. Additionally, activities of both superoxide dismutase and ascorbate peroxidase were increased in rapidly dried radicles, but guaiacol peroxidase was declined. In contrary, above referred biomarkers were observed to perform either inversely or poorly during slow drying and wet storage suggesting that above documented alterations might be the resultant of ageing and not desiccation. Gathered data demonstrated that increased drying lowers the critical water content for tissue survival and also reduces the risk of damage resulting from aqueous-based deleterious reactions. Additionally, it also showed that growing radicles are a popular model to explore desiccation-sensitivity in plant tissues and/or seeds.
Access options
Buy single article
Instant access to the full article PDF.
USD 39.95
Price includes VAT (USA)
Tax calculation will be finalised during checkout.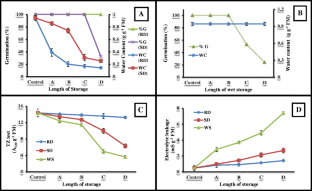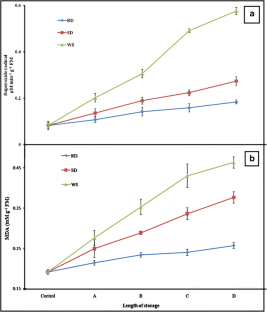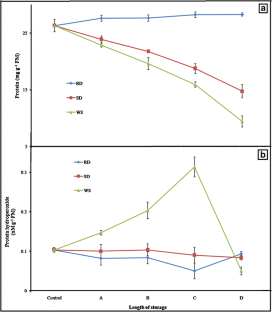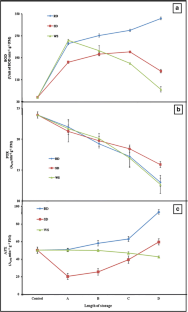 References
Bailly C (2004) Active oxygen species and antioxidants in seed biology. Seed Sci Res 14:93–107

Berjak P, Pammenter NW (2008) From Avicennia to Zizania: seed recalcitrance in perspective. Ann Bot 101:213–228

Bradford MM (1976) A rapid and sensitive method for quantitation of microgram quantities of protein-dye binding. Anal Biochem 72:248–254

Chaitanya KSK, Keshavkant S, Naithani SC (2000) Changes in total protein and protease activity in dehydrating recalcitrant sal (Shorea robusta) seeds. Silva Fenn 34:71–77

Chaitanya KSK, Naithani SC (1994) Role of superoxide, lipid peroxidation and superoxide dismutase in membrane perturbations during loss of viability in sal (Shorea robusta) seeds. New Phytol 126:623–627

Chance B, Maehly AC (1955) Assays of catalase and peroxidase. In: Colowick SP, Kaplan NO (eds) Methods in enzymology, vol II. Academic, New York, pp 443–450

Cheng HY, Song SQ (2008) Possible involvement of reactive oxygen species scavenging enzymes in desiccation sensitivity of Antiaris toxicaria seeds and axes. J Integr Plant Biol 50:1549–1556

Gay C, Collins J, Gebicki JM (1999) Hydroperoxide assay with the ferric xylenol orange complex. Anal Biochem 273:149–155

Hendry GAF, Finch-Savage WE, Thorpe PC, Atherton NM, Buckland SM, Nilsson KA, Seel WE (1992) Free radical processes and loss of viability during desiccation in the recalcitrant species Quercus robur L. New Phytol 122:273–279

Hodges DM, Delong JM, Forney CF, Prang RK (1999) Improving the thiobarbituric acid reactive substances assay for estimating lipid peroxidation in plant tissues containing anthocyanin and other interfering compounds. Planta 207:604–611

Huang H, Song SQ, Wu XJ (2009) Responses of Chinese wampee radicles and maize embryos to dehydration at different rates. J Integr Plant Biol 51:67–74

Keshavkant S, Naithani SC (2001) Chilling-induced oxidative stress in young sal (Shorea robusta) seedlings. Acta Physiol Plant 23:457–466

Keshavkant S, Naithani SC (2010) Chilling induced superoxide production, lipid peroxidation and leakage loss in Shorea robusta seedlings. Ind J Plant Physi 15:191–196

Keshavkant S, Sahu B, Parkhey S (2013) Artificial ageing induced metabolic changes in Cicer arietinum seeds: ROS catabolism, lipid peroxidation, protein carbonylation, nucleic acid integrity and antioxidants. Lambert Academic Publishing, Germany, pp 1–102

Li CR, Sun WQ (1999) Desiccation sensitivity and activities of free radical-scavanging enzymes in recalcitrant Theobroma cocoa seeds. Seed Sci Res 9:209–217

Liu SJ, Wei ZM, Huang JQ (2008) The effect of co-cultivation and selection parameters on Agrobacterium-mediated transformation of Chinese soybean varieties. Plant Cell Rep 27:489–498

Marklund S, Marklund G (1974) Involvement of the superoxide anion radical in the auto-oxidation of pyrogallol and a convenient assay for superoxide dismutase. Eur J Biochem 47:469–474

Murashige T, Skoog F (1962) A revised medium for rapid growth and bioassays of tobacco tissue cultures. Physiol Plantarum 15:473–497

Nakano Y, Asada K (1981) Hydrogen peroxide is scavenged by ascorbate specific peroxidase in spinach chloroplast. Plant Cell Physiol 22:867–880

Ntuli TM, Finch-Savage WE, Berjak P, Pammenter NW (2011) Increased drying rate lowers the critical water content for survival in embryonic axes of English Oak (Quercus robur L.) seeds. J Integr Plant Biol 53:270–280

Ntuli TM, Pammenter NW (2009) Dehydration kinetics of embryonic axes from desiccation-sensitive seeds: an assessment of descriptive models. J Integr Plant Biol 51:1002–1007

Ntuli TM, Pammenter NW, Berjak P (2013) Increasing the rate of drying reduces metabolic imbalance, lipid peroxidation and critical water content in radicles of garden pea (Pisum sativum L.). Biol Res 46:121–130

Pammenter NW, Berjak P (1999) A review of recalcitrant seed physiology in relation to desiccation- tolerance mechanisms. Seed Sci Res 9:13–37

Pammenter NW, Berjak P, Farrant JM, Smith MT, Ross G (1994) Why do stored, hydrated recalcitrant seeds die? Seed Sci Res 4:187–191

Pammenter NW, Vertucci CW, Berjak P (1991) Homeohydrous (recalcitrant) seeds: dehydration, the state of water and viability characteristics in Landolphia kirkii. Plant Physiol 96:1093–1098

Parkhey S (2013) Reactive oxygen species mediated lipid peroxidation, protein carbonylation and DNA fragmentation in Shorea robusta seeds during natural ageing [Ph. D. Thesis]. Pt. Ravishankar Shukla University, Raipur, India, 1–183

Parkhey S, Naithani SC, Keshavkant S (2012) ROS production and lipid catabolism in desiccating Shorea robusta seeds during aging. Plant Physiol Biochem 57:261–267

Parkhey S, Naithani SC, Keshavkant S (2014a) Protein metabolism during natural ageing in desiccating recalcitrant seeds of Shorea robusta. Acta Physiol Plant 36:1649–1659

Parkhey S, Tandan M, Keshavkant S (2014b) Salicylic acid and acquisition of desiccation tolerance in Pisum sativum seeds. Biotechnology. doi:10.3923/biotech.2014

Pukacka S, Ratajczak E (2006) Antioxidative response of ascorbate glutathaione-pathway enzymes and metabolites to desiccation of recalcitrant Acer saccharinum seeds. Plant Physiol 163:1259–1266

Rego SS, Nogueira AC, Medeiros ACDS, Petkowicz CADO, Santos AFD (2013) Physiological behavior of Blepharocalyx salicifolius and Casearia decandra seeds on the tolerance to dehydration. J Seed Sci 35:1–3

Sangeetha P, Das VN, Koratkar R, Suryaprabha P (1990) Increase in free radical generation and lipid peroxidation following chemotherapy in patients with cancer. Free Rad Biol Med 8:15–19

Song SQ, Berjak P, Pammenter N (2004) Desiccation sensitivity of Trichilia dregeana axes and antioxidant role of ascorbic acid. Acta Bot Sin 46:803–810

Song SQ, Berjak P, Pammenter N, Ntuli TM, Fu JR (2003) Seed recalcitrance: a current assessment. Acta Bot Sin 45:638–643

Song SQ, Tian MH, Kan J, Cheng HY (2009) The response difference of mitochondria in recalcitrant Antiaris toxicaria axes and orthodox Zea mays embryos to dehydration injury. J Integr Plant Biol 51:646–653

Wesley-Smith J, Walters C, Pammenter NW, Berjak P (2001) Interactions of water content, rapid (non-equilibrium) cooling to −196 °C and survival of embryonic axes of Aesulus hippocastanum L seeds. Ann Bot 88:653–664

Wexler A (1997) Constant humidity solutions. In: Lide DR (ed) Handbook of chemistry and physics. CRC Press, New York, pp 24–25
Acknowledgments
The authors gratefully acknowledge financial assistance awarded to Jipsi Chandra by Pt. Ravishankar Shukla University, Raipur (Research Fellowship No. 79/8/Fin.Sch/2014, dated 16.04.14). Authors are also grateful to Department of Science and Technology, New Delhi for providing financial support under DST-FIST scheme (Sanction No. 2384/IFD/2014-15, dated 31.07.2014).
About this article
Cite this article
Chandra, J., Tandon, M. & Keshavkant, S. Increased rate of drying reduces metabolic inequity and critical water content in radicles of Cicer arietinum L.. Physiol Mol Biol Plants 21, 215–223 (2015). https://doi.org/10.1007/s12298-015-0294-2
Received:

Revised:

Accepted:

Published:

Issue Date:
Keywords
Antioxidants

Cicer arietinum L

Desiccation sensitivity

Lipid peroxidation

Reactive oxygen species

Water content