Abstract
Coelogyne nervosa is an epiphytic orchid endemic to Western Ghats, South India. The mature seeds of C. nervosa were cultured on ½ MS (Murashige and Skoog), MS, Kn (Knudson) and VW (Vacin and Went) media to evaluate the seed germination response. Of the four basal media used, MS medium supported maximum seed germination. Further experiments to enhance seed germination were done on MS medium supplemented with various concentrations (10, 20, 30 and 40 %) of coconut water (CW). Thirty percent CW gave the highest response in terms of percent seed germination (96), fresh weight (7.2 mg/seedling) and protocorm length (15.2 mm). Since CW containing medium did not support further seedling growth, each seedling was isolated and cultured on MS medium supplemented with either BA (6-benzylaminopurine) or Kin (kinetin) alone (1.0–4.0 mg/l each) or in combination with NAA (1-naphthaleneacetic acid; 0.2–1.0 mg/l). Maximum growth was observed on MS medium supplemented with BA (3.0 mg/l) and NAA (0.5 mg/l). On this medium, the seedlings reached an average length of 3.6 cm with 2.8 well expanded green leaves per seedling. Similarly optimum, healthy, white root induction (3.3 roots/seedlings) was also observed on the same medium. The rooted seedlings were successfully transplanted to pots with 91 % success. The 2-year-old tissue culture derived plants produced normal flowers and fruits.
Access options
Buy single article
Instant access to the full article PDF.
USD 39.95
Price includes VAT (USA)
Tax calculation will be finalised during checkout.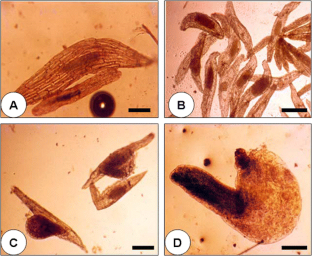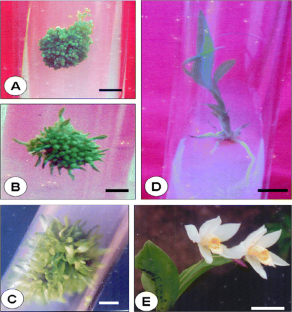 Abbreviations
BA:

6-benzylaminopurine

CW:

Coconut water

KN:

Knudson medium

Kin:

Kinetin

MS:

Murashige and Skoog medium

NAA:

1-naphthalene acetic acid

PGR:

Plant growth regulator

VW:

Vacin and Went medium
References
Abraham A, Vatsala P (1981) Introduction to orchids with illustrations and descriptions of 150 South Indian orchids. Tropical botanical graden and research Institute, Palode, Thiruvanthapuram, Kerala, India, pp 285–287

Anonymous (2008) US department of agriculture. Floriculture crops 2007 summary. Agr Stat Board, Washington, DC

Bhadra SK, Hossain MM (2003) In vitro germination and micropropagation of Geodorum densiflorum (Lam.) Schltr., an endangered orchid species. Plant Tissue Cult 13:65–171

Chugh S, Guha S, Rao UI (2009) Micropropagation of orchids: a review on the potential of different explants. Sci Hortic 122:507–520

Duncan DB (1955) Multiple range and multiple F test. Biometrics 11:1–42

Hey GL, Hey MG (1966) Raising rare orchids from seeds. In: De Garmo LR (ed) Proc. 5th World Orchid Conf, Long Beach, USA, pp 35–38

Hossain MM (2008) Asymbiotic seed germination and in vitro seedling development of Epidendrum ibaguense Kunth. (Orchidaceae). Afr J Biotechnol 7:3614–3619

Khampa S, Wangsomnuk P, Wangsomnuk P (2010) Factors affecting seed germination of Grammatophylum speciosum cultured in vitro. AsPac J Mol Biol Biotechnol 18:193–197

Khasim SM, Ramudu J (2011) Genetic diversity in Coelogyne nervosa R. Rich., an endemic orchid from Southern India. In: Plant Canada, 2011, Proceedings of the joint meeting of the Canadian society of agronomy, Canadian society of horticultural science, Canadian society of plant physiologists, Canadian botanical association, Canadian phytopathological society, Canadian weed science society, Saint Mary's University, Halifax nova scotia agricultural college, Truro, pp 106

Kitsaki CK, Zygouraki S, Ziobora M, Kintzios S (2004) In vitro germination, protocorm formation and plantlet development of mature versus immature seeds from several Ophrys species (Orchidaceae). Plant Cell Rep 23:284–290

Knudson L (1922) Non-symbiotic germination of orchid seeds. Bot Gaz 73:1–25

Kumar M, Sasidharan S (1985) Orchids of Kerala and their conservation. In: Vij SP (ed) Biology, conservation and culture of orchids. Affiliated East—West Press, New Delhi, pp 267–272

Murashige T, Skoog F (1962) A revised medium for rapid growth and bioassay with tobacco tissue culture. Physiol Plant 15:473–497

Naing AH, Chung JD, Park IS, Lim KB (2011) Efficient plant regeneration of the endangered medicinal orchid Coelogyne cristata using protocorm-like bodies. Acta Physiol Plant 33:659–666

Pant B, Gurung R (2005) In vitro seed germination and seedling development in Aerides odorata Lour. J Orchid Soc Ind 19:51–55

Pradhan S, Pant B (2009) In vitro seed germination in Cymbidium elegans Lindl. and Dendrobium densiflorum Lindl. ex Wall. (Orchidaceae). Botanica Orien 6:100–102

Rasmussen HN (1995) Terrestrial orchids: from seed to mycotrophic plant. Cambridge University Press, Cambridge

Roy J, Banerjee N (2003) Induction of callus and plant regeneration from shoot tip explants of Dendrobium fimbriatum Lindl. var. oculatum Hk.f. Sci Hortic 97:333–340

Sebastianraj J, Britto JS, Robinson PJ, Kumar VD, Kumar SS (2006) In vitro seed germination and plantlet regeneration of Coelogyne mossiae Rolfe. J Biol Res 5:79–84

Sheelavanthmath SS, Murthy HN, Hema BP, Hahn EJ, Paek KY (2005) High frequency of protocorm like bodies (PLBs) induction and plant regeneration from protocorm and leaf sections of Aerides crispum. Sci Hortic 106:395–401

Singh MK, Sherpa AR, Hallan V, Zaidi AA (2007) A poty virus in Cymbidium spp. in Northern India. Aust Plant Dis Notes 2:11–13

Sinha P, Roy SK (2004) Regeneration of an indigenous orchid, Vanda teres (Roxb.) Lindl. through in vitro culture. Plant Tissue Cult 14:55–61

Stenberg ML, Kane ME (1998) In vitro seed germination and greenhouse cultivation of Encyclia boothiana var. erythronioides, an endangered Florida Orchid. Lindleyana 13:101–112

Stewart SL, Kane ME (2006) Asymbiotic seed germination and in vitro seedling development of Habenaria macroceratitis (Orchidaceae), a rare Florida terrestrial orchid. Plant Cell Tiss Org Cult 86:147–158

Tawaro S, Suraninpong P, Chanprame S (2008) Germination and regeneration of Cymbidium findlaysonianum Lindl. on a medium supplemented with some organic sources. Walailak J Sci Technol 5:125–135

Thomas TD, Michael A (2007) High frequency plantlet regeneration and multiple shoot formation from cultured immature seeds of Rhynchostylis retusa Blume., an exquisite orchid. Plant Biotech Rep 1:243–249

Vacin E, Went FW (1949) Some pH changes in nutrient solutions. Bot Gaz 110:605–613

Yamazaki J, Miyoshi K (2006) In vitro asymbiotic germination of immature seed and formation of protocorm by Cephalanthera falcata (Orchidaceae). Ann Bot 98:1197–1206
Acknowledgements
TDT acknowledges the financial assistance from UGC in the form of a major research project (Project no. 38-233/2009).
About this article
Cite this article
Abraham, S., Augustine, J. & Thomas, T.D. Asymbiotic seed germination and in vitro conservation of Coelogyne nervosa A. Rich. an endemic orchid to Western Ghats. Physiol Mol Biol Plants 18, 245–251 (2012). https://doi.org/10.1007/s12298-012-0118-6
Keywords
Coelogyne nervosa

Epiphytic orchid

Micropropagation

Seedlings

Tissue culture