Abstract
In vitro propagation of Stemona hutanguriana W.Chuakul, an endangered species of Stemonaceae, was established. Nodal and internodal explants were cultured on Murashige and Skoog (MS) medium supplemented with thidiazuron (TDZ) alone or in combination with 1-naphthaleneacetic acid (NAA). When cultured on MS medium supplemented with 18.16 μM TDZ with 0.54 μM NAA for 8 weeks and then on MS medium without plant growth regulator (PGR) for 8 weeks, nodal explants demonstrated a responding frequency of 91.67 % and a shoot regeneration rate of 5.46 shoots/responding explant. Furthermore, internodal explants demonstrated a responding frequency of 17.17 % with 11.17 shoots/responding explant. The regenerated shoots were rooted using a two-step protocol by culturing for 4 weeks on MS medium supplemented with various concentrations of NAA and Indole-3-butyric acid (IBA) and 8 weeks on MS medium without PGR. When 5.40 μM NAA was used as a PGR, the maximum root induction rate was 69.45 %. Regenerated plantlets were successfully transferred to soil.
Access options
Buy single article
Instant access to the full article PDF.
USD 39.95
Price includes VAT (USA)
Tax calculation will be finalised during checkout.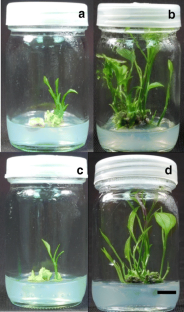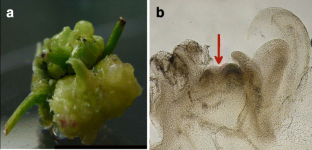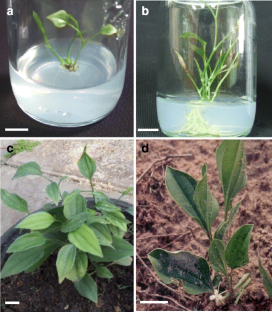 Abbreviations
BA:

6-Benzyladenine

IBA:

Indole-3-butyric acid

MS medium:

Murashige and Skoog (Murashige and Skoog 1962) medium

NAA:

1-Naphthaleneacetic acid

PGR:

Plant growth regulator

TDZ:

Thidiazuron
References
Bisht S, Bisht NS, Bhandari S (2012) In vitro micropropagation in Polygonatum verticillatum (L.) All. an important threatened medicinal herb of Northern India. Physiol Mol Biol Plants 18:89–93

Cheruvathur MK, Thomas TD (2011) An efficient plant regeneration system through callus for Pseudarthria viscida (L.) Wright and Arn., a rare ethnomedicinal herb. Physiol Mol Biol Plants 17:395–401

Chotikadachanarong K, Dheeranupattana S, Jatisatienr A (2005) Micropropagation and alkaloid production in Stemona sp. Acta Horticult 676:67–72

Chuakul W (2000) Stemona hutanguriana sp. nov. (Stemonaceae) from Thailand. Kew Bull 55:977–980

Coelho N, Gonçalves S, González-Benito ME, Romano A (2012) Establishment of an in vitro propagation protocol for Thymus lotocephalus, a rare aromatic species of the Algarve (Portugal). Plant Growth Regul 66:69–74

Cuenca B, Ballester A, Vieitez AM (2000) In vitro adventitious bud regeneration from internode segments of beech. Plant Cell Tiss Organ Cult 60:213–220

Fay M (1992) Conservation of rare and endangered plants using in vitro methods. In Vitro Cell Dev Biol 28:1–4

George EF, Hall MA, De Klerk G (2008) (Eds) Plant propagation by tissue culture. volume 1: background Springer, Dordrecht

Huetteman CA, Preece JE (1993) Thidiazuron: a potent cytokinin for woody plant tissue culture. Plant Cell Tiss Organ Cult 33:105–119

Jiang W, Chen L, Pan Q, Qiu Y, Shen Y, Fu C (2012) An efficient regeneration system via direct and indirect organogenesis for the medicinal plant Dysosma versipellis (Hance) M. Cheng and its potential as a podophyllotoxin source. Acta Physiol Plant 34:631–639

Matt A, Jehle JA (2005) In vitro plant regeneration from leaves and internode sections of sweet cherry cultivars (Prunus avium L.). Plant Cell Rep 24:468–476

Montri N, Wawrosch C, Kopp B (2006) Micropropagation of Stemona curtisii Hook f., a Thai medicinal plant. Acta Horticult 725:341–346

Murashige T, Skoog F (1962) A revised medium for rapid growth and bioassays with tobacco tissue cultures. Physiol Plant 15:473–497

Pence VC (2010) The possibilities and challenges of in vitro methods for plant conservation. Kew Bull 65:539–547

Pilli RA, de Oliveira MCF (2000) Recent progress in the chemistry of the Stemona alkaloids. Nat Prod Rep 17:117–127

Prathanturarug S, Soonthornchareonnon N, Chuakul W, Phaidee Y, Saralamp P (2003) High-frequency shoot multiplication in Curcuma longa L. using thidiazuron. Plant Cell Rep 21:1054–1059

Prathanturarug S, Soonthornchareonnon N, Chuakul W, Phaidee Y, Saralamp P (2005) Rapid micropropagation of Curcuma longa L. using bud explants pre-cultured in thidiazuron-supplemented liquid medium. Plant Cell Tiss Organ Cult 80:347–351

Prathanturarug S, Jenjittikul T, Angsumalee D, Huadsuwan P, Kiatseesakul I, Duangnet J, Chuakul W, Saralamp P (2007) Micropropagation of Gagnepainia godefroyi K Schum and Gagnepainia thoreliana (Baill) K Schum – Rare Medicinal Plants of Thailand. J Plant Biochem Biotech 16:135–137

Rungrojsakul M (2001) Morphological characteristic, chromosome number and propagation of Stemona spp. M.S. Thesis, Department of Biology, Chiangmai University

Rungruchkanont K, Pongrat A (2008) Micropropagation of Stemona collinsae Craib. UBU Journal 10:1–13

Singlaw C, Kongbangkerd A, Promthep K, Saenpote P (2008) Effect of cytokinins on in vitro shoot proliferation of Stemona tuberosa Lour. NU Science Journal 5:221–229

Tsi ZH, Duyfjes BEE (2000) Stemonaceae. In: Wu ZY, Raven PH (eds) Flora of China Vol. 24. Science Press, Beijing, pp 70–72
Acknowledgements
Financial support from Mahidol University is gratefully acknowledged.
About this article
Cite this article
Prathanturarug, S., Pheakkoet, R., Jenjittikul, T. et al. In vitro propagation of Stemona hutanguriana W.Chuakul, an endangered medicinal plant. Physiol Mol Biol Plants 18, 281–286 (2012). https://doi.org/10.1007/s12298-012-0116-8
Keywords
Conservation

Medicinal plant

Stemonaceae

Stemona hutanguriana

Tissue culture