Abstract
Efficient in vitro propagation of medicinally important endangered plant C. borivilianum has been achieved through somatic embryogenesis. Solid embryogenic medium [Murashige and Skoog medium containing 1.79 mM NH4NO3, 10.72 mM KNO3, 1.13 μM 2,4-dichlorophenoxyacetic acid, 7.38 μM 2-isopentenyladenine and 0.76 mM proline] supplemented with polyethylene glycol and sucrose (3 % each), exhibited 1.88-fold increase in embryo maturation compared to embryogenic medium containing 3 % sucrose. Liquid embryogenic medium supported better somatic embryo production and maturation. Highest total (79) and mature (cotyledonary stage) somatic embryos (38) as well as highest germination (57.5 %) was observed at inoculum density of 0.4 g/40 ml of liquid medium. 5.86 pH level exhibited optimal growth, maturation and germination of somatic embryos. Random amplified polymorphic DNA (RAPD) analysis of C. borivilianum plants regenerated through somatic embryogenesis revealed that they were genetically similar to the mother plant. The protocol established in the present study can be used for rapid mass multiplication of C. borivilianum in bioreactor employing liquid medium.
Access options
Buy single article
Instant access to the full article PDF.
USD 39.95
Price includes VAT (USA)
Tax calculation will be finalised during checkout.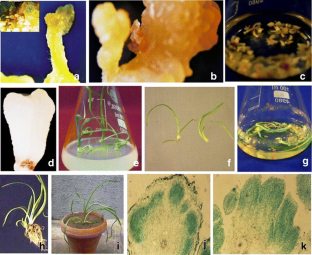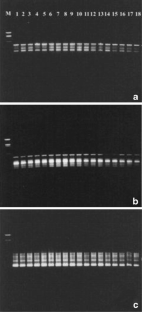 References
Alkhateeb AA (2006) Somatic embryogenesis in date palm (Phoenix dactylifera L) cv sukary in response to sucrose and polyethylene glycol. Biotech 5(4):466–470

Bennici A, Anzidei M, Vendramin GG (2004) Genetic stability and uniformity of Foeniculum vulgare Mill. regenerated plants through organogenesis and somatic embryogenesis. Plant Sci 166:221–227

Bindiya K, Kanwar K (2003) Random amplified polymorphic DNA (RAPDs) markers for genetic analysis in micropropagated plants of Robinia pseudoacacia L. Euphytica 132:41–47

Bordia PC, Joshi A, Simlot MM (1995) Safed musli. In: Chadha KL, Gupta R (eds) Advances in horticulture: medicinal and aromatic plants, vol 11. Malhotra Pub House, New Delhi, pp 429–451

Cardoza V, D'Souza L (1999) Somatic embryogenesis and plantlet regeneration in Mussaenda philippica var Aurorae. Gartenbauwissenschaft 64(1):S6–S8

Cecchini E, Natah L, Cavallini A, Durante M (1992) DNA variation in regenerated plants of pea. Theor Appl Genet 84:874–879

Eapen S, George L (1990) Influence of phytohormones, carbohydrates, amino acids, growth supplements and antibiotics on somatic embryogenesis and plant differentiation in finger millet. Plant Cell Tissue Organ Cult 22:87–93

Elmeer KMS, Gallagher TF, Hennerty MJ (2009) RAPD-based detection of genomic instability in cucumber plants derived from somatic embryogenesis. African J Biotechnol 8(14):3219–3222

Fujimura T, Komamine A (1979) Synchronization of somatic embryogenesis in a carrot suspension culture. Plant Physiol 64:162–164

Gavish H, Vardi A, Fluhr R (1992) Suppression of somatic embryogenesis in Citrus cell cultures by extracellular proteins. Planta 186:511–517

Gerdakaneh M, Mozafari AA, Khalighi A, Sioseh-mardah A (2009) The effect of carbohydrate source and concentration on somatic embryogenesis of strawberry (Fragaria x ananassa Duch). Am Eurasian J Agric Environ Sci 6(1):76–80

Gray DJ, Conger BV (1985) Influence of dicamba and casein hydrolysate on somatic embryo number and culture quality in cell suspensions of Dactylis glomerata (Gramineae). Plant Cell Tissue Organ Cult 4(2):123–133

Gupta R, Chadha KL (1995) Medicinal and aromatic plants research in India. In: Chadha RK, Gupta R (eds) Advances in horticulture, vol XI. Malhotra Pub House, New Delhi, pp 1–43

Ho CW, Jian WT, Lai HC (2006) Plant regeneration via somatic embryogenesis from suspension cell cultures of Lilium x formolongi Hort using a bioreactor system. in vitro Cell Dev Biol Plant 42:240–246

Hong PI, Chen JT, Chang WC (2008) Promotion of direct somatic embryogenesis of Oncidium by adjusting carbon sources. Biol Plant 52(3):597–600

Jayanthi M, Mandal PK (2001) Plant regeneration through somatic embryogenesis and RAPD analysis of regenerated plants in Tylophora indica (Burm F Merrill). in vitro Cell Dev Biol Plant 37:576–580

Khanuja SPS, Shasanay AK, Darokar MP, Kumar S (1999) Rapid isolation of DNA from dry and fresh samples of plants producing large amounts of secondary metabolites and essential oils. Plant Mol Biol Rep 17:74

Khanuja SPS, Shasany AK, Srivastava A, Kumar S (2000) Assessment of genetic relationships in Mentha species. Euphytica 111:121–125

Kim EK, Hahn EJ, Murthy HN, Paek KY (2004) Enhanced shoot and bulblet proliferation of garlic (Allium sativam L) in bioreactor systems. J Hortic Sci 79:818–822

Kirtikar KR, Basu BD (1975) Liliaceae: Chlorophytum. In: Kirtikar KR, Basu BD (eds) Indian medicinal plants. Bishan Singh Mahendra Pal Singh, Dehradun, pp 2508–2509

Kosky RG, de Feria Silva MD, Perez LP, Gilliard T, Martinez FB, Vega MR, Milian MC, Mendoza EQ (2002) Somatic embryogenesis of the banana hybrid cultivar FHIA-(AAAB) in liquid medium and scaled-up in a bioreactor. Plant Cell Tissue Organ Cult 68:21–26

Kumar N, Modi AR, Singh AS, Gajera BB, Patel AR, Patel MP, Subhash N (2010) Assessment of genetic fidelity of micropropagated date palm (Phoenix dactylifera L) plants by RAPD and ISSR markers assay. Physiol Mol Biol Plants 16(2):207–213

Malabadi RB, da Silva JAT, Nataraja K, Kumar SV, Mulgund GS (2011) Induction of somatic embryogenesis in mature coniferous forest trees. Res Biotech 2(5):8–33

Martin KP (2003) Plant regeneration through somatic embryogenesis on Holostemma adakodien, a rare medicinal plant. Plant Cell Tissue Organ Cult 72:79–82

Mitra A, Bhattacharaya PS, Dey S, Sawarker SK, Bhattacharayya BC (1998) Photoautotrophic in vitro culture of Chrysanthemum under CO2 enrichment. Biotechnol Tech 12:335–337

Murashige T, Skoog FA (1962) A revised medium for rapid growth and bioassays with tobacco tissue cultures. Physiol Plant 15:473–497

Nadha HK, Kumar R, Sharma RK, Anand M, Sood A (2011) Evaluation of clonal fidelity of in vitro raised plants of Guadua angustifolia Kunth using DNA-based markers. J Med Plants Res 5(23):5636–5641

Nasir IA, Jahangir GZ, Qamar Z, Rahman Z, Hasnain T (2011) Maintaining the regeneration potential of sugarcane callus for longer span. Afr J Agric Res 6(1):113–119

Nayar MP, Sastry ARK (1988) Chlorophytum borivilianum. In: Nayar MP, Sastry ARK (eds) Red data book of Indian plants, vol 2. Botanical survey of India, Calcutta, p 142

Nhut DT, Vinh BVT, Hien TT, Huy NP, Nam NB, Chien HX (2011) Effects of spermidine, proline and carbohydrate sources on somatic embryogenesis from main root transverse thin cell layers of Vietnamese ginseng (Panax vietnamensis Ha et Grushv). Afr J Biotechnol 11(5):1084–1091

Nomura K, Komamine A (1985) Identification and isolation of single cells that produce somatic embryos at a high frequency in a carrot suspension culture. Plant Physiol 79:988–991

Othmani A, Bayoudh C, Drira N, Trifi M (2009) in vitro cloning of date palm Phoenix dactylifera L, cv Deglet Bey by using embryogenic suspension and temporary immersion bioreactor (TIB). Biotechnol Biotechnol Equip 23:1181–1188

Paek KY, Chakrabarty D, Hahn EJ (2005) Application of bioreactor systems for large scale production of horticultural and medicinal plants. Plant Cell Tissue Organ Cult 81:287–300

Patel S, Jasrai YT, Adiyecha R (2011) Induction of somatic embryogenesis and genetic fidelity of endangered medicinal herb Curculigo orchioides Gaertn. Res Plant Biol 1(3):48–52

Peyvandi M, Farahzadi HN, Arbabian S, Noormohammadi Z, Hosseini-Mazinani M (2010) Somaclonal variation among somatic embryo derived plants of Olea europaea L "cv Kroneiki". J IR Iran 21(1):7–14

Purohit SD, Dave A, Kukda G (1994) Somatic embryogenesis and plantlet regeneration in 'safed musli' (Chlorophytum borivilianum). Indian J Plant Genet Resour 7(1):65–71

Ramawat KG, Jain S, Suri SS, Arora DK (1988) Aphrodisiac plants of Aravalli Hills with special reference to safed musli. In: Khan I, Khanum A (eds) Role of biotechnology in medicinal and aromatic plants. Ukaz Pub, Hyderabad, pp 210–223

Rani V, Raina SN (1998) Genetic analysis of enhanced axillary branching derived Eucalyptus tereticornis Smith and E. camaldulensis Dehn plants. Plant Cell Rep 17:236–242

Rani V, Parida A, Raina SN (1995) Random amplified polymorphic DNA (RAPD) markers for genetic analysis in micropropagated plants of Populus deltoides Marsh. Plant Cell Rep 14:459–462

Rizvi MZ, Kukreja AK, Bisht NS (2010) in vitro propagation of an endangered medicinal herb Chlorophytum borivilianum Sant et Fernand through somatic embryogenesis. Physiol Mol Biol Plants 16(3):249–257

Smith DL, Krikorian AD (1990) Somatic embryogenesis of carrot in hormone-free medium: external pH control over morphogenesis. Am J Bot 77:1634–1647

Tandon M, Shukla YN (1995) Phytoconstituents of Asparagus adscendens, Chlorophytum arundinaceum and Curculigo orchioides: a review. Curr Res Med Aromat Plants 17:42–50

Tyagi RK, Agarwal A, Mahalakshmi C, Hussain Z, Tyagi H (2007) Low-cost media for in vitro conservation of turmeric (Curcuma longa L) and genetic stability assessment using RAPD markers. in vitro Cell Dev Biol Plant 43:51–58

Walker DR, Parrott WA (2001) Effect of polyethylene glycol and sugar alcohols on soybean somatic embryo germination and conversion. Plant Cell Tissue Organ Cult 64:55–62

Williams JGK, Kubelick AR, Livak KJ, Rafalski JA, Tingey SV (1990) DNA polymorphisms amplified by arbitrary primers are useful as genetic markers. Nucleic Acids Res 18:6531

Yang XM, An LZ, Xiong YC, Zhang JP, Li Y, Xu SJ (2008) Somatic embryogenesis from immature zygotic embryos and monitoring the genetic fidelity of regenerated plants in grapevine. Biol Plant 52:209–214
Acknowledgements
The necessary facilities provided by Director, Central Institute of Medicinal and Aromatic Plants and financial support of Council of Scientific and Industrial Research, India as Senior Research Fellowship to M. Z. Rizvi are duly acknowledged.
Additional information
An erratum to this article is available at http://dx.doi.org/10.1007/s12298-015-0312-4.
This article has been retracted by the authors due to inappropriate republication of two photographs (results) that havealready been published in their following article published earlier in PMBP: Mohd Zahid Rizvi, Arun Kumar Kukreja, Narendra Singh Bisht "In vitro propagation of an endangered medicinal herb Chlorophytum borivilianum Sant. et Fernand. through somatic embryogenesis", Physiology and Molecular Biology of Plants July 2010, Volume 16, Issue 3, pp 249-257
The authors and editors regret the error due to oversight.
About this article
Cite this article
Rizvi, M.Z., Kukreja, A.K. & Bisht, N.S. RETRACTED ARTICLE: Plant regeneration in Chlorophytum borivilianum Sant. et Fernand. from embryogenic callus and cell suspension culture and assessment of genetic fidelity of plants derived through somatic embryogenesis. Physiol Mol Biol Plants 18, 253–263 (2012). https://doi.org/10.1007/s12298-012-0113-y
Keywords
Chlorophytum borivilianum

Genetic fidelity

Maturation

Polyethylene glycol

Somatic embryos