Abstract
Multiple myeloma is characterized by the presence of M-protein (monoclonal) in blood or urine. These proteins are immunoglobulins which are produced by a clone of abnormally proliferating B-lymphocytes and/or plasma cells. To evaluate M-protein, serum protein electrophoresis (SPEP) is used where a single band, known as M-band is seen. This band is usually seen in the gamma globulin region. However, in rare entities like biclonal gammopathy, two M-bands appear simultaneously at different positions on SPEP which may be attributed to the clonal expansion of two different neoplastic cell lines. Here, we describe an atypical case of IgA-kappa multiple myeloma, where two M-bands (one in the beta region and one in the gamma globulin region) were found during SPEP. This simulated a picture of biclonal gammopathy. However the monoclonal nature of this M-protein was proved by performing immunofixation electrophoresis (IFE). Further, we put across images to explain how IFE helps in differentiating between apparent and true biclonality.
Access options
Buy single article
Instant access to the full article PDF.
USD 39.95
Price excludes VAT (USA)
Tax calculation will be finalised during checkout.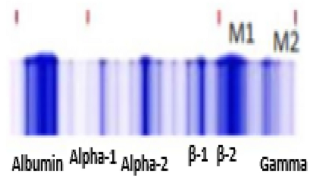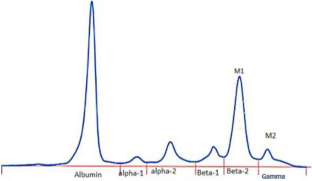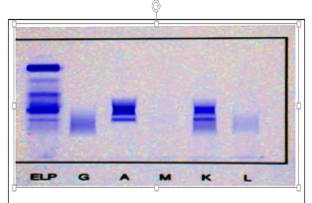 References
Nair B, Waheed S, Szymonifka J, Shaughnessy JD, Crowley J, Barlogie B. Immunoglobulin isotypes in multiple myeloma: laboratory correlates and prognostic implications in total therapy protocols. Br J Haematol. 2009;145(1):134.

Srinivasan VK, Bhagat P, Bansal F, Chhabra S. Occurrence of double monoclonal bands on protein electrophoresis: an unusual finding. Indian J Hematol Blood Transfus. 2016;32(1):84–8.

Bora K, Das U, Barman B, Ruram AA. Monoclonal gammopathy with double M-bands: an atypical presentation on serum protein electrophoresis simulating biclonal gammopathy. Indian J Pathol Microbiol. 2017;60(4):590.

Guastafierro S, Ferrara MG, Sica A, Parascandola RR, Santangelo S, Falcone U. Serum double monoclonal components and hematological malignancies: only a casual association? Review of 34 cases. Leuk Res. 2012;36(10):74–7.

García P, Enciso-Alvarez K, Diaz F, Vargas JA, Moraru M, Yebra M. Biclonal gammopathies: retrospective study of 47 patients. Rev Clín Esp (Engl Ed). 2015;215(1):18–24.

Roberts WL, Fontenot JD, Lehman CM. Overestimation of hemoglobin in a patient with an IgA-κ monoclonal gammopathy. Arch Pathol Lab Med. 2000;124(4):16–8.

Pearce CJ, Hine TJ, Peek K. Hypercalcaemia due to calcium binding by a polymeric IgA x-paraprotein. Ann Clin Biochem. 1991;28(3):29–34.
Acknowledgements
We acknowledge the contribution of our technical team led by Miss Kamini V. and Mr. Bikram Singh for their invaluable support in keeping the instrument in good running condition.
Ethics declarations
Conflict of interest
There are no conflict of interest.
Patient Consent
Patient consent has been taken for sharing the image with the journal while concealing the identity.
Additional information
Publisher's Note
Springer Nature remains neutral with regard to jurisdictional claims in published maps and institutional affiliations.
About this article
Cite this article
Jain, P., Choudhary, R., Harith, A.K. et al. Evaluation of Double M-Band on Serum Protein Electrophoresis Simulating Biclonal Gammopathy: A Case Report. Ind J Clin Biochem 37, 247–249 (2022). https://doi.org/10.1007/s12291-020-00929-y
Received:

Accepted:

Published:

Issue Date:

DOI: https://doi.org/10.1007/s12291-020-00929-y
Keywords