Abstract
Advances in instrument technology and automation have simplified tasks in laboratory diagnostics reducing errors during analysis thereby improving the quality of test results. However studies show that most laboratory errors occur in the pre-analytical phase. In view of the paucity of studies examining pre-analytical errors, we examined a total of 1513 request forms received at our laboratory during a 3 month period. The forms were scrutinized for the presence of specific parameters to assess the pre-analytical errors affecting the laboratory results. No diagnosis was provided on 61.20% of forms. Type of specimen was not mentioned in 61.60% of the forms and 89.25% of all forms were illegible. Critical results were encountered in 17.30% of patients, and of these 76.60% were not communicated due to incomplete forms. Thus, by following standard operating procedures vigorously from patient preparation to sample processing the laboratory results can be significantly improved without any extra cost.
Access options
Buy single article
Instant access to the full article PDF.
USD 39.95
Price excludes VAT (USA)
Tax calculation will be finalised during checkout.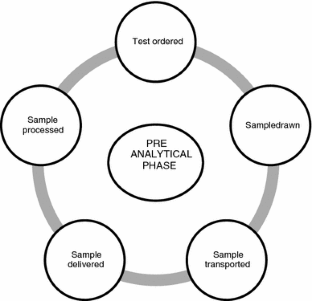 References
Sharma P. Editorial pre-analytical variables and laboratory performance. Ind J Clin Biochem. 2009;24(2):109–10.

Plebani M. Errors in clinical laboratories or errors in laboratory medicine? Clin Chem Lab Med. 2006;44(6):750–9.

Lippi G, Guidi GC, Mattiuzzi C, Plebani M. Preanalytical variability: the dark side of the moon in laboratory testing. Clin Chem Lab Med. 2006;44(4):358–65.

Plebani M. Exploring the iceberg of errors in laboratory medicine. Clin Chim Acta. 2009;404(1):16–23.

Sciacovelli L, Plebani M. The IFCC Working Group on laboratory errors and patient safety. Clin Chim Acta. 2009;404(1):79–85.

Lippi G. Governance of preanalytical variability: Travelling the right path to the bright side of the moon? Clin Chim Acta. 2009;404(1):32–6.

Reason J. Human errors: models and management. West J Med. 2000;172:393–6.

Lunderg GD. When to panic over abnormal values. Med Lab Obs. 1972;4:47–54.

Da Rin G. Pre-analytical workstations: a tool for reducing laboratory error. Clin Chim Acta. 2009;404(1):68–74.

Nutt L, Annalise EZ, Rajiv TE. Incomplete lab request forms: the extent and impact on critical results at a tertiary hospital in South Africa. Ann Clin Biochem. 2008;45:463–6.

Piva E, Plebani M. Interpretative reports and critical values. Clin Chim Acta. 2009;404(1):52–8.
About this article
Cite this article
Chhillar, N., Khurana, S., Agarwal, R. et al. Effect of Pre-Analytical Errors on Quality of Laboratory Medicine at a Neuropsychiatry Institute in North India. Ind J Clin Biochem 26, 46–49 (2011). https://doi.org/10.1007/s12291-010-0082-2
Received:

Accepted:

Published:

Issue Date:

DOI: https://doi.org/10.1007/s12291-010-0082-2
Keywords