Abstract
This paper documents the large differences in hours of work between the US and many European countries and how these differences have changed over time. It then discusses different explanations for these differences and presents evidence to suggest that it is differences in the scale of government activity, financed by taxes that distort the incentive to work, that are the prime factor behind the differences.
This is a preview of subscription content,
to check access.
Access this article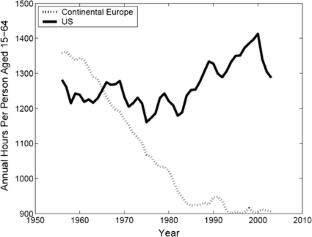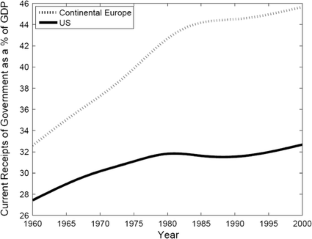 Notes
Understanding the differences in unemployment rates is interesting in its own right, since unemployment is potentially influenced by different forces. I refer the reader to papers by Krugman [9], Bertola and Ichino [1], Ljungqvist and Sargent [10], Marimon and Zilibotti [11], Mortensen and Pissarides [13], Blanchard and Wolfers [2], Daveri and Tabellini [3], Nickell, Nunziata and Ochel [14], Pissarides [16] and Hornstein, Krusell and Violante [8] for an analysis of this issue, and the role played by different labour market policies.

A related issue has to do with understanding the fact that hours of work are relatively higher in Scandinavia than in continental Europe, despite the fact that a greater share of resources flow through the government in Scandinavia. Ragan [18] and Rogerson [21] have argued that labour income, consumption and payroll can account for the bulk of the decrease in hours worked in continental Europe.

In comparing countries using the 2003 data it is important to be aware of changes in survey design in the US. Relative to earlier surveys in the US, the American Time Use Survey, initiated as part of the CPS (Child Protective Services), tends to generate larger amounts of time reported to childcare. In the US this results in an almost 50% increase in time devoted to childcare relative to the 1985 time use survey data.
References
Bertola G, Ichino A (1995) Wage inequality and unemployment: United States vs Europe. NBER Macroeconomics Annual, pp 13–53

Blanchard O, Wolfers J (2000) The role of shocks and institutions in the rise of European unemployment: the aggregate evidence. Econ J 110:1–33

Daveri F, Tabellini G (2000) Unemployment, growth and taxation in industrial countries. Econ Policy 15:47–104

Davis S, Henreksson M (2004) Tax effects on work activity, industry mix and shadow economy size: evidence from rich country comparisons. NBER Working Paper #10509

Freeman R, Schettkat R (2001) Marketization of production and the US–Europe employment gap. Oxford Bulletin of Economics and Statistics

Freeman R, Schettkat R (2005) Marketization of household production and the EU–US gap in work. Econ Policy 20:6–50

Hamermesh D, Burda M, Weil P (2008) The distribution of total work in the EU and the US. In: Tito Boeri (ed) Are Europeans lazy or Americans crazy?. Oxford University Press, Oxford

Hornstein A, Krusell P, Violante G (2007) Technology–policy interactions in frictional labor markets. Rev Econ Stud 74:1089–1124

Krugman P (1994) Past and prospective causes of high unemployment. Economic Review of the Federal Reserve Bank of Kansas City. Quarter 4

Ljungqvist L, Sargent T (1998) The European unemployment dilemma. J Polit Econ 106:514–550

Marimon R, Zilibotti F (1999) Unemployment versus mismatch of talents: reconsidering unemployment benefits. Econ J 109:266–291

McDaniel C (2007) Hours of work in the OECD 1960–2003: driving forces and propagation mechanisms. Manuscript, Arizona State University

Mortensen D, Pissarides C (1999) Unemployment responses to skill-biased technology shocks. Econ J 109:242–265

Nickell S, Nunziata L, Ochel W (2006) Unemployment in the OECD since the 1960s: What do we know? Econ J 115:1–27

Ohanian L, Raffo A, Rogerson R (2006) Long-term changes in labor supply and taxes: evidence from OECD countries, 1956–2004. NBER Working Paper

Pissarides C (2007) Unemployment and hours of work: the North Atlantic divide revisited. Int Econ Rev 48:1–36

Prescott E (2004) Why do Americans work so much more than Europeans? Quarterly Review of the Federal Reserve Bank of Minneapolis, 2–13 July

Ragan K (2005) Taxes, transfers and time use: fiscal policy in a household production model. University of Chicago, Mimeo

Rogerson R (2005) Comment on 'Work and leisure in the US and Europe: why so different?' NBER Macroeconomics Annual

Rogerson R (2006) Understanding differences in hours worked. Rev Econ Dyn 9:365–409

Rogerson R (2007) Taxes and market work: is Scandinavia an outlier? Econ Theory 32:59–85

Rogerson R (2008) Structural transformation and the deterioration of European labor market outcomes. J Polit Econ 116:235–259
About this article
Cite this article
Rogerson, R. Government and the labour market: a transatlantic comparison. European View 8, 87–95 (2009). https://doi.org/10.1007/s12290-009-0076-8
Published:

Issue Date:

DOI: https://doi.org/10.1007/s12290-009-0076-8
Keywords