Abstract
In the sheet forming process, the addendum surfaces have an important influence on the formability and quality of the workpiece. Generally, the manual design of these surfaces (even with a CAD software) is very tedious and requires many trials-corrections. This study proposes an automatic design procedure based on a parametric method and a profile curve technique for the creation of addendum surfaces that involve the easiest process parameters to improve the part's quality. All the addendum surfaces in form of NURBS are created without manual intervention. These geometric parameters are then optimized to obtain the best formability by using an optimization algorithm and the fast Inverse Approach for the sheet forming modelling. The performance and efficiency of two optimization algorithms (FSQP and RSM) are studied and compared. The parallel computation technique is used in the optimization procedure and the computation time is largely reduced. The present optimization procedure is applied to an academic example and two industrial workpieces. The numerical results show that the design is very fast and converges rapidly towards an optimal solution.
Access options
Buy single article
Instant access to the full article PDF.
US$ 39.95
Tax calculation will be finalised during checkout.
Subscribe to journal
Immediate online access to all issues from 2019. Subscription will auto renew annually.
US$ 79
Tax calculation will be finalised during checkout.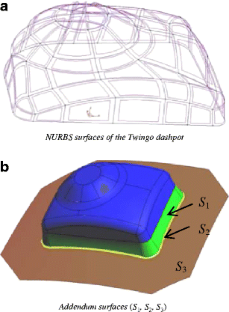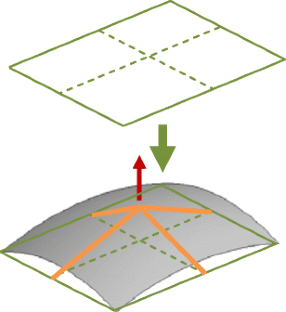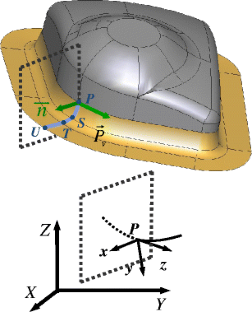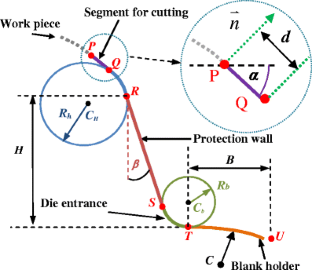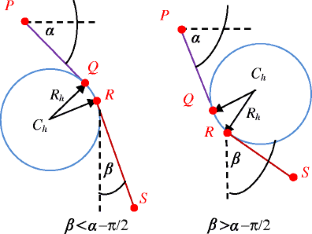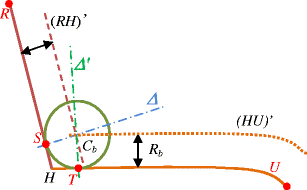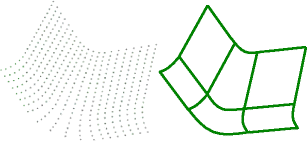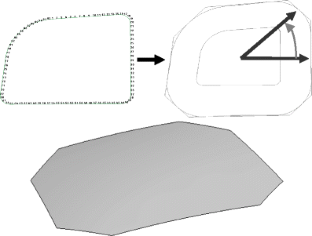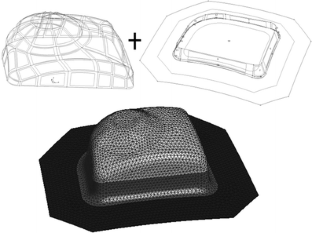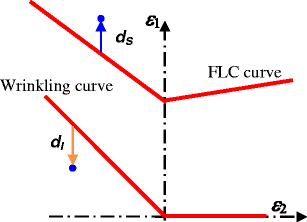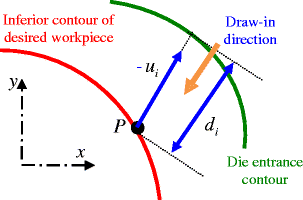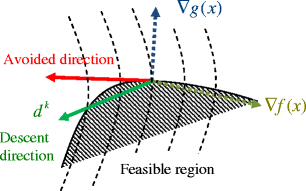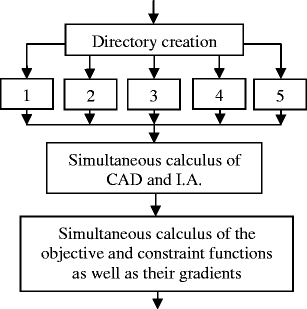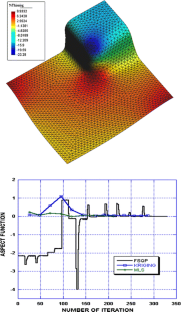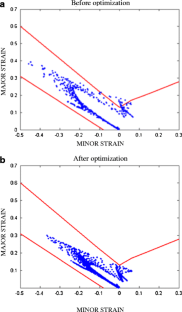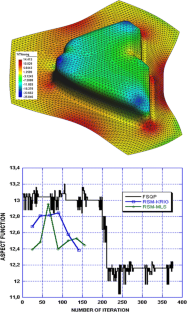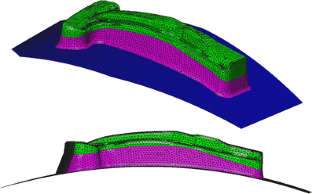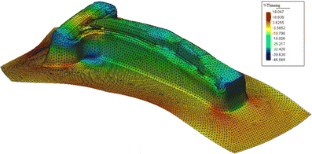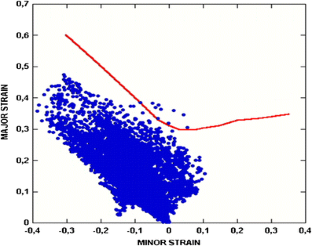 References
1.

Jansson T, Anderson A, Nilsson L (2005) Optimization of draw-in for an automotive sheet metal part: an evaluation using surrogate models and response surfaces. J Mater Process Tech 159(3):426–434

2.

Jansson T, Nilsson L (2006) Minimizing the risk of failure in a sheet metal forming process. Struct Multidisc Optim 31:320–332

3.

Liu W, Yang Y (2008) Multi-objective optimization of sheet metal forming process using Pareto-based genetic algorithm. J Mater Process Tech 208:499–506

4.

Shim HB, Son KC (2000) Optimal blank shape design by sensitivity method. J Mater Process Tech 104:191–199

5.

Hino R, Yoshida F, Toropov VV (2006) Optimum blank design for sheet metal forming based on the interaction of high and low fidelity FE models. Arch Appl Mech 75:679–691

6.

Azaouzi M, Naceur H, Delamézière A, Batoz JL, Belouettar S (2008) An Heuristic Optimization Algorithm for the blank shape design of high precision metallic parts obtained by a particular stamping process. Finite Elem Anal Des 44(14):842–850

7.

Sklad MP, Yung Blud BA (1992) Analysis of multi-operation sheet forming processes. Numiform 92:543–547

8.

Schenk O, Hillmann M (2004) Optimal design of metal forming die surfaces with evolution strategies. Compos Struct 82:1695–1705

9.

Dong M, Debray K, Guo YQ, Shan JL (2007) Design and optimization of addendum surfaces in sheet metal forming process. Int J Comput Meth Eng Sci Mech 8(4):211–222

10.

Tsuen BT, Kuo CC (2008) Application of an integrated CAD/CAE/CAM system for stamping dies for automobiles. Int J Adv Manuf Technol 35:1000–1013

11.

OpenCascade, document d'aide, "Open Cascade Technology" version 6.1, 2006.

12.

Laug P, Borouchaki H (1999) BLSURF—Mailleur de surfaces composées de carreaux paramétrés Manuel d'utilisation.

13.

Piegl L, Wayne T (1997) The NURBS Book 2nd edn. Ed. Springer, pp. 361–492.

14.

Coons SA (1967) Surfaces for computer aided design of space form. Technical rept, page 105, Massachusetts Institute of Technology, Cambridge, USA.

15.

Laug P (2005) Topologie et maillage des surfaces paramétrées à partir d'une modélisation B-Rep. 17 ème Congrès Français de Mécanique.

16.

Guo YQ, Batoz JL, Detraux JM, Duroux P (1990) Finite element procedures for strain estimations of sheet metal forming parts. Int J Numer Meth Eng 39:1385–1401

17.

Batoz JL, Guo YQ, Mercier F (1998) The inverse approach with simple triangular shell elements for large strain predictions of sheet metal forming parts. Engineering Computations 6–7(15):864–892

18.

Guo YQ, Batoz JL, Bouabdallah S, Naceur H (2000) Recent developments on the Analysis and Optimum Design of Sheet Metal Forming Parts using a Simplified Inverse Approach. Int J Comp Struct 78:133–148

19.

Guo YQ, Naceur H, Debray K, Bogard F (2003) Initial solution estimation to speed up Inverse Approach in stamping modelling. Int J Eng Comput 20(7–8):810–834

20.

Naceur H, Guo YQ, Batoz JL, Knopf-Lenoir C (2001) Optimization of drawbead restraining forces and drawbead design in sheet metal forming process. Int J Mech Sci 43(10):2407–2434

21.

Lawrence CT, Tits AL (March, 1996) Nonlinear equality constraints in feasible sequential quadratic programming. Optim Meth Software (6):265–282.

22.

Myers RH, Montgomery DC (2002) Response surface methodology: process and product optimization using designed experiments. Wiley, New York

23.

Breitkopf P, Naceur H, Rassineux A, Villon P (Nov., 2003) Moving least squares response surface approximation for metal forming applications. Comput Struct.

24.

Sacks J, Welch WJ, Mitchell TJ, Wynn HP (1989) Design and analysis of computer experiments. Stat Sci 4(4):409–435

25.

Wendland H (2001) Local polynomial reproduction and moving least squares approximation. Journal of Numerical. Analysis 21(1):285–300
About this article
Cite this article
Debray, K., Li, Y.M. & Guo, Y.Q. Parametric design and optimization of addendum surfaces for sheet metal forming process. Int J Mater Form 6, 315–325 (2013). https://doi.org/10.1007/s12289-011-1088-x
Received:

Accepted:

Published:

Issue Date:
Keywords
Sheet metal forming

Profile curves

Addendum surfaces

Parametric design and optimization.