Abstract
The introduction of tyrosine kinase inhibitors (TKI) has resulted in a significant improvement in the treatment of CML patients. However, some CML patients are resistant to imatinib therapy, the initial TKI therapy in the CML. Therefore, it is important to find prognostic markers for resistance. The OCT-1 gene involved in imatinib uptake is also suspected to cause imatinib resistance. The aim of this study was to investigate the role of OCT-1 in imatinib resistance by comparing OCT-1 expression levels in imatinib resistant and imatinib sensitive patients with chronic myeloid leukemia (CML). This study was conducted on 101 patients with CML [imatinib sensitive (n = 51) and imatinib resistant (n = 50)] who were treated with imatinib. Gene expression analysis was done using QRT-PCR. The relative expression levels of OCT-1 were calculated using 2(−ΔΔCT) method. OCT1 mRNA expression levels were 0.149 (0.011–2.532) and 0.119 (0.008–2.868) in imatinib-sensitive group and imatinib-resistant group, respectively. OCT-1 expression levels were not significantly different in the imatinib-sensitive group when compared to imatinib resistant group (p > 0.05). OCT-1 expression was also similar in BCR-ABL1 kinase domain mutation positive and negative cases (p > 0.05). The imatinib-resistant group had a higher rate of hydroxyurea or interferon-alpha treatment prior to imatinib therapy and a lower rate for first-line imatinib as the only treatment than the imatinib-sensitive group (p = 0.002 and p = 0.002, respectively). According to the results of our study, OCT-1 does not have a biomarker feature in the evaluation of imatinib response. In addition, the study should be performed in larger patient groups.
Access options
Buy single article
Instant access to the full article PDF.
USD 39.95
Price excludes VAT (USA)
Tax calculation will be finalised during checkout.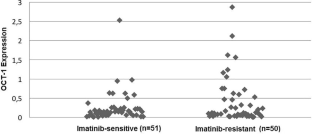 References
de Klein A, van Kessel AG, Grosveld G et al (1982) A cellular oncogene is translocated to the Philadelphia chromosome in chronic myelocytic leukaemia. Nature 300:765–767

Schindler T, Bornmann W, Pellicena P et al (2000) Structural mechanism for STI-571 inhibition of abelson tyrosine kinase. Science 289:1938–1942

Druker BJ, Tamura S, Buchdunger E et al (1996) Effects of a selective inhibitor of the Abl tyrosine kinase on the growth of Bcr-Abl positive cells. Nat Med 2:561–566

Marin D, Milojkovic D, Olavarria E et al (2008) European LeukemiaNet criteria for failure or suboptimal response reliably identify patients with CML in early chronic phase treated with imatinib whose eventual outcome is poor. Blood 112:4437–4444

Apperley JF (2007) Part I: mechanisms of resistance to imatinib in chronic myeloid leukaemia. Lancet Oncol 8:1018–1029

Volpe G, Panuzzo C, Ulisciani S et al (2009) Imatinib resistance in CML. Cancer Lett 274:1–9

Milojkovic D, Apperley J (2009) Mechanisms of resistance to imatinib and second-generation tyrosine inhibitors in chronic myeloid leukemia. Clin Cancer Res 15:7519–7527

Alves R, Fonseca AR, Gonçalves AC et al (2015) Drug transporters play a key role in the complex process of Imatinib resistance in vitro. Leuk Res 39:355–360

Hu S, Franke RM, Filipski KK et al (2008) Interaction of imatinib with human organic ion carriers. Clin Cancer Res 14:3141–3148

Chhikara S, Sazawal S, Seth T et al (2017) Molecular response to ımatinib and ıts correlation with mrna expression levels of ımatinib ınflux transporter (OCT1) in Indian chronic myeloid leukemia patients. Asian Pac J Cancer Prev 18:2043–2048

Eechoute K, Sparreboom A, Burger H et al (2011) Drug transporters and imatinib treatment: implications for clinical practice. Clin Cancer Res 17:406–415

White DL (2006) OCT-1-mediated influx is a key determinant of the intracellular uptake of imatinib but not nilotinib (AMN107): reduced OCT-1 activity is the cause of low in vitro sensitivity to imatinib. Blood 108:697–704

Francis J, Dubashi B, Sundaram R et al (2015) A study to explore the correlation of ABCB1, ABCG2, OCT1 genetic polymorphisms and trough level concentration with imatinib mesylate-induced thrombocytopenia in chronic myeloid leukemia patients. Cancer Chemother Pharmacol 76:1185–1189

Gromicho M, Dinis J, Magalhães M et al (2011) Development of imatinib and dasatinib resistance: dynamics of expression of drug transporters ABCB1, ABCC1, ABCG2, MVP, and SLC22A1. Leuk Lymphoma 52:1980–1990

Nies AT, Schaeffeler E, van der Kuip H et al (2014) Cellular uptake of imatinib into leukemic cells is independent of human organic cation transporter 1 (OCT1). Clin Cancer Res 20:985–994

Ben Hassine I, Gharbi H, Soltani I et al (2017) hOCT1 gene expression predict for optimal response to Imatinib in Tunisian patients with chronic myeloid leukemia. Cancer Chemother Pharmacol 79:737–745

Malhotra H, Sharma P, Malhotra B et al (2015) Molecular response to imatinib & its correlation with mRNA expression levels of imatinib influx & efflux transporters in patients with chronic myeloid leukaemia in chronic phase. Indian J Med Res 142:175–182

Rinaldetti S, Pfirrmann M, Manz K et al (2018) Effect of ABCG2, OCT1, and ABCB1 (MDR1) gene expression on treatment-free remission in a EURO-SKI subtrial. Clin Lymphoma Myeloma Leuk 18:266–271

Engler JR, Zannettino AC, Bailey CG et al (2011) OCT-1 function varies with cell lineage but is not influenced by BCR-ABL. Haematologica 96:213–220

McWeeney SK, Pemberton LC, Loriaux MM et al (2010) A gene expression signature of CD34+ cells to predict major cytogenetic response in chronic-phase chronic myeloid leukemia patients treated with imatinib. Blood 115:315–325

Baccarani M, Deininger MW, Rosti G et al (2013) European LeukemiaNet recommendations for the management of chronic myeloid leukemia: 2013. Blood 122(6):872–884

Livak KJ, Schmittgen TD (2001) Analysis of relative gene expression data using real-time quantitative PCR and the 2(−Delta Delta C(T)) method. Methods 25:402–408

Tanaka R, Kimura S, Ashihara E et al (2011) Rapid automated detection of ABL kinase domain mutations in imatinib-resistant patients. Cancer Lett 312:228–234

Bazeos A, Marin D, Reid AG et al (2010) hOCT1 transcript levels and single nucleotide polymorphisms as predictive factors for response to imatinib in chronic myeloid leukemia. Leukemia 24:1243–1245

de Lima LT, Vivona D, Bueno CT et al (2014) Reduced ABCG2 and increased SLC22A1 mRNA expression are associated with imatinib response in chronic myeloid leukemia. Med Oncol 31:851

Nardinelli L, Sanabani SS, Didone A et al (2012) Pretherapeutic expression of the hOCT1 gene predicts a complete molecular response to imatinib mesylate in chronic-phase chronic myeloid leukemia. Acta Haematol 127:228–234

Gromicho M, Magalhães M, Torres F et al (2013) Instability of mRNA expression signatures of drug transporters in chronic myeloid leukemia patients resistant to imatinib. Oncol Rep 29:741–750

Eadie LN, Hughes TP, White DL (2018) Patients with low OCT-1 activity and high ABCB1 fold rise have poor long-term outcomes in response to tyrosine kinase inhibitor therapy. Leukemia 32(10):2288–2291

Crossman LC, Druker BJ, Deininger MW et al (2005) hOCT 1 and resistance to Imatinib. Blood 106:1133–1134

White DL, Saunders VA, Dang P et al (2007) Most CML patients who have a suboptimal response to imatinib have low OCT-1 activity: higher doses of imatinib may overcome the negative impact of low OCT-1 activity. Blood 110:4064–4072

Wang L, Giannoudis A, Lane S et al (2008) Expression of the uptake drug transporter hoct1 is an important clinical determinant of the response to imatinib in chronic myeloid leukemia. Clin Pharmacol Ther 83:258–264

White DL, Dang P, Engler J et al (2010) Functional activity of the OCT-1 protein is predictive of long-term outcome in patients with chronic-phase chronic myeloid leukemia treated with imatinib. J Clin Oncol 28:2761–2767

Zhong JS, Meng FY, Xu D et al (2012) Correlation between imatinib trough concentration and efficacy in Chinese chronic myelocytic leukemia patients. Acta Haematol 127:221–227

Razga F, Racil Z, Polakova KM et al (2011) The predictive value of human organic cation transporter 1 and ABCB1 expression levels in different cell populations of patients with de novo chronic myelogenous leukemia. Int J Hematol 94:303–306

Zhang WW, Cortes JE, Yao H et al (2009) Predictors of primary imatinib resistance in chronic myelogenous leukemia are distinct from those in secondary imatinib resistance. J Clin Oncol 27:3642–3649

Grinfeld J, Gerrard G, Alikian M et al (2013) A common novel splice variant of SLC22A1 (OCT1) is associated with impaired responses to imatinib in patients with chronic myeloid leukaemia. Br J Haematol 163:631–639

Solali S, Kaviani S, Movassaghpour AA et al (2013) Real-time polymerase chain reaction testing for quantitative evaluation of hOCT1 and MDR1 expression in patients with chronic myeloid leukemia resistant to imatinib. Lab Med 44:13–19

Mascarenhas CC, Almeida MH, Miranda EC et al (2013) Evaluation of hOCT1 expression in patients with chronic myeloid leukemia (CML) treated with imatinib in first line. Blood 122:4041

Giannoudis A, Wang L, Jorgensen AL et al (2013) The hOCT1 SNPs M420del and M408V alter imatinib uptake and M420delmodifies clinical outcome in imatinib-treated chronic myeloid leukemia. Blood 121:628–637

Sreenivasan Tantuan S, Viljoen CD (2018) Imatinib affects the expression of SLC22A1 in a non-linear concentration-dependent manner within 24 hours. Med Sci Monit Basic Res 24:59–62

Jiang X, Zhao Y, Smith C et al (2007) Chronic myeloid leukemia stem cells possess multiple unique features of resistance to BCR-ABL targeted therapies. Leukemia 21:926–935

Kim YK, Lee SS, Jeong SH et al (2014) OCT-1, ABCB1, and ABCG2 expression in imatinib-resistant chronic myeloid leukemia treated with dasatinib or nilotinib. Chonnam Med J 50:102–111

Weisberg E, Griffin JD (2000) Mechanism of resistance to the ABL tyrosine kinase inhibitor STI571 in BCR/ABL-transformed hematopoietic cell lines. Blood 95:3498–3505
Acknowledgements
The study was supported by the İstanbul University Scientific Research Foundation (Project Number: 57862).
Ethics declarations
Conflict of interests
The authors declare that they have no conflict of interest.
Ethıcal Approval
The study was conducted in accordance with the ethical principles stated in the "Declaration of Helsinki". The study was approved by the Clinical Research Ethics Committee of the Istanbul Medical Faculty, Istanbul University (Decision number/date: 1330/June 26, 2015).
Informed Consent
Written informed consent was obtained from each subject following a detailed explanation of the objectives and protocol of the study.
Additional information
Publisher's Note
Springer Nature remains neutral with regard to jurisdictional claims in published maps and institutional affiliations.
About this article
Cite this article
Bozkurt Bulakcı, B., Daglar Aday, A., Gurtekin, B. et al. OCT-1 Expression in Patients with Chronic Myeloid Leukemia: A Comparative Analysis with Respect to Response to Imatinib Treatment. Indian J Hematol Blood Transfus 38, 668–674 (2022). https://doi.org/10.1007/s12288-022-01532-2
Received:

Accepted:

Published:

Issue Date:

DOI: https://doi.org/10.1007/s12288-022-01532-2
Keywords
Chronic myeloid leukemia

Imatinib

Resistance

OCT-1