Abstract
Thawed fresh frozen plasma (FFP) if not used within 6 h, may have to be discarded due to the risk of contamination and uncertainty about its quality. The main objective of this study was to evaluate the levels of coagulation Factor II (FII), Factor VIII (FVIII), fibrinogen and bacterial growth in thawed refrozen FFP. Thirty FFP samples were collected from healthy donors. FFP were thawed in water bath at 37 °C for 20–25 min. Approximately 10 mL of plasma from each FFP unit was tested for FII, FVIII, fibrinogen and sterility. The thawed FFP units were then kept at 4 °C for 6 h before being refrozen and stored at − 20 °C. Two weeks later, the refrozen FFP were thawed again and representative samples were analysed as before. There was a significant decline in the mean FVIII level, from 155.77% to 85.6% at second thaw. The mean FII level increased significantly from 74.9% to 82%, whereas the mean fibrinogen level fell from 3.34g/L to 3.28 g/L, but the decline was not statistically significant. There was no bacterial contamination in all samples at both time points. Refrozen plasma may be considered as an alternative to the storage of thawed unused FFP provided they are kept in a controlled environment to reduce wastage. These thawed refrozen FFP can be used later in bleeding cases like other FFP as the levels of FVIII are still within the standard haematology range (0.5–2 IU/mL) and above the minimal level of 30% coagulation factors required for adequate haemostasis.
This is a preview of subscription content,
to check access.
Access this article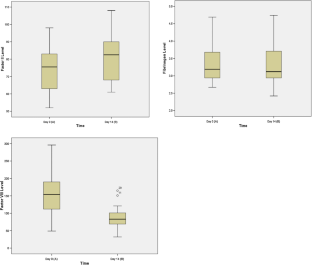 Similar content being viewed by others
References
National Blood Centre (2016) Transfusion Practice Guidelines for Clinical and Laboratory Personnel, 4th edn. Ministry of Health Malaysia

Hughes VC, Wright PA (2005) Donor screening and component preparation. In: Harmening DM (ed) Modern blood banking and transfusion practices, 5th edn. FA Davis Company, New York, pp 207–241

Dzik WH, Riibner MA, Linehan SK (1989) Refreezing previously thawed fresh frozen plasma. Stability of coagulation factors V and VIII: C. Transfusion 29:600–604

Blood Bank data (2014) FFP usage record. UKM Medical Centre

Ben-Tal O, Zwang E, Eichel R, Badalbev T, Hareuveni M (2003) Vitamin K-dependent coagulation factors and fibrinogen levels in FFP remain stable upon repeated freezing and thawing. Transfusion 43(7):873–877

Philip J, Sarkar RS, Pathak A (2013) The effect of repeated freezing and thawing on levels of vitamin K-dependent coagulation factors and fibrinogen in fresh frozen plasma. Asian J Transfus Sci 7(1):11–15

Dzik W, Rao A (2004) Why do physicians request fresh frozen plasma? Transfusion 44(9):1393–1394

O'Neill EM, Rowley J, Hansson-Wicher M, McCarter S, Ragno G, Valeri CR (1999) Effect of 24-hour whole blood storage on plasma clotting factors. Transfus Med 39(5):488–491

Dumont LJ, Papari M, Aronson CA, Dumont DF (2014) Whole-blood collection and component processing. In: Fung MK, Grossman BJ, Hillyer CD, Westhoff CM (eds) Technical manual, AABB, 18th edn. Bethesda, pp 135–166

Agus N, Yilmaz N, Colak A, Liv F (2012) Levels of factor VIII and factor IX in fresh-frozen plasma produced from whole blood stored at 4 °C overnight in Turkey. Blood Transfus 10:191–193

Noordin SS, Karim FA, Wan Mohammad WMZ, Hussein AR (2018) Coagulation factor activities changes over 5 days in thawed fresh frozen plasma stored at different initial storage temperatures. Indian J Hematol Blood Transfus 34(3):510–516

Shamsudin S, Yousuf R, Tang YL, Ding CH, Leong CF (2017) Evaluation of coagulation factor activity and sterility of thawed fresh frozen plasma during storage up to 5 days at 4 °C. MJPath (paper submitted under review)
Acknowledgements
We would like to thank UKM Medical Centre for providing a research Grant (Code: FF-2016-075). We would also like to thank the staff, UKMMC for their technical help in this study.
Funding
This study was funded by UKM Medical Centre (Research Grant Code: FF-2016 075).
Ethics declarations
Conflict of interest
All authors of this article declared that they have no conflict of interest.
Ethical Approval
All procedures performed in studies involving human participants were in accordance with the ethical standards of the institutional and national research committee (Secretariat for Medical Research and Innovation, National Medical Research Registry) and with the 1964 Helsinki declaration and its later amendments or comparable ethical standards."
Informed Consent
Informed consent was obtained from all individual participants included in the study. A Preliminary Study on Coagulation Parameters and Sterility of Thawed Refrozen Fresh Frozen Plasma.
Additional information
Publisher's Note
Springer Nature remains neutral with regard to jurisdictional claims in published maps and institutional affiliations.
About this article
Cite this article
Draman, R., Yousuf, R., Abdul Aziz, S. et al. A Preliminary Study on Coagulation Parameters and Sterility of Thawed Refrozen Fresh Frozen Plasma. Indian J Hematol Blood Transfus 36, 112–116 (2020). https://doi.org/10.1007/s12288-019-01171-0
Received:

Accepted:

Published:

Issue Date:

DOI: https://doi.org/10.1007/s12288-019-01171-0
Keywords