Abstract
Acute lymphoblastic leukemia (ALL) accounts for 20% of all adult leukemias and is the most common leukemia during childhood (80%). We present data on cytogenetics of ALL from a tertiary centre in India correlating it with clinical factors. Karyotyping of bone marrow samples of 204 patients with newly diagnosed ALL was performed with standard G-banding technique. Clinical data of patients was obtained from case records. Survival was estimated using Kaplan–Meir curves and compared by the log-rank test. Univariate and multivariate analysis was done for survival with age, sex, immunophenotype, hyperleukocytosis, risk type, remission status and cytogenetics. The most common karyotypes observed were normal in 39.7% (N = 81), hyperdiploidy in 12.7% (N = 26), t(9;22) in 4.4% (N = 9), t(1;19) in 3.9% (N = 8). Adults with ALL had worse survival compared with pediatric patients (HR 3.62; 2.03–6.45 95% CI, p < 0.001). Patients not in morphologic remission after induction chemotherapy fared poorly (HR 4.86; 2.67–8.84 95% CI, p < 0.001). Patients with favourable cytogenetics had better overall survival (HR 0.36; 0.12–1.05 95% CI, p < 0.05). On multivariate analysis, achievement of morphologic remission emerged as single most significant predictor of survival (p < 0.001). MLL gene rearrangement and t(12;21) were seen less commonly as compared to Western data. However, incidence rates of various cytogenetic abnormalities were similar to that reported from other centres from India. Age, morphologic remission at end of induction chemotherapy and favourable cytogenetics correlated significantly with survival.
Access options
Buy single article
Instant access to the full article PDF.
USD 39.95
Price excludes VAT (USA)
Tax calculation will be finalised during checkout.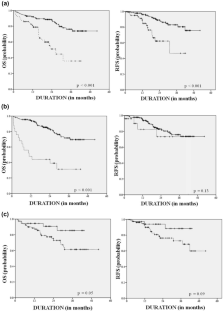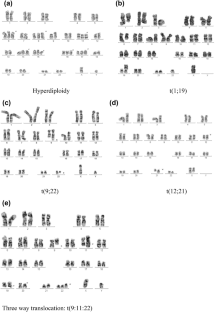 References
Siegel R, Naishadham D, Jemal A (2012) Cancer statistics, 2012. CA Cancer J Clin 62(1):10–29

Swaminathan R, Rama R, Shanta V (2008) Childhood cancers in Chennai, India, 1990–2001: incidence and survival. Int J Cancer 122(11):2607–2611

Terwilliger T, Abdul-Hay M (2017) Acute lymphoblastic leukemia: a comprehensive review and 2017 update. Blood Cancer J 7(6):e577

Mrózek K, Harper DP, Aplan PD (2009) Cytogenetics and molecular genetics of acute lymphoblastic leukemia. Hematol Oncol Clin North Am 23(5):991–1010

Inaba H, Greaves M, Mullighan CG (2013) Acute lymphoblastic leukaemia. Lancet 381(9881):1943–1955

Faderl S, Kantarjian HM, Talpaz M, Estrov Z (1998) Clinical significance of cytogenetic abnormalities in adult acute lymphoblastic leukemia. Blood 91(11):3995–4019

Arber DA, Orazi A, Hasserjian R, Thiele J, Borowitz MJ, Beau MML et al (2016) The 2016 revision to the World Health Organization classification of myeloid neoplasms and acute leukemia. Blood 127(20):2391–2405

Moorman AV, Harrison CJ, Buck GAN, Richards SM, Secker-Walker LM, Martineau M et al (2007) Karyotype is an independent prognostic factor in adult acute lymphoblastic leukemia (ALL): analysis of cytogenetic data from patients treated on the Medical Research Council (MRC) UKALLXII/Eastern Cooperative Oncology Group (ECOG) 2993 trial. Blood 109(8):3189–3197

Wetzler M, Dodge RK, Mrózek K, Carroll AJ, Tantravahi R, Block AW et al (1999) Prospective karyotype analysis in adult acute lymphoblastic leukemia: the cancer and leukemia group B experience. Blood 93(11):3983–3993

Moorman AV, Ensor HM, Richards SM, Chilton L, Schwab C, Kinsey SE et al (2010) Prognostic effect of chromosomal abnormalities in childhood B-cell precursor acute lymphoblastic leukaemia: results from the UK Medical Research Council ALL97/99 randomised trial. Lancet Oncol 11(5):429–438

Rowe JM, Buck G, Burnett AK, Chopra R, Wiernik PH, Richards SM et al (2005) Induction therapy for adults with acute lymphoblastic leukemia: results of more than 1500 patients from the international ALL trial: MRC UKALL XII/ECOG E2993. Blood 106(12):3760–3767

Jones LK, Saha V (2005) Philadelphia positive acute lymphoblastic leukaemia of childhood. Br J Haematol 130(4):489–500

Shurtleff SA, Buijs A, Behm FG, Rubnitz JE, Raimondi SC, Hancock ML et al (1995) TEL/AML1 fusion resulting from a cryptic t(12;21) is the most common genetic lesion in pediatric ALL and defines a subgroup of patients with an excellent prognosis. Leukemia 9(12):1985–1989

Dastugue N, Suciu S, Plat G, Speleman F, Cavé H, Girard S et al (2013) Hyperdiploidy with 58-66 chromosomes in childhood B-acute lymphoblastic leukemia is highly curable: 58951 CLG-EORTC results. Blood 121(13):2415–2423

Johansson B, Mertens F, Mitelman F (2004) Clinical and biological importance of cytogenetic abnormalities in childhood and adult acute lymphoblastic leukemia. Ann Med 36(7):492–503

Wan TSK (2014) Cancer cytogenetics: methodology revisited. Ann Lab Med 34(6):413–425

Kaplan EL, Meier P (1958) Nonparametric estimation from incomplete observations. J Am Stat Assoc 53(282):457

Mantel N (1966) Evaluation of survival data and two new rank order statistics arising in its consideration. Cancer Chemother Rep 50(3):163–170

Peto R, Peto J (1972) Asymptotically efficient rank invariant test procedures. J R Stat Soc Ser A (General) 135(2):185–207

Griffin TC, Tomlinson GE, Raimondi SC, Sandoval C, Timmons CF, Rosenfield C et al (1992) Childhood acute lymphoblastic leukemia with both t(1;19) and t(9;22). Leukemia 6(6):535–540

Aliano S, Cirmena G, Fugazza G, Bruzzone R, Palermo C, Sessarego M (2013) Standard and variant Philadelphia translocation in a CML patient with different sensitivity to imatinib therapy. Leuk Res Rep 2(2):75–78

Radhakrishnan V, Gupta S, Ganesan P, Rajendranath R, Ganesan TS, Rajalekshmy KR et al (2015) Acute lymphoblastic leukemia: a single center experience with Berlin, Frankfurt, and Munster-95 protocol. Indian J Med Paediatr Oncol 36(4):261–264

Amare PSK, Jain H, Kabre S, Deshpande Y, Pawar P, Banavali S et al (2016) Cytogenetic profile in 7209 Indian patients with de novo acute leukemia: a single centre study from India. J Cancer Ther 07(07):530

Mazloumi SHM, Madhumathi DS, Appaji L, Prasannakumari null (2012) Combined study of cytogenetics and fluorescence in situ hybridization (FISH) analysis in childhood acute lymphoblastic leukemia (ALL) in a tertiary cancer centre in South India. Asian Pac J Cancer Prev 13(8):3825–3827

Chennamaneni R, Gundeti S, Konatam ML, Bala S, Kumar A, Srinivas L (2018) Impact of cytogenetics on outcomes in pediatric acute lymphoblastic leukemia. South Asian J Cancer 7(4):263

Uckun FM, Sensel MG, Sather HN, Gaynon PS, Arthur DC, Lange BJ et al (1998) Clinical significance of translocation t(1;19) in childhood acute lymphoblastic leukemia in the context of contemporary therapies: a report from the Children's Cancer Group. J Clin Oncol 16(2):527–535

Pui C-H, Gaynon PS, Boyett JM, Chessells JM, Baruchel A, Kamps W et al (2002) Outcome of treatment in childhood acute lymphoblastic leukaemia with rearrangements of the 11q23 chromosomal region. Lancet 359(9321):1909–1915

Ganesan P, Sagar TG, Kannan K, Radhakrishnan V, Dhanushkodi M, Swaminathan R et al (2018) Acute lymphoblastic leukemia in Young adults treated with intensive "pediatric" type protocol. Indian J Hematol Blood Transfus 34(3):422–429

Mancini M, Vegna ML, Castoldi GL, Mecucci C, Spirito F, Elia L et al (2002) Partial deletions of long arm of chromosome 6: biologic and clinical implications in adult acute lymphoblastic leukemia. Leukemia 16(10):2055–2061

Othman MAK, Rincic M, Melo JB, Carreira IM, Alhourani E, Hunstig F et al (2014) A novel cryptic three-way translocation t(2;9;18)(p23.2;p21.3;q21.33) with deletion of tumor suppressor genes in 9p21.3 and 13q14 in a T-cell acute lymphoblastic leukemia. Leuk Res Treat 2014:357123

Lee S-G, Park TS, Won SC, Song J, Lee K-A, Choi JR et al (2010) Three-way translocation involving MLL, MLLT1, and a novel third partner, NRXN1, in a patient with acute lymphoblastic leukemia and t(2;19;11) (p12;p13.3;q23). Cancer Genet Cytogenet. 197(1):32–38
Ethics declarations
Ethical Approval
This is a retrospective study. According to institutional policies ethical committee approval is not required for such studies.
Conflict of interest
The authors declare that they have no conflict of interest.
Additional information
Publisher's Note
Springer Nature remains neutral with regard to jurisdictional claims in published maps and institutional affiliations.
About this article
Cite this article
Reddy, P., Shankar, R., Koshy, T. et al. Evaluation of Cytogenetic Abnormalities in Patients with Acute Lymphoblastic Leukemia. Indian J Hematol Blood Transfus 35, 640–648 (2019). https://doi.org/10.1007/s12288-019-01123-8
Received:

Accepted:

Published:

Issue Date:

DOI: https://doi.org/10.1007/s12288-019-01123-8
Keywords