Abstract
Asymmetric dimethylarginine (ADMA) level may play a role in the pathogenesis of cerebrovascular stroke in Children with Sickle Cell Anemia (SCA). To assess the plasma level of ADMA in children with SCA and its correlation to cerebral blood flow. This is a cross sectional study was carried out on 30 children with homozygous SCA under follow up in the Out Patients Clinic, Pediatric Department at Tanta University Hospital and 30 healthy children as a control group. Both groups had undergone the following investigations: Complete blood count, lactate dehydrogenase enzyme, and plasma level of ADMA by a commercial ADMA ELISA Kit. Trans-cranial Doppler were done for both groups. ADMA plasma level was significantly higher in-patient group in comparison to the control group (p < 0.001), with a mean value 1.43 ± 0.20 μmol/l, 0.48 ± 0.16 μmol/l respectively. The time-averaged mean maximum velocities for middle cerebral artery, anterior cerebral artery, inferior cerebral artery and posterior cerebral artery were significantly different between patient and control group, p < 0.05. Trans-cranial Doppler data revealed that, 86.7% of patients have low velocity (< 70 cm/s) and 13.3% having very low velocity (< 10 cm/s) while control group have normal velocity. There was a significant negative correlation between ADMA plasma levels and cerebral blood flow. Elevated ADMA levels may have a role in the pathogenesis of the decreased cerebral blood flow in children with SCA.
This is a preview of subscription content, log in to check access.
Access options
Buy single article
Instant access to the full article PDF.
US$ 39.95
Price includes VAT for USA
Subscribe to journal
Immediate online access to all issues from 2019. Subscription will auto renew annually.
US$ 99
This is the net price. Taxes to be calculated in checkout.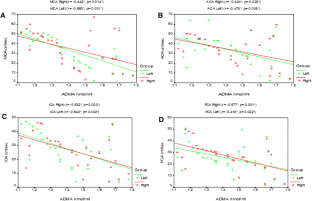 References
1.

Daak AA, Elsamani E, Ali EH, Mohamed FA, Abdel-Rahman ME, Elderdery AY, Talbot O, Kraft P, Ghebremeskel K, Elbashir MI, Fawzi W (2016) Sickle cell disease in western Sudan: genetic epidemiology in western Sudan. Trop Med Int Health 21(5):642–653

2.

Hermann PB, Pianovski MA, Henneberg R, Nascimento AJ, Leonart MS (2016) RBC oxidative stress marker in children with SCD. J Pediatr (Rio J) 92(4):394–399

3.

Zinellu A, Fois AG, Sotgia S, Sotgiu E, Zinellu E, Bifulco F, Mangoni AA, Pirina P, Carru C (2016) Arginine plasma concentration and oxidative stress in COPD. PLoS ONE 11(8):e0160237

4.

Morris CR, Kim HY, Klings ES, Wood J, Porter JB, Trachtenberg F, Sweeters N, Olivieri NF, Kwiatkowski JL, Virzi L, Hassell K, Taher A, Neufeld EJ, Thompson AA, Larkin S, Suh JH, Vichinsky EP, Kuypers FA (2015) Thalassemia clinical research network. Dysregulated arginine metabolism and cardiopulmonary dysfunction in patients with thalassemia. Br J Haematol 169(6):887–898

5.

Mozar A, Connes P, Collins B, Hardy-Dessources MD, Romana M, Lemonne N, Bloch W, Grau M (2016) Red blood cell nitric oxide synthase modulates RBC deformability in SCD. Clin Hemorheol Microcirc 64(1):47–53

6.

Cancio MI, Helton KJ, Schreiber JE, Smeltzer MP, Kang G, Wang WC (2015) Silent cerebral infarcts in children with SCD. Br J Haematol 171(1):120–129

7.

Laranja D, Gomes Rodrigues G, Adegoke S, Campos RM, Pellegrini Braga JP, Figueiredo MS, Silva GS (2017) Patients with sickle cell disease are frequently excluded from the benefits of transcranial Doppler screening for the risk of stroke despite extensive and compelling evidence. Arq Neuro Psiquiatr 75(1):15–19

8.

Kotz S, Balakrishnan N, Read CB, Vidakovic B (2006) Encyclopedia of statistical sciences, 2nd edn. Wiley, Hoboken

9.

Kirkpatrick LA, Feeney BC (2013) A simple guide to IBM SPSS statistics for version 20.0. Wadsworth, Cengage Learning, Belmont

10.

Soe HH, Abas AB, Than NN, Ni H, Singh J, Said AR, Osunkwo I (2017) Vitamin D supplementation for sickle cell disease. Cochrane Database Syst Rev 1:CD010858

11.

Senbanjo IO, Oshikoya KA, Salisu M, Diaku-Akinwumi IN (2016) Head circumference of children with sickle cell disease in Lagos. Niger Pan Afr Med J 25:4

12.

El-Shanshory M, Badraia I, Donia A, Abd El-Hameed F, Mabrouk M (2013) Plasma levels of ADMA elevated in SCD and its correlation to tricuspid regurgitant jet velocity. Eur J Haematol 91(1):55–61

13.

Czarnecka A, Milewski K, Zielińska M (2017) Asymmetric dimethylarginine and hepatic encephalopathy: cause, effect or association? Neuro Chem Res 42(3):750–761

14.

Davids M, van Hell AJ, Visser M, Nijveldt RJ, van Leeuwen PA, Teerlink T (2012) Role of the human erythrocyte in generation and storage of asymmetric dimethylarginine. Am J Physiol Heart Circ Physiol 302(8):H1762–H1770

15.

Yue Y, Huang W, Liang J, Guo J, Ji J, Yao Y, Zheng M, Cai Z, Lu L, Wang J (2015) IL4I1 Is a novel regulator of M2 macrophage polarization that can inhibit T cell activation via l-tryptophan and arginine depletion and IL-10 production. PLoS ONE 10(11):e0142979

16.

Engin A (2017) Endothelial dysfunction in obesity. Adv Exp Med Biol 960:345–379

17.

Visser M, Davids M, Verberne HJ, Kok WE, Tepaske R, Cocchieri R, Kemper EM, Teerlink T, Jonker MA, Wisselink W, deMol BA, vanLeeuwen PA (2014) Nutrition before, during, and after surgery increases the arginine: asymmetric dimethylarginine ratio and relates to improved myocardial glucose metabolism: a randomized controlled trial. Am J Clin Nutr 99(6):1440–1449

18.

Lüneburg N, Siques P, Brito J, Arriaza K, Pena E, Klose H, Leon-Velarde F, Böger RH (2016) Long-term chronic intermittent hypobaric hypoxia in rats causes an imbalance in the asymmetric dimethylarginine/nitric oxide pathway and ROS activity. Pulm Med 2016:6578578

19.

Buchanan ID, James-Herry A, Osunkwo I (2013) The other side of abnormal: a case series of low transcranial Doppler velocities associated with stroke in children with sickle cell disease. J Pediatr Hematol Oncol 35(7):543–546

20.

Mazzucco S, Diomedi M, Qureshi A (2017) Transcranial Doppler screening for stroke risk in children with sickle cell disease: a systematic review. Int J Stroke 12(6):580–588

21.

Rivera CP, Veneziani A, Ware RE, Platt MO (2016) Sickle cell anemia and pediatric strokes computational fluid dynamics analysis in the middle cerebral artery. Exp Biol Med (Maywood) 241(7):755–765

22.

Li H, Wu W, Liu M, Zhang X, Zhang QR, Ni L, Hang CH (2014) Increased cerebrospinal fluid concentrations of asymmetric dimethylarginine correlate with adverse clinical outcome in subarachnoid hemorrhage patients. J Clin Neurosci 21(8):1404–1408
Ethics declarations
Conflict of interest
The authors declare that they have no conflict of interest.
Ethical Standard
All procedures performed in studies involving human participants were in accordance with the ethical standards of the institution and/or national research committee and with the 1964 Helsinki Declaration and its later amendments or comparable ethical standards.
Informed Consent
Informed consent was obtained from all the guardians of children participants included in the study.
Additional information
Publisher's Note
Springer Nature remains neutral with regard to jurisdictional claims in published maps and institutional affiliations.
About this article
Cite this article
El-Shanshory, M., Hablas, N., Nagy, H. et al. Asymmetric Dimethylarginine Levels and Its Correlation to Cerebral Blood Flow in Children with Sickle Cell Anemia. Indian J Hematol Blood Transfus 35, 742–749 (2019). https://doi.org/10.1007/s12288-019-01109-6
Received:

Accepted:

Published:

Issue Date:
Keywords
Sickle cell anemia

TCD

Asymmetric dimethyl arginine