Abstract
With an increase in the number of transplants happening globally, hematopoietic stem cells (HSC) transplantation from matched unrelated donor (MUD) has begun. The increasing trend of MUD transplants across countries has been largely facilitated with the conspicuous growth of volunteer HSC donor noted in the last decade i.e. 8 million HSC donors in 2002 to more than 22 million in 2013 registered in 71 member registries of the Bone Marrow Donor Worldwide (BMDW). Some populations of the world are still very poorly represented in these registries. Since, the chances of successful engraftment and disease free survival are directly proportional to the HLA compatibility between the recipient and the prospective donor, the diversity of the HLA system at the antigenic and allelic level and the heterogeneity of HLA data of the registered donors has a bearing on the probability of finding a volunteer unrelated HSC donor for patients from such populations. In the present study 126 patients were identified suffering from hematological diseases requiring MUD transplant. Their HLA typing was performed and search was done using BMDW database. The search results for these Indian patients in the multinational registry as well as in the Indian Registries were analyzed using mean, range, standard deviation and finally evaluated in terms of probability for finding matched donor (MUD). Total Asian population is only 11 % in the BMDW making it difficult to find a MUD for an Asian patient. The current study supports this, experimentally; revealing that the probability of finding an allele match for an Indian patient in the multinational Human Leukocyte Antigen (HLA) registries is 16 % and a dismal 0.008 % in the Indian registries (donors in Indian registries is just 33,678 as compared to 22.5 million in BMDW). This greatly, emphasizes on enhancing the number of Indian donors in Indian and multi-national registries.
Access options
Buy single article
Instant access to the full article PDF.
USD 39.95
Price includes VAT (USA)
Tax calculation will be finalised during checkout.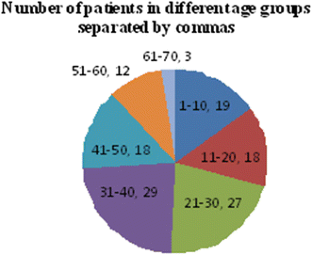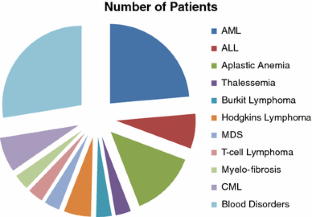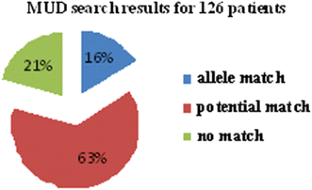 References
1.

Gratwohl A, Baldomero H, Aljurf M et al (2010) Hematopoietic stem cell transplantation: a global perspective. JAMA 303(16):1617–1624

2.

Gratwohl A, Baldomero H, Gratwohl M et al (2013) Quantitative and qualitative differences in use and trends of hematopoietic stem cell transplantation: a global observational study. Haematologica 98(8):1282–1290

3.

Xu LP, Huang XJ (2011) Current status and development of hematopoietic stem cell transplantation in China: a report from Chinese Hematopoietic Stem Cell Transplantation Register Group. Chin Med J (Engl) 124(16):2548–2555

4.

Bone Marrow Donor Worldwide- Annual Report -2012

5.

Chandy M (2008) Stem cell transplants in India. Bone Marrow Transpl 42:81–84

6.

Silberstein LE, Jefferies LC (1996) Placental blood banking: a new frontier in transfusion medicine. N Eng J Med 335:199–201

7.

Bone Marrow Donor Worldwide [Internet]. Netherlands: Bone Marrow Donor Worldwide; 1989 [cited 2013 February 05]. Available from: http://www.bmdw.org/index.php?id=90

8.

Bharat Stem Cell Registry [Internet]. India: Bharat Stem Cell Registry; 2012 [cited 2013 February]. Available from: http://www.bharatstemcellregistry.org/

9.

Datri [Internet]. India: Datri; 2009 [cited 2013 February]. Available from: http://datriworld.org/

10.

Shankarkumar U, Pawar A, Devaraj JP, Bhupali K, Ghosh K (2010) The HLA system: a review. Anthropol Anz 6:183–197

11.

Petersdorf EW (2008) Optimal HLA matching in hematopoietic cell transplantation. Curr Opin in Immunol 20(5):588–593

12.

Shaw BE, Arguello R, Garcia-Sepulveda CA, Madrigal JA (2010) The impact of HLA genotyping on survival following unrelated donor haematopoietic stem cell transplantation: review. Br J Haematol 150(3):251–258

13.

Tiercy JM (2012) Unrelated Hematopoietic Stem Cell Donor Matching Probability and Search Algorithm. Bone Marrow Transpl. doi:10.1155/2012/695018

14.

Lee SJ, Klein J, Haagenson M et al (2007) High-resolution donor-recipient HLA matching contributes to the success of unrelated donor marrow transplantation. Blood 110(13):4576–4583

15.

Fleischhauer K, Shaw BE, Gooley T et al (2012) Effect of T-cell epitope matching at HLADPB1 in recipients of unrelated-donor haematopoietic-cell transplantation : a retrospective study. Lancet Oncology 13:366–374

16.

Bettens F, Passweg J, Schanz U et al (2012) HLA-DPB1 haplotypes on outcome of 10/10 matched unrelated hematopoietic stem cell donor transplantation depends on MHC-linked microsatellite polymorphisms. Biol Blood Marrow Transpl 18:608–616

17.

George B, Mathews V, Srivastava V et al (2001) Tuberculosis among allogenic bone marrow transplant recipients in India. Bone Marrow Transpl 27:972–975

18.

Saikia TK, Advani SH, Parikh PM et al (1999) Results of allogenic bone marrow transplant in chronic myeloid leukaemia following conditioning with busulfan and cyclophosphamide. J Assoc Physicians India 47:770–773

19.

Rajat K, Venniyoor AJ, Bhardwaj R et al (2001) Allogenic bone marrow stem cell transplants at Army Hospitals R&R. J Asso Physician India 49:94

20.

Rajat K (2002) Stem cell transplant: indian prospective. JIACM 3(2):182–188

21.

Gosh K, Shankarkumar U, Mohamty D (2002) Common human leukocyte antigen haplotypes in India: its implications in finding unrelated compatible bone marrow donors. Transfus Med 12:43–48
About this article
Cite this article
Tiwari, A.K., Bhati-Kushwaha, H., Kukreja, P. et al. Probability of Finding Marrow Unrelated Donor (MUD) for an Indian patient in a Multi-national Human Leukocyte Antigen (HLA) Registry. Indian J Hematol Blood Transfus 31, 186–195 (2015). https://doi.org/10.1007/s12288-014-0416-y
Received:

Accepted:

Published:

Issue Date:
Keywords
Allelic

Antigenic

HLA

HSC

MUD