Abstract
There are an estimated 200 million carriers of the β-thalassemia gene worldwide, 20 million being in India. The mean prevalence in India is 3.3 %. Objective To evaluate the clinico-investigational profile and the demographic characteristics of patients with thalassemia major (TM). Methods This was a retrospective analysis of the clinico-demographic profile at presentation of patients of TM diagnosed in the Paediatric Hematology Clinic of our hospital. Results The clinical profile of 964 patients of TM was analyzed. The mean age at presentation of untransfused children was 13.2 ± 9.7 months. Nearly 2/3rd children presented before 1 year of age. Almost 40 % had symptoms for 3 months prior to presentation. The manifestations at presentation included pallor and failure to thrive. About 40 % presented with severe anemia, with a hemoglobin of <5.0 gm/dl. A large number received blood transfusions prior to establishment of the diagnosis. Half of the families had ancestors who hailed originally from Pakistan. Approximately 50 % belonged to the Khatri/Arora castes. The parental literacy rate was about 90 %. Conclusions Thalassemia needs greater public awareness and prevention strategies in our country. Some communities are at high risk as compared to others. Education programs and compulsory antenatal screening appear to be the order of the day.
Access options
Buy single article
Instant access to the full article PDF.
USD 39.95
Price excludes VAT (USA)
Tax calculation will be finalised during checkout.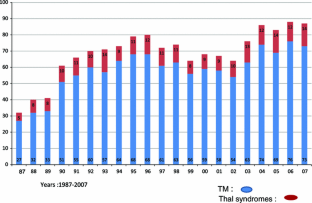 References
Management of birth defects and hemoglobin disorders (2006) Report of a joint WHO-March of Dimes meeting. Geneva, Switzerland, 17–19 May

Higgs DR, Thein SL, Wood WG (2001) The molecular pathology of thalassemias. In: Weatherall DJ, Clegg B (eds) The thalassemia syndromes, 4th edn. Blackwell Sciences, Oxford, pp 133–191

Rund D, Rachmilewitz E (2005) Beta-Thalassemia. N Engl J Med 353:1135–1146

Gibbon R, Higgs DR, Olivieri NF, Wood WG (2001) The beta-thalassemias. In: Weatherall DJ, Clegg JB (eds) The thalassemia syndromes, 4th edn. Blackwell Science, Oxford, pp 288–289

Verma IC, Saxena R, Kohli S (2011) Past, present and future scenario of thalassemic care and control in India. Indian J Med Res 34:507–521

Mohanty D, Colah RB, Gorakshakar AC, Patel RZ, Master DC, Mahanta J, Sharma SK et al (2013) Prevalence of β-thalassemia and other haemoglobinopathies in six cities in India: a multicentre study. J Community Genet 4(1):33–42

Asha S (2004) Thalassemia syndromes. Ind J Med Sci 58:449–455

Marwaha RK, Lal A (1994) Present status of hemoglobinopathies in India. Indian Pediatr 31:267–271

Ambedkar SS, Phadke MA, Mokashi GD, Bankar MP, Khedkar VA, Venkat V et al (2001) Pattern of hemoglobinopathies in western Maharashtra. Indian Pediatr 38:530–534

Garewal G, Das R (2003) Spectrum of beta thalassemia mutations in Punjabis. Int J Hum Genet 3(4):217–219

Dash S (1985) Beta thalassemia trait in the Punjab (North India). Br J Haematol 61:185–191

Mohan N, Sarkar R (1994) Hematological status of β-thalassemia in Madras. Indian J Pediatr 61(3):237–248

Chhotray GP, Dash BP, Ranjit M (2004) Spectrum of hemoglobinopathies in Orissa, India. Hemoglobin 28(2):117–122

Patel Ashwin P, Naik Madhuben R, Shah Nilam M, Sharma Narmadeshwar P, Parmar Prakash H (2012) Prevalence of common hemoglobinopathies in Gujarat: an analysis of a large population screening program. Natl J Community Med 3:112–117

Old JM, Olivieri NF, Thein SL (2001) Diagnosis and management of thalassemia. In: Weatherall DJ, Clegg B (eds) The thalassemia syndromes, 4th edn. Blackwell Sciences, Oxford, pp 551–686

Kattamis C, Ladis V, Metaxatou-Mavromati A (2005) Hemoglobins F and A2 in Greek patients with β and β/δβ thalassemia. In: Schmidt RM (ed) Abnormal hemoglobin's and thalassemia: diagnostic aspects. Academic Press, New York, p 209

Cao A, Galanello R (2000) Effect of consanguinity on screening for thalassemia. N Engl J Med 347:1200–1202

Modell B, Berdoukas V (1984) The clinical approach to thalassemia. Grune & Stratton, New York, p 125

Bandyopaadhyay B, Nandi S, Mitra K, Mandal PK, Mukhopadhayay S, Biswas AB (2007) A comparative study on perceptions and practices among parents of thalassemic children attending two different institutions. Indian J Community Med 28(3):1–5

Ganczakowski M, Bowden DK, Maitland K, William TN, Shaughnessy DO, Viji J (1995) Thalassemia in Vanuatu, south-west Pacific: frequency and hematological phenotypes of young children. Br J Haematol 89:485–495

Pearson HA, Cohen AR, Giadina PJV, Kazazian HH (1996) The changing profile of homozygous beta thalassemia: demography, ethnicity, and age distribution of current North American patients and changes in two decades. Pediatrics 97:352–356

Deyde VM, Lo BB, Khalifa DO, Ly B, Ball A, Fattoum S (2002) Epidemiological profile of hemoglobinopathies in the Mauritanian population. Ann Haematol 81(6):320–321

Hafeez M, Aslam M, Ali A, Rashid Y, Jafri M (2007) Regional and ethnic distribution of beta thalassemia mutations and effect of consanguinity in patients referred for prenatal diagnosis. J Coll Physicians Surg Pak 17(3):144–147

Murthi N, Guio AC, Dreze J (1997) Mortality, fertility and gender bias in India: a district level analysis. In: Dreze J, Sen AK (eds) Indian development: selected regional perspective. Clarendon Press, Oxford, p 357

Arokiasany P, Pradhan J (2006) Gender bias against female children in India: regional differences and their implications for MDGs. International Institute for population Sciences, Princeton.edu, Mumbai

Proceedings of the workshop on protein calorie malnutrition ecology and management (1975) Indian Pediatr 12:57–117. Nutrition sub committee of the Indian Academy of Pediatrics Report (1972). Indian Pediatr 9:360–372

Eshghi P, Alavi S, Ghavami S, Rashidi A (2007) Growth impairment in beta thalassemia major: the role of trace element deficiency and other potential factors. J Pediatr Hematol Oncol 29(1):5–8

Louis CK (2005) Growth of children with beta thalassemia major. Indian J Pediatr 72(2):159–164

Grewal G, Fearon CW, Waren TC, Marwaha N, Marwaha RK, Mahadik C et al (1994) The molecular basis for beta thalassemia in Punjabi and Maharashtra Indians includes a multilocus aetiology involving triplicated alpha-globin loci. Br J Haematol 86(2):372–376

Census of India (2001) www.censusindia.gov.in

Tamhankar PM, Agarwal S, Arya V, Kumar R, Gupta UR, Agarwal SS (2009) Prevention of homozygous beta thalassemia by premarital screening and prenatal diagnosis in India. Prenat Diagn 29(7):732

Gorakshakar AC, Colah R (2009) Cascade screening for β-thalassemia: a practical approach for identifying and counseling carriers in India. Indian J Community Med 34(4):354–356
Conflict of interest
There is no conflict of interest.
About this article
Cite this article
Trehan, A., Sharma, N., Das, R. et al. Clinicoinvestigational and Demographic Profile of Children with Thalassemia Major. Indian J Hematol Blood Transfus 31, 121–126 (2015). https://doi.org/10.1007/s12288-014-0388-y
Received:

Accepted:

Published:

Issue Date:

DOI: https://doi.org/10.1007/s12288-014-0388-y
Keywords
Thalassemia major

Age

Blood transfusion

Caste

Literacy

Education