Abstract
Islamic religious education (IRE) is regulated very differently in Germany. Some states have introduced IRE as a regular subject or launched first trials in schools, whereas other states entirely lack regulation. This is puzzling, as one might consider IRE to be an effective tool for Muslim integration and a preventive measure against radicalization. In a comparative case-study design of two German states (Hessen and Baden-Württemberg), which follows a most-similar-system logic, this article shows that the historically grown relationship between the state and Christian churches in education policy is a key explanatory factor. It promotes negative moral templates toward Islam in public bureaucracies and low regulatory capacities of Muslim religious organizations, which in turn account for the backward position of Baden-Württemberg. This is one of the first studies explaining the phenomenon in Germany and integrating the research on sociological institutionalism and private governance.
Zusammenfassung
Islamischer Religionsunterricht (IRE) ist sehr unterschiedlich reguliert in Deutschland. In manchen Bundesländern ist IRE ein reguläres Schulfach, in anderen ein Modellprojekt und in einer dritte Gruppe nicht vorhanden. Das ist ein überraschendes Phänomen, da IRE die Integration von jungen Muslimen unterstützen und ihre Radikalisierung verhindern könnte. Der Artikel zeigt anhand einer vergleichenden Fallstudie von zwei Bundesländern (Hessen und Baden-Württemberg) auf, dass die historisch gewachsene Staats-Kirche-Beziehung in der Bildungspolitik eines Bundeslandes zentral für ihren Regulierungsansatz im Hinblick auf den IRE ist, da diese Beziehung die moralischen Wertvorstellungen von Verwaltungsbehörden im Umgang mit dem Islam und die Regulierungskapazität von muslimisch-religiösen Organisationen determiniert. Somit ist der Beitrag eine der ersten Studien, welche dieses empirische Phänomen erklärt und dabei die Literatur zum Soziologischen Institutionalismus und privater Steuerung integriert.
This is a preview of subscription content, log in to check access.
Access options
Buy single article
Instant access to the full article PDF.
US$ 39.95
Price includes VAT for USA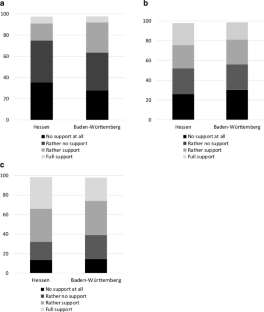 Notes
1.

2.

Blumenthal (2012, p. 136) comes to a similar conclusion when examining veil policy and IRE regimes in German states. She emphasizes, however, that with regard to the regulation of IRE a more detailed analysis of party politics within each state would be fruitful.

3.

When employing a more historical perspective and taking into account that both, Hessen and Baden-Württemberg, launched trials of IRE relatively late (in 2009/2010 respectively 2006/2007) compared to North-Rhine Westphalia (in 1986), the party political composition of the government gains explanatory leverage.

4.

Triadafilopoulos and Rahmann (2016, p. 154) also recommend to investigate the state-specific institutional environments.

5.

See also Schuppert (2016) for a discussion on analyzing the interaction between state and religion from a governance perspective.

6.

The behavior of actors can not be explained exclusively by the so-called "logic of appropriateness" characterizing one institution (March and Olsen 1989, p. 160 in Blumenthal 2009, p. 84), but also by value systems of other institutions they are involved in, institutional change and alternative forms of cooperation with the cultural environment.

7.

Blumenthal (2009, p. 82) does not conceptualize religious communities as regulatory private actor.

8.

This assumption must be handled carefully, and a promising project for future research would be a survey study among civil servants in order to capture moral or cultural traditions. Ucar (2010, p. 47) support this assumption by arguing that the anxiety and reserve of public bureaucrats hindered the recognition of Muslim organizations as religious community in many states.

9.

For a critical discussion of the appropriateness of the legal concept today, see for instance Heinig (2010).

10.

11.

A more general statement with regard to the regulatory capacity is difficult to make as more information on the organization of the different religious Muslim organization would be necessary.
References
Aberbach, Joel D., and Bert A. Rockman. 2002. Conducting and coding elite interviews. Political Science & Politics 35(04):673–676.

Altuntas, Nurgül. 2014. Bekenntnisorientierter islamischer Religionsunterricht. Unterricht und Erziehung 6:178–180.

Altuntas, Nurgül. 2016. Bekenntnisorientierter Islamunterricht in Hessen. Phone Interview conducted by Eva-Maria Euchner. Munich.

Azzaoui, Mounir. 2011. Muslimische Gemeinschaften in Deutschland zwischen Religionspolitik und Religionsverfassungsrecht. Schieflagen und Perspektiven. In Politik und Islam, ed. Hendrik Meyer, Klaus Schubert, 247–276. Wiesbaden: VS.

Blätte, Andreas. 2011. Islamische Verbände in verbandsökonomischer Perspektive. Begrenzte staatliche Forderung durch endogene Ressourcenbildung. In Politik und Islam, ed. Hendrik Meyer, Klaus Schubert, 219–246. Wiesbaden: VS.

v. Blumenthal, Julia. 2009. Das Kopftuch in der Landesgesetzgebung. Governance im Bundesstaat zwischen Unitarisierung und Föderalisierung, 1st edn., Baden-Baden: Nomos.

v. Blumenthal, Julia. 2012. Migrationspolitik nach der Föderalismusreform: Zentralisierung und Dezentralisierung im deutschen Mehrebenensystem. In Jahrbuch des Föderalismus 2012, ed. Europäisches Zentrum für Föderalismusforschung, 125–137. Baden-Baden: Nomos.

Bock, Wolfgang (ed.). 2006. Islamischer Religionsunterricht? Rechtsfragen, Länderberichte, Hintergründe. Tübingen: Mohr Siebeck.

Börzel, Tanja A., and Thomas Risse. 2010. Governance without a state: can it work? Regulation & Governance 4(2):113–134.

Der Tagesspiegel online. 2008. Wahlkampf in Hessen: Gegen die guten Sitten. Der Tagesspiegel. http://www.tagesspiegel.de/politik/wahlkampf-in-hessen-gegen-die-guten-sitten/1133914.html (Created 5 Jan 2008). Accessed 30 Aug 2016.

Diekmann, Andreas, Detlef Fetchenhauer, Steffen Kühnel, Stefan Liebig, Rüdiger Schmitt-Beck, Heike Trappe, and Michael Wagner. 2013. ALLBUS/GGSS 2012

Euchner, Eva-Maria, and Caroline Preidel. 2016. When morality policies meet governance: private governance as response to value-driven conflicts. Journal of Public Policy 28:1–25 https://doi.org/10.1017/S0143814X16000222.

Fink, S. 2008. Politics as usual or bringing religion back in?: the influence of parties, institutions, economic interests, and religion on embryo research laws. Comparative Political Studies 41(12):1631–1656.

Fuess, Albrecht. 2007. Islamic religious education in western Europe. Models of integration and the German approach. Journal of Muslim Minority Affairs 27(2):215–239.

Hall, Peter, and Rosemary Taylor. 1996. Political science and the three new Institutionalisms. Political Studies 44(5):936–957.

Heinig, Hans M. 2010. Der Körperschaftsstatus nach Art. 137 Abs. 5 S. 2 WRV. In Religionskonflikte im Verfassungsstaat, ed. Astrid Reuter, Hans G. Kippenberg, 93–119. Göttingen: Vandenhoeck & Ruprecht.

Hermann, Michael. 2016. Bekenntnisorientierter Islamunterricht in Baden-Württemberg. Phone Interview conducted by Eva-Maria Euchner. Munich.

Hessen, F.D.P. 2007. Hessen stärker machen. http://www.abgeordnetenwatch.de/images/programme/fdp_hessen08.pdf. Accessed 3 Sept 2016.

Hessisches Kultusministerium. 2014. Islamischer Religionsunterricht in Hessen ist eine Erfolgsgeschichte

IGBW. 2012. Pressemeldung zum Runden Tisch Islam des Integrationsministerium. http://www.ig-bw.de/1_14_Pressemitteilungen.html. Accessed 12 Sept 2016.

Köller, Franz. 2006. Rechtliche Probleme im Zusammenhang mit der Einführung eines islamischen Religionsunterrichts in Hessen. In Islamischer Religionsunterricht? Rechtsfragen, Länderberichte, Hintergründe, ed. Wolfgang Bock, 115–127. Tübingen: Mohr Siebeck.

Lichtenthäler, Barbara. 2006. Islamische Religion im schulischen Unterricht: Baden-Württemberg. In Islamischer Religionsunterricht? Rechtsfragen, Länderberichte, Hintergründe, ed. Wolfgang Bock, 79–84. Tübingen: Mohr Siebeck.

March, James G., and Johan P. Olsen. 1989. Rediscovering Institutions: The Organizational Basis of Politics. New York: Free Press.

NZZ online. 2004. Kopftuchverbot, schulische Integration, Rechtschreibdebatte. Interview mit Annette Schavan. NZZ. 09.09.2004.

Schmitt, Sophie, Eva-Maria Euchner, and Caroline Preidel. 2013. Regulating prostitution and same-sex marriage in Italy and Spain: the interplay of political and societal veto players in two catholic societies. Journal of European Public Policy 20(3):425–441.

Schuppert, Gunnar F. 2016. Governance und Religion Annäherung an ein komplexes Verhältnis. In Staat und Islam, ed. Uwe Hunger, Nils J. Schröder, 43–71. Wiesbaden: Springer.

Statistia. 2012. Religionszugehörigkeit der Deutschen nach Bundesländern im Jahr 2011. http://de.statista.com/statistik/daten/studie/201622/umfrage/religionszugehoerigkeit-der-deutschen-nach-bundeslaendern/. Accessed 29 Aug 2016.

Stuttgarter Zeitung online. 2015. Unmut in der CDU über Kopftuch-Urteil. http://www.stuttgarter-zeitung.de/inhalt.staat-und-religion-unmut-in-der-cdu-ueber-kopftuch-urteil.3753b05c-3077-455c-b6d9-fa761f4ae4b5.html (Created 27 Mar 2015). Accessed 31 Aug 2016.

Thelen, Kathleen. 1999. Historical institutionalism in comparative politics. Annual Review of Political Science 2(1):369–404.

Triadafilopoulos, Triadafilos, and Joachim Rahmann. 2016. Making room for islam in Germany's public schools: the role of the Länder. In Staat und Islam, ed. Uwe Hunger, Nils J. Schröder, 131–157. Wiesbaden: Springer.

Ucar, Bülent. 2010. Islamische Religionspädagogik im deutschen Kontext: Die Neukonstituierung eines alten Fachs unter veränderten Rahmenbedingungen. In Religionen in der Schule und die Bedeutung des islamischen Religionsunterrichts, ed. Bülent Ucar, Martina Blasberg-Kuhnke, and Arnulf von Scheliha, 33–49. Göttingen: V & R Unipress.

Ṣahan, Fatih. 2016. Bekenntnisorientierter Islamunterricht in Baden-Württemberg. Phone Interview conducted by Eva-Maria Euchner. Munich.
Acknowledgements
I am very grateful for the valuable feedback of the participants of the workshop "Migration und Integration als politische Herausforderung," held at the University of Leipzig (June 2–4, 2016) and the comments of the two anonymous reviewers. Special thanks go to the editors of the Special Issue.
About this article
Cite this article
Euchner, E. Regulating islamic religious education in German states. Z Vgl Polit Wiss 12, 93–109 (2018). https://doi.org/10.1007/s12286-017-0371-8
Keywords
Islamic religious education

Germany

Sociological institutionalism

Moral templates

State-church relationship

Governance capacity
Schlüsselwörter
Islamischer Religionsunterricht

Deutschland

Soziologischer Institutionalismus

Moralische Wertvorstellungen

Staat-Kirche Beziehung

Regulierungskapazität