Zusammenfassung
Hintergrund
Das neue Gebiet der Plasmamedizin beschäftigt sich mit der medizinischen Anwendung physikalischer, kalter Atmosphärendruckplasmen ("cold atmospheric plasma", CAP).
Fragestellung
Darstellung der wissenschaftlichen Grundlagen der Plasmamedizin und gegenwärtiger sowie potenzieller medizinischer Anwendungsmöglichkeiten.
Material und Methode
Zusammenfassung des aktuellen Stands der präklinischen und der klinischen Forschung unter besonderer Berücksichtigung der CAP-Plasmajet-Quelle kINPen®.
Ergebnisse
Physikalisches Plasma wird auch als 4. Aggregatzustand der Materie bezeichnet. Mit CAP ist es möglich, ein breites Spektrum an Mikroorganismen, einschließlich multiresistenter Bakterien, sehr effektiv zu inaktivieren, sowie die Regeneration verletzten Gewebes zu stimulieren. Darüber hinaus wurde die Möglichkeit der Induktion des programmierten Zelltods (Apoptose) auch und v. a. in Krebszellen experimentell nachgewiesen. Kalte Atmosphärendruckplasmen beeinflussen insbesondere über temporär und lokal erhöhte Konzentrationen von reaktiven Sauerstoff- und Stickstoffspezies in der flüssigen Zellumgebung die zelluläre Redoxbalance. Die Anwendung von CAP am oder im menschlichen Körper birgt bei bestimmungsgemäßer Anwendung keine erhöhten Risiken. Gegenwärtiger Anwendungsschwerpunkt von CAP sind v. a. die Wundheilung und die Behandlung infektiöser Hauterkrankungen. An Einsatzmöglichkeiten in der Krebsbehandlung wird intensiv geforscht.
Schlussfolgerungen
Die Plasmamedizin steht am Anfang eines sehr erfolgversprechenden Wegs in die klinische Anwendung. Das Besondere und Einzigartige der CAP liegt darin, dass die Wirkkomponenten lokal am Ort und nur für die erforderliche Zeit der Anwendung primär durch einen physikalischen Prozess generiert werden.
Abstract
Background
The new field of plasma medicine is concerned with the medical application of physical cold atmospheric plasma (CAP).
Objective
Presentation of the scientific basis of plasma medicine, the current and potential medical applications.
Methods
Review of the present state of preclinical and clinical research with particular focus on the CAP plasma jet source "kINPen®".
Results
Physical plasma is characterized as the fourth state of matter. Using CAP a broad spectrum of microorganisms including multidrug-resistant pathogens can be inactivated and the regeneration of injured tissue can be stimulated. Furthermore, induction of programmed cell death (apoptosis) by plasma treatment was experimentally demonstrated, particularly in cancer cells. By locally and temporally increased concentrations of reactive oxygen and nitrogen species in the liquid environment of cells, CAP can influence the cellular redox balance. There is no increased risk on or in the human body resulting from normal application of CAP. At present, medical plasma application is utilized mainly in the field of wound healing and treatment of infectious skin diseases. Applications in cancer treatment is a subject of intensive research.
Conclusion
Plasma medicine is at the beginning of a promising path towards clinical application. It is the special and unique characteristic of CAP that the active components are generated locally on-site and only for the required time of treatment primarily by a physical process.
This is a preview of subscription content, log in to check access.
Access options
Buy single article
Instant access to the full article PDF.
US$ 39.95
Price includes VAT for USA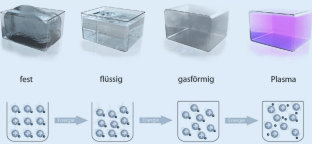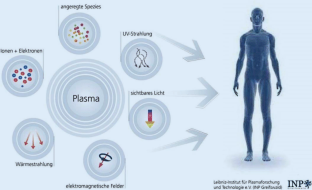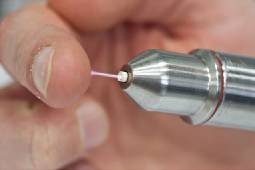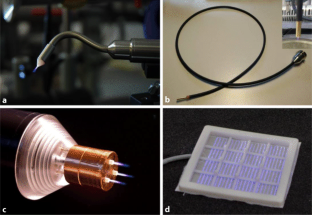 Literatur
1.

Barton A, Wende K, Bundscherer L, Hasse S, Schmidt A, Bekeschus S, Weltmann K‑D, Lindequist U, Masur K (2013) Nonthermal plasma increases expression of wound healing related genes in a keratinocyte cell line. Plasma Med 3:125–136

2.

Bekeschus S, Schmidt A, Weltmann K‑D, von Woedtke Th (2016) The plasma jet kINPen – a powerful tool for wound healing. Clin Plasma Med 4:19–28

3.

Boxhammer V, Li YF, Köritzer J, Shimizu T, Maisch T, Thomas HM, Schlegel J, Morfill GE, Zimmermann JL (2013) Investigation of the mutagenic potential of cold atmospheric plasma at bactericidal dosages. Mutat Res Genet Toxicol Environ Mutagen 753:23–28

4.

Bundscherer L, Wende K, Ottmüller K, Barton A, Schmidt A, Bekeschus S, Hasse S, Weltmann KD, Masur K, Lindequist U (2013) Impact of non-thermal plasma treatment on MAPK signaling pathways of humanimmune cell lines. Immunobiology 218:1248–1255

5.

Cha S, Park Y‑S (2014) Plasma in dentistry. Clin Plasma Med 2:4–10

6.

Dröge W (2002) Free radicals in the physiological control of cell function. Physiol Rev 82:47–95

7.

Duske K, Jablonowski L, Koban I, Matthes R, Holtfreter B, Sckell A, Nebe JB, von Woedtke Th, Weltmann K‑D, Kocher T (2015) Cold atmospheric plasma in combination with mechanical treatment improves osteoblast growth on biofilm covered titanium discs. Biomaterials 52:327–334

8.

Graves DB (2012) The emerging role of reactive oxygen and nitrogen species in redox biology and some implications for plasma applications to medicine and biology. J Phys D Appl Phys 45:263001

9.

Graves DB (2014) Oxy-nitroso shielding burst model of cold atmospheric plasma therapeutics. Clin Plasma Med 2:38–49

10.

Graves DB (2014) Reactive species from cold atmospheric plasma: Implications for cancer therapy. Plasma Process Polym 11:1120–1127

11.

Hasse S, Hahn O, Kindler S, von Woedtke Th, Metelmann HR, Masur K (2014) Atmospheric pressure plasma jet application on human oral mucosa modulates tissue regeneration. Plasma Med 4:117–1129

12.

Hasse S, Tran T, Hahn O, Kindler S, Metelmann HR, von Woedtke Th, Masur K (2016) Induction of proliferation of basal epidermal keratinocytes by cold atmospheric pressure plasma. Clin Exp Dermatol 41:202–209

13.

Herbst SR, Hertel M, Ballout H, Pierdzioch P, Weltmann K‑D, Wirtz HC, Abu-Sirhan S, Kostka E, Paris S, Preissner S (2015) Bactericidal efficacy of cold plasma at different depths of infected root canals in vitro. Open Dent J 9(1):486–491

14.

Jablonowski L, Koban I, Berg MH, Kindel E, Duske K, Schröder K, Weltmann K‑D, Kocher T (2013) Elimination of E. faecalis by a new non-thermal atmospheric pressure plasma handheld device for endodontic treatment. A preliminary investigation. Plasma Process Polym 10:499–505

15.

Kalghatgi S, Friedman G, Fridman A, Morss Clyne A (2010) Endothelial cell proliferation is enhanced by low dose non-thermal plasma through fibroblast growth factor-2 release. Ann Biomed Eng 38:748–757

16.

Karrer S, Arndt S (2015) Plasmamedizin in der Dermatologie. Hautarzt 66:819–828

17.

Keidar M, Walk R, Shashurin A, Srinivasan P, Sandler A, Dasgupta S, Ravi R, Guerrero-Preston R, Trink B (2011) Cold plasma selectivity and the possibility of a paradigm shift in cancer therapy. Br J Cancer 105:1295–1301

18.

Kramer A, Hübner NO, Weltmann KD, Lademann J, Ekkernkamp A, Hinz P, Assadian O (2008) Polypragmasia in the therapy of infected wounds – conclusions drawn from the perspectives of low temperature plasma technology for plasma wound therapy. GMS Krankenhaushyg Interdiszip 3:Doc13

19.

Ma Q (2013) Role of Nrf2 in oxidative stress and toxicity. Annu Rev Pharmacol 53:401–426

20.

Martines E, Brun P, Brun P, Cavazzana R, Deligianni V, Leonardi A, Tarricone E, Zuin M (2013) Towards a plasma treatment of corneal infections. Clin Plasma Med 1(2):17–24

21.

Metelmann HR, Vu TT, Do HT, Le TNB, Hoang THA, Phi TTT, Luong TML, Doan VT, Nguyen TTH, Nguyen THM, Le DQ, Le TKX, von Woedtke Th, Bussiahn R, Weltmann KD, Khalili R, Podmelle F (2013) Scar formation of laser skin lesions after cold atmospheric pressure plasma (CAP) treatment: A clinical long term observation. Clin Plasma Med 1:30–35

22.

Metelmann H‑R, Nedrelow DS, Seebauer C, Schuster M, von Woedtke Th, Weltmann K‑D, Kindler S, Metelmann PH, Finkelstein SE, Von Hoff DD, Podmelle F (2015) Head and neck cancer treatment and physical plasma. Clin Plasma Med 3:17–23

23.

Metelmann, H-R, von Woedtke T, Weltmann, K-D (Hrsg.) (2016) Plasmamedizin. Springer-Verlag Berlin Heidelberg 2016

24.

Oehmigen K, Winter J, Hähnel M, Wilke C, Brandenburg R, Weltmann K‑D, von Woedtke Th (2011) Estimation of possible mechanisms of Escherichia coli inactivation by plasma treated sodium chloride solution. Plasma Process Polym 8:904–913

25.

Partecke LI, Evert K, Haugk J, Doering F, Normann L, Diedrich S, Weiss F‑U, Evert M, Hübner NO, Guenther C, Heidecke CD, Kramer A, Bussiahn R, Weltmann K‑D, Pati O, Bender C, von Bernstorff W (2012) Tissue Tolerable Plasma (TTP) induces apoptosis in pancreatic cancer cells in vitro and in vivo. BMC Cancer 12:473

26.

Preissner S, Kastner I, Schütte E, Hartwig S, Schmidt-Westhausen AM, Paris S, Preissner R, Hertel M (2016) Adjuvant antifungal therapy using tissue tolerable plasma on oral mucosa and removable dentures in oral candidiasis patients: A randomised double-blinded split-mouth pilot study. Mycoses 59:467–475

27.

Rupf S, Lehmann A, Hannig M, Schäfer B, Schubert A, Feldmann U, Schindler A (2010) Killing of adherent oral microbes by a non-thermal atmospheric plasma jet. J Med Microbiol 59:206–212

28.

Schlegel J, Köritzer J, Boxhammer V (2013) Plasma in cancer treatment. Clin Plasma Med 1(2):2–7

29.

Schmidt A, Wende K, Bekeschus S, Bundscherer L, Barton A, Ottmüller K, Weltmann K‑D, Masur K (2013) Non-thermal plasma treatment is associated with changes in transcriptome of human epithelial skin cells. Free Radical Res 47:577–592

30.

Schmidt A, Dietrich S, Steuer A, Weltmann KD, von Woedtke Th, Masur K, Wende K (2015) Non-thermal plasma activates human keratinocytes by stimulation of antioxidant and phase II pathways. J Biol Chem 290:6731–6750

31.

Schuster M, Seebauer C, Rutkowski R, Hauschild A, Podmelle F, Metelmann C, Metelmann B, von Woedtke Th, Hasse S, Weltmann K‑D, Metelmann H‑R (2016) Visible tumor surface response to physical plasma and Apoptotic cell kill in head and neck cancer. J Cranio Maxill Surg 44:1445-1452

32.

Sen CK, Roy S (2008) Redox signals in wound healing. Biochim Biophys Acta 1780:1348–1361

33.

Tanaka H, Mizuno M, Ishikawa K, Kondo H, Takeda K, Hashizume H, Nakamura K, Utsumi F, Kajiyama H, Kano H, Okazaki Y, Toyokuni S, Akiyama S, Maruyama S, Yamada S, Kodera Y, Kaneko H, Terasaki H, Hara H, Adachi T, Iida M, Yajima I, Kato M, Kikkawa F, Hori M (2015) Plasma with high electron density and plasma-activated medium for cancer treatment. Clin Plasma Med 3:72–76

34.

Tiede R, Mann M, Viöl W, Daeschlein G, Welz C, Wolff HA, von Woedtke Th, Lademann J, Emmert S (2014) Plasmamedizin in der Dermatologie. Haut 6:228–233

35.

Utsumi F, Kajiyama H, Nakamura K, Tanaka H, Mizuno M, Ishikawa K, Kondo H, Kano H, Hori M, Kikkawa F (2013) Effect of indirect Nonequilibrium atmospheric pressure plasma on anti-proliferative activity against chronic chemo-resistant ovarian cancer cells in vitro and in vivo. PLOS ONE 8:e81576

36.

Vandamme M, Robert E, Lerondel S, Sarron V, Ries D, Dozias S, Sobilo J, Gosset D, Kieda C, Legrain B, Pouvesle JM, Le Pape A (2012) ROS implication in a new antitumor strategy based on non-thermal plasma. Int J Cancer 130:2185–2194

37.

von Woedtke Th, Reuter S, Masur K, Weltmann K‑D (2013) Plasmas for medicine. Phys Rep 530:291–320

38.

von Woedtke Th, Metelmann H‑R, Weltmann K‑D (2014) Clinical plasma medicine: State and perspectives of in vivo application of cold atmospheric plasma. Contrib Plasma Phys 54:104–117

39.

Weltmann K‑D, Kindel E, von Woedtke Th, Hähnel M, Stieber M, Brandenburg R (2010) Atmospheric-pressure plasma sources: Prospective tools for plasma medicine. Pure Appl Chem 82:1223–1237

40.

Wende K, Straßenburg S, Haertel B, Harms M, Holtz S, Barton A, Masur K, von Woedtke Th, Lindequist U (2014) Atmospheric pressure plasma jet treatment evokes transient oxidative stress in HaCaT keratinocytes and influences cell physiology. Cell Biol Int 38:412–425

41.

Wende K, Bekeschus S, Schmidt A, Jatsch L, Hasse S, Weltmann KD, Masur K, von Woedtke Th (2016) Risk assessment of a cold argon plasma jet in respect to its mutagenicity. Mutat Res Genet Toxicol Environ Mutagen 798:48–54
Danksagung
Die Autoren danken dem Bundesministerium für Bildung und Forschung, dem Ministerium für Bildung, Wissenschaft und Kultur sowie dem Ministerium für Wirtschaft, Bau und Tourismus des Landes Mecklenburg-Vorpommern und der Europäischen Union/Europäischer Sozialfonds für die umfangreiche Unterstützung der plasmamedizinischen Forschung.
Ethics declarations
Interessenkonflikt
T. von Woedtke und K.-D. Weltmann geben an, an der Forschung und Entwicklung des durch die Fa. neoplas tools GmbH Greifswald hergestellten und vertriebenen Medizinprodukts kINPen® MED vorwettbewerblich beteiligt zu sein sowie das Unternehmen gelegentlich bei wissenschaftlichen und technologischen Fragestellungen zu beraten.
Dieser Beitrag beinhaltet keine von den Autoren durchgeführten Studien an Menschen oder Tieren.
Additional information
Redaktion
H.R. Metelmann, Greifswald
About this article
Cite this article
von Woedtke, T., Weltmann, K. Grundlagen der Plasmamedizin. MKG-Chirurg 9, 246–254 (2016). https://doi.org/10.1007/s12285-016-0075-0
Schlüsselwörter
Kaltes Atmosphärendruckplasma

Reaktive Sauerstoffspezies

Reaktive Stickstoffspezies

Wundheilung

Apoptose
Keywords
Non-thermal atmospheric plasma

Reactive oxygen species

Reactive nitrogen species

Wound healing

Apoptosis