Zusammenfassung
Die Darstellung und der Zugang zu den komplexen anatomischen Verhältnissen der Mund-, Kiefer- und Gesichtsregion erfordern neben chirurgischem Know-how auch ein spezielles technisches Equipment. Dies gilt insbesondere für die Kieferhöhlen und die Nasengänge, das Kiefergelenk, aber auch die Speicheldrüsen und andere nur indirekt einsehbare Strukturen. Die Endoskopie bietet exzellente Optionen sowohl in diagnostischer als auch in therapeutischer Hinsicht. Hierbei wird die endoskopisch assistierte bzw. gestützte Chirurgie von endoskopischen (minimal-)invasiven bzw. interventionellen Eingriffen unterschieden. Während sich endoskopische Techniken in unserem Fach bis dato eher in speziellen Indikationsbereichen etabliert haben, ersetzen sie insbesondere in der Hals-Nasen-Ohren-Chirurgie inzwischen einen Großteil der traditionellen direkten bzw. invasiven offenen Verfahren. Die funktionelle endoskopische Nasennebenhöhlenchirurgie (FESS), die Sialendoskopie oder seit Kurzem die roboterassistierte Chirurgie haben hier das Spektrum entscheidend erweitert und setzen gleichzeitig Standards auch für unser Fachgebiet.
Abstract
The visualization and approach to the highly complex craniomaxillofacial region, such as the nose and paranasal sinuses, the temporomandibular joint, the salivary glands and other only indirectly accessible structures require surgical skills as well as specialized technical equipment. Endoscopy offers an excellent diagnostic and therapeutic tool. Endoscopic surgery in oral and maxillofacial surgery (OMFS) in most cases is preferably performed with endoscopic support in contrast to interventional endoscopic procedures, i.e. minimally invasive surgery in a proper sense. So far in OMFS endoscopic techniques have been implemented in a rather curbed manner, whereas in the neighboring field of ear nose and throat (ENT) surgery endoscopy has continued its triumph and has now replaced the majority of traditional open head and neck access surgical procedures. Thus for example functional endoscopic sinus surgery (FESS), sialendoscopy and quite recently robotic-assisted surgery have expanded ENT indications for minimally invasive procedures which are not easily placed on an equal footing in OMFS.
Access options
Buy single article
Instant access to the full article PDF.
USD 39.95
Price excludes VAT (USA)
Tax calculation will be finalised during checkout.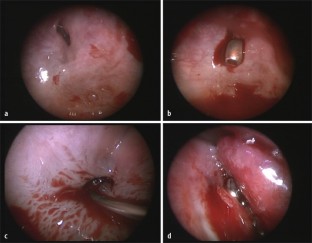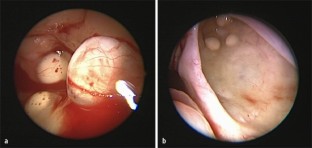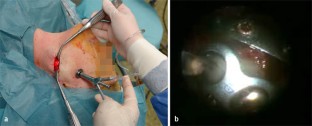 Literatur
Beltrán V, Fuentes R, Engelke W (2012) Endoscopic visualization of anatomic structures as a support tool in oral surgery and implantology. J Oral Maxillofac Surg 70:e1-e6

Engelke W, Bierbaum J, Choi EJ (2011) Die mikrochirurgische Entfernung unterer dritter Molaren über einen okklusalen Zugang. Dtsch Zahnärztl Z 66(6):415–423

Graham DW, Heller J, Kirkjian TJ et al (2011) Brow lift in facial rejuvenation: a systematic literature review of open versus endoscopic techniques. Plast Reconstr Surg 128:355e-341e

Haug RH, Brandt MT (2007) Closed reduction, open reduction, and endoscopic assistance: current thoughts on the management of mandibular condyle fractures. Plast Reconstr Surg 120(7 Suppl 2):90S–102S

Koch M, Zenk J, Iro H (2009) Algorithms for treatment of salivary gland obstruction. Otolaryngool Clin North Am 42:1173–1192

Koslin MG, Martin JC (1993) The use of the holmium laser for temporomandibular joint arthroscopic surgery. J Oral Maxillofac Surg 51:122–123

Mehra P, Wolford LM (2001) Use of the Mitek anchor in temporomandibular joint disc-repositioning surgery. Proc (Bayl Univ Med Cent) 14:22–26

Muenscher A, Dalchow C, Kutta H, Knecht R (2011) The endoscopic approach to the neck: a review of the literature, and overview of the various techniques. Surg Endosc 25:1358–1363

Neff A (2011) Traumatologie des Unterkiefergelenkfortsatzes. MKG Chirurg 4:229–244

Nitzan DW, Nitzan U, Dan P, Yedgar S (2001) The role of hyaluronic acid in protecting surface-active phospholipids from lysis by exogenous phospholipase A(2). Rheumatology (Oxford) 40:336–340

Ohnishi M (1991) Arthroscopic laser surgery and suturing for temporomandibular joint disorders: technique and clinical results. Arhroscopy 7:212–220

Palmer O, Moche JA, Matthews S (2012) Endoscopic surgery of the nose and paranasal sinus. Oral Maxillofac Surg Clin North Am 24:275–283

Pedroletti F, Johnson BS, McCain J (2010) Endoscopic techniques in oral and maxillofacial surgery. Oral Maxillofacial Surg Clin North Am 22:169–182

Reich RH (2000) Konservative und chirurgische Behandlungsmöglichkeiten bei Kiefergelenkerkrankungen. Mund Kiefer GesichtChir 4:S392-S400

Robey A, O'Brien EK, Leopold DA (2010) Assessing current technical limitations in the small-hole endoscopic approach to the maxillary sinus. Am J Rhinol Allergy 24:396–401

Scheithauer MO, Tasman AJ (2007) Endoskopisches Stirn- und Schläfenlift. Chirurgische Anatomie und operative Techniken. HNO 55:225–234

Schleier P, Bierfreund G, Schultze-Mosgau S et al (2008) Simultaneous dental implant placement and endoscope-guided internal sinus floor elevation: 2-year post-loading outcomes. Clin Oral Implants Res 19:1163–1170

Schmelzeisen R, Cienfuegos-Monroy R, Schön R et al (2009) Patient benefit from endoscopically assisted fixation of condylar neck fractures – a randomized controlled trial. Oral Maxillofac Surg 67:147–158

Simmen D, Jones N (2005) Chirurgie der Nasennebenhöhlen und der vorderen Schädelbasis. Die Operationsmethoden: sicher, logisch und Schritt für Schritt. Thieme, Stuttgart, S 52–67

Strychowsky JE, Sommer DD, Gupta MK et al (2012) Sialendoscopy for the management of obstructive salivary gland disease. A systematic review and meta-analysis. Arch Otolaryngol Head Neck Surg 138:541–547

Verillaud B, Bresson D, Sauvaget E et al (2012) Endoscopic endonasal skull base surgery. Eur Ann Otorhinol Head Neck Dis 129:190–196

Westesson PL, Eriksson L, Liedberg J (1986) The risk of damage to facial nerve, superficial temporal vessels, disk, and articular surfaces during arthroscopic examination of the temporomandibular joint. Oral Surg Oral Med Oral Pathol 62:124–127

Yura S, Totsuka Y, Yoshikawa T, Inoue N (2003) Can arthrocentesis release intracapsular adhesions? Arthroscopic findings before and after irrigation under sufficient hydraulic pressure. J Oral Maxillofac Surg 61:1253–1256
Einhaltung ethischer Richtlinien
Interessenkonflikt. Der korrespondierende Autor war als Referent für die Fa. Karl Storz, Tuttlingen, des Weiteren für die Firma Medartis, Basel, tätig und hier als klinischer Kooperationspartner im Rahmen eines drittmittelgeförderten Projekts an der Entwicklung des transbukkalen endoskopischen Osteosynthesesystems MODUS® OptoFix 2.0 dieser Firma beteiligt. Eigene kommerzielle Interessen an der Vermarktung bestehen nicht. Dieser Beitrag beinhaltet keine Studien an Menschen oder Tieren.
About this article
Cite this article
Neff, A. Endoskopische Verfahren in der Mund-, Kiefer- und Gesichtschirurgie. MKG-Chirurg 6, 233–244 (2013). https://doi.org/10.1007/s12285-013-0355-x
Published:

Issue Date:

DOI: https://doi.org/10.1007/s12285-013-0355-x
Schlüsselwörter
Keywords