Abstract
We have performed a study on the thermo-formation process of plastic shells of boots for winter sports. The aim of the work has been to determine how the process parameters can improve the ergonomic and thermal comfort for athletes and winter sports participants. We have found that the initial deformation and memory effect are strongly influenced by the type of thermoplastic material used, heating time and cooling procedure. We have also found that the ovens currently used for this process are not correctly designed to obtain an efficient heat transfer and, therefore, a heating time of at least 12 min is necessary to achieve an average deformation of more than 2 mm. The measure of the boot flexural stiffness has shown that there are no changes in the load–deflection behavior after the thermo-formation process of a ski boot made of thermoplastic polyurethane. We have also found that the thermo-formation process decreases the pressure on skier's feet of more than five times and, therefore, improves the comfort of the skier.
Access options
Buy single article
Instant access to the full article PDF.
USD 39.95
Price includes VAT (USA)
Tax calculation will be finalised during checkout.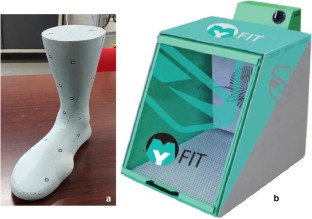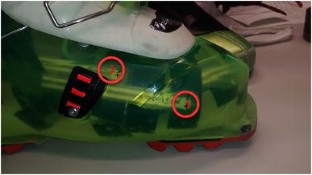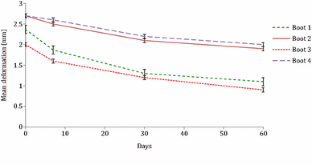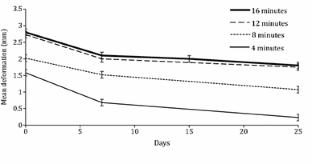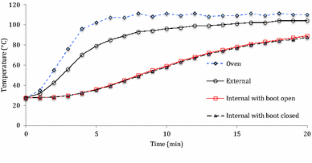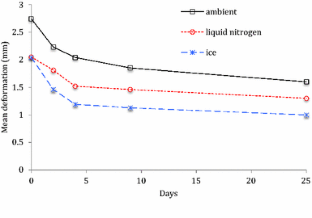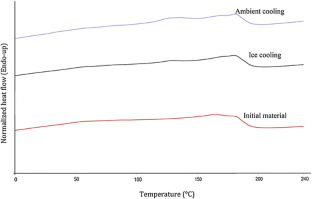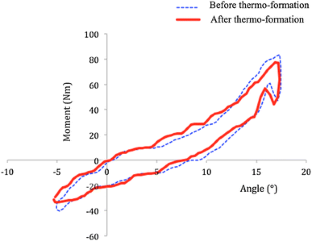 References
1.

Braghin F, Cheli F, Maldifassi S, Melzi S, Sabbioni E (2016) The engineering approach to winter sports. Springer, New York

2.

Petrone N, Marcolin G (2007) Biomechanical evaluation of impact loads during ski boot kicks against different obstacles. J Biomech 40:S401

3.

Colonna M, Moncalero M, Nicotra M, Pezzoli A, Fabbri E, Bortolan L, Pellegrini B, Schena F (2014) Thermal behavior of ski boots liners: effect of materials on thermal comfort in real and simulated skiing conditions. Procedia Eng 72:386–391

4.

Moncalero M, Colonna M, Pezzoli A, Nicotra M (2013) Pilot study for the evaluation of thermal properties and moisture management on ski boots. In: Proceedings of icSPORTS2013 Research and Technology Support pp 171–179

5.

Colonna M, Moncalero M, Gioia C, De Bon F, Farella E, Giovanelli D, Borotlan L (2015) Effect of compression on thermal comfort of ski boots. Procedia Eng 112:34–139

6.

Colonna M, Nicotra M, Moncalero M (2013) Materials, designs and standards used in ski-boots for alpine skiing. Sports 1:78–113

7.

Nicotra M, Moncalero M, Colonna M (2015) Effect of the visco-elastic properties of thermoplastic polymers on the flexural and rebound behaviours of ski boots for alpine skiing. J Sports Eng Technol 229(3):199–210

8.

Böhm H, Senner V (2008) Effect of ski boot settings on tibio-femoral abduction and rotation during standing and simulated skiing. J Biomech 41(3):498–505

9.

Petrone N (2014) Advances in the mechanical characterization of ski-boots. In: Müller E, Kröll J, Lindinger S, Pfusterschmied J, Stöggl T (eds) Science and skiing VI. Meyer and Meyer Verlag, Aachen, pp 268–278

10.

Natali A, Todros S, Venturato C, Fontanella CG (2014) Evaluation of the mechanical behaviour of telemark ski boots: Part I–materials characterization in use conditions. J Sports Eng Technol 228(3):195–203

11.

Kurpiers N, McAlpine PR, Kersting UG (2009) Perspectives for comprehensive biomechanical analyses in mogul skiing. Res Sports Med 17:231–244

12.

Challande C (2008) Footwear having a rigid shell. U.S. Pat. Appl. 20080000109J

13.

Leitner J, Pieber A, Riesch FJ (2010) Method for producing shoes, strips thereof and shoe. U.S. Pat. Appl. 2010236101

14.

Takahashi T, Hayashi N, Hayashi S (1996) Structure and properties of shape-memory polyurethane block copolymers. J Appl Polym Sci 60:1061–1069

15.

Colonna M, Moncalero M, Nicotra M, Gioia C, De Bon F, Farella E, Giovanelli D (2015) Thermo-formable materials for ski boots for improved comfort and performance. Procedia Eng 112:128–133

16.

Ferry JD (1980) Viscoelastic properties of polymers. Wiley, New York

17.

Petrone N, Marcolin G, Panizzolo FA (2013) The effect of boot stiffness on field and laboratory flexural behaviour of alpine ski boots. Sports Eng 16:265–280

18.

Reichel M, Haumer A, Schretter H, Sabo A (2009) Development of a measurement-prosthesis for a ski boot test bench. In: Estivalet M, Brisson P (eds) The engineering of sport 7. Springer, New York, pp 255–262

19.

Quéré D (2013) Leidenfrost dynamics. Annu Rev Fluid Mech 45:197–215
About this article
Cite this article
Colonna, M., Pazi, N., Moncalero, M. et al. Thermo-formation process of plastic shells for winter sport boots for improved comfort. Sports Eng 20, 275–282 (2017). https://doi.org/10.1007/s12283-017-0247-9
Keywords
Ergonomic comfort

Thermo-formation

Thermoplastic polymers

Winter sport boots