Abstract
Interaction between studded footwear and performance surfaces plays an important role in sport. Discretising this interaction into quantifiable measurements can help optimise design of outsoles and identify parameters for performance testing in situ. Here, we describe the development and validity of an image-based three-dimensional (3D) measurement system to investigate shoe–surface interactions during locomotion performance in situ by eight skilled footballers. By calculating individual stud positions, results revealed that the 3D kinematic data could be distilled to a number of shoe–surface interaction metrics such as orientation, velocity, translation distance and location of the centre of rotation. Findings show how the measurement system and simple analysis methods can be used to provide informative shoe–surface interaction metrics from in situ performance capture for the footwear community.
This is a preview of subscription content, log in to check access.
Access options
Buy single article
Instant access to the full article PDF.
US$ 39.95
Price includes VAT for USA
Subscribe to journal
Immediate online access to all issues from 2019. Subscription will auto renew annually.
US$ 99
This is the net price. Taxes to be calculated in checkout.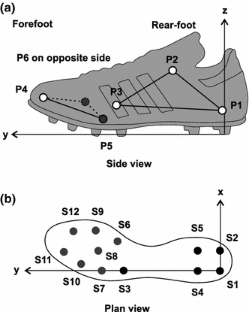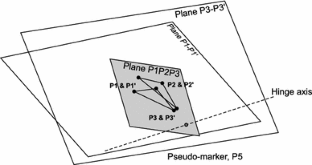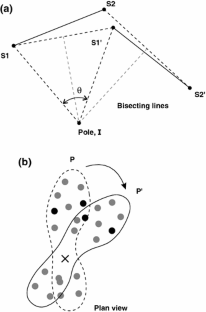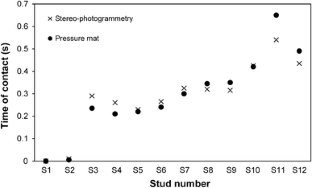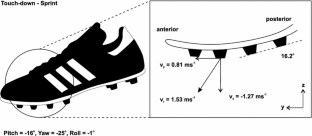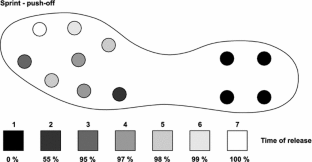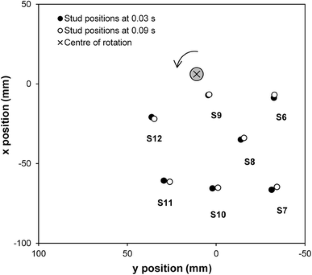 References
1.

Torell VB (2011) As fast as possible rather than well protected: experiences of football clothes. J Cultural Res 3:83–99

2.

Müller C, Sterzing T, Lange J, Milani T (2010) Comprehensive evaluation of player-surface interaction on artificial soccer turf. Sports Biomech 9(3):193–205

3.

Clarke JD, Carré MJ (2010) Improving the performance of soccer boots on artificial and natural soccer surfaces. In: Sabo A, Litzenberger S, Kafka P, Sabo C (eds) 8th Conference of the International Sports Engineering Association, 11–14 July 2010 Vienna. Elsevier Ltd, London, pp 2775–2781

4.

McNitt A (2000) Traction on turf. Grounds Maint 35(9):4–9

5.

Haake SJ, Carré MJ, Kirk RF, Senior T (2004) Traction of studded boots on turf. In: Hubbard M, Mehta RD, Pallis JM (eds) The engineering of sport 5. ISEA, pp 544–551

6.

McNitt AS, Middour RO, Waddington DV (1997) Development and evaluation of a method to measure traction on turfgrass surfaces. J Test Eval 25(1):99–107

7.

Twomey DM, Connell M, Petrass L, Otago L (2013) The effect of stud configuration on rotational traction using the studded boot apparatus. Sports Eng 16(1):21–27

8.

Kuhlman S, Sabick M, Pfeiffer R, Cooper B, Forhan J (2009) Effect of loading condition on the traction coefficient between shoes and artificial turf surfaces. Proc Inst Mech Eng Part P J Sports Eng Tech 223:155–165

9.

Orchard J (2001) The AFL Penetrometer Study: work in progress. J Sci Med Sport 4(2):220–232

10.

Bates BT (1996) Single-subject methodology: an alternative approach. Med Sci Sport Exer 28(5):631–638

11.

Lees A, Bouracier J (1994) The longitudinal variability of ground reaction forces in experienced and inexperienced runners. Ergonomics 37(1):197–206

12.

Galbusera F, Tornese D, Anasetti F, Bersini S, Volpi P, La Barbera L, Villa T (2013) Does soccer cleat design influence the rotational interaction with the playing surface. Sports Biomech. doi:10.1080/14763141.2013.769277

13.

Taylor L (2010) Steve Bruce demands inquiry into modern boots as cause of injury spate. The Guardian. http://www.guardian.co.uk/football/2010/sep/16/steve-bruce-boots-injurys. Accessed 31 Oct 2011

14.

Clarke J, Carré M, Damm L, Dixon S (2013) The development of an apparatus to understand the traction developed at the shoe–surface interface in tennis. Proc Inst Mech Eng Part P J Sports Eng Tech. doi:10.1177/1754337112469500

15.

Frederick EC (1986) Kinematically mediated effects of sport shoe design: a review. J Sport Sci 4(3):169–184

16.

Nigg BM (1990) The validity and relevance of tests used for the assessment of sports surfaces. Med Sci Sport Exer 22(1):131–139

17.

Kirk RF, Nobel ISG, Mitchell T, Rolf C, Haake SJ, Carré MJ (2010) High-speed observations of football-boot-surface interactions of players in their natural environment. Sports Eng 10:129–144

18.

Heller B, Haake S (2006) Pacing lights—a new approach to controlling speed in the gait laboratory. In: Mortiz EF, Haake SJ (eds) The Engineering of sport, vol 2., Developments for disciplinesSpringer, New York, pp 186–201

19.

Bouguet JY (2010) Camera calibration toolbox for Matlab. http://www.vision.caltech.edu/bouguetj/calib_doc/. Accessed 28 Oct 2011

20.

Zhang Z (1999) Flexible camera calibration by viewing a plane from unknown orientations. In: Proceedings of the 7th IEEE international conference on computer vision, 20–27 September 1999 IEEE, Corfu, Greece, pp 666–673

21.

Eberharter JK, Ravani B (2006) Kinematic registration in 3D using the 2D Reuleaux method. J Mech Design 128:349–355

22.

Baroon J, Ravani B (2006) A three-dimensional generalization of Reuleaux's method based on line geometry. In: Proceedings of IDETC/CIE 2006, 10–13 September 2006 Philadelphia, ASME, Pennsylvannia, pp 1–8

23.

Richards JG (1999) The measurement of human motion: a comparison of commercially available systems. Hum Movement Sci 18:589–602

24.

Hreljac A, Marshall RN (2000) Algorithms to determine event timing during normal walking using kinematic data. J Biomech 33:783–786
Acknowledgments
The authors would like to thank adidas-AG for their financial support and Professor Keith Davids, Dr Tom Allen, Dr Simon Goodwill, and Jim Emery for their constructive feedback.
About this article
Cite this article
Driscoll, H., Kelley, J., Kirk, B. et al. Measurement of studded shoe–surface interaction metrics during in situ performance analysis. Sports Eng 18, 105–113 (2015). https://doi.org/10.1007/s12283-014-0163-1
Keywords
Shoe–surface interactions

Studded boot

Stud configuration

Traction testing

Photogrammetry

In situ performance analysis