Abstract
Horse riding predisposes to degenerative spinal injury to both rider and horse. This study evaluated the dynamic pressure exerted on horse and horse rider. The main comparison investigated was how the flocking (cushioning) material of a saddle affected the pressure exerted on both. Six horse riders and one horse were used to conduct this study. The Pliance® horse saddle and seat pressure testing systems, designed by NovelGmBH, were used for this study. Pressure recordings were carried out from a saddle fitted with wool then again following its conversion to air flocking. Both flocking materials were tested during a variety of different gait settings using two pressure mats to record the pressures firstly being exerted onto the horse and secondly onto the rider. This study was the first carried out to examine the pressure exerted on horse and rider. Results found that both the mean peak pressure (MPP) and mean pressure–time integral (PTI) exerted on the rider increased by as much as 21.9 and 22 %, respectively, following conversion to air flocking. In contrast, the air flocking saddle exerted a lower MPP and PTI on the horse by as much as 25.3 and 26.6 %, respectively. This study has shown that air flocking reduces the pressure exerted on the horse; however, it has also indicated that it increased the pressures exerted on the rider. As a result of our study, further research needs to be conducted to determine the most appropriate material to flock a saddle with.
Access options
Buy single article
Instant access to the full article PDF.
US$ 39.95
Tax calculation will be finalised during checkout.
Subscribe to journal
Immediate online access to all issues from 2019. Subscription will auto renew annually.
US$ 79
Tax calculation will be finalised during checkout.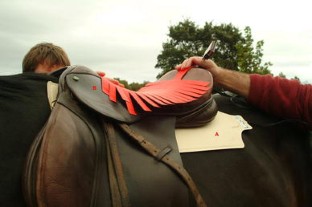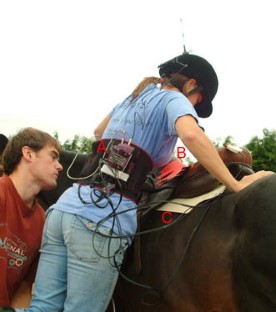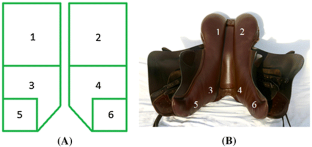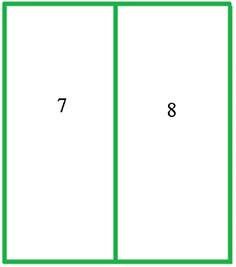 References
1.

Tsirikos A, Papagelopoulos PJ, Giannakopoulos PN, Boscainos PJ, Zoubos AB, Kasseta M, Nikiforidis PA, Korres DS (2001) Degenerative spondyloarthropathy of the cervical and lumbar spine in jockeys. Orthopedics 24(6):24561–24564

2.

Whittle MW (1999) Generation and attenuation of transient impulsive forces beneath the foot: a review. Gait Posture 10:267–275

3.

Harman JC (1997) Measurement of the pressures exerted by saddles on the horse's back using a computerized pressure measuring device. Pferdeheilkunde 13:129–134

4.

De Cocq P, van Weeren PR, Back W (2006) Saddle pressure measuring: validity, reliability and power to discriminate between different saddle-fits. Vet J 172:267–273

5.

Clayton HM, Lanovaz JL, Schamhardt HC, Wessum R (1999) The effects of a rider's mass on ground reaction forces and fetlock kinematics at the trot. Equine Vet J 31:218–221. doi:10.1111/j.2042-3306.1999.tb05221.x

6.

De Cocq P, van Weeren PR, Back W (2004) Effects of girth, saddle and weight on movements of the horse. Equine Vet J 36(8):758–763. doi:10.2746/0425164044848000

7.

Fruehwirth B, Peham C, Scheidl M, Schobesberger H (2004) Evaluation of pressure distribution under an English saddle at walk, trot and canter. Equine Vet J 36:754–757. doi:10.2746/0426/0425164044848235

8.

Faber M, Johnston C, Schamhardt HC, van Weere PR, Roepstorff L, Barneveld A (2001) Three dimensional Kinematics of the equine spine during canter. Equine Vet J Suppl. 33:145–149. doi:10.1111/j.2042-3306.2001.tb05378.x

9.

Townsend HGG, Leach DH, Fretz PB (1983) Kinematics of the equine thoracolumbar spine. Equine Vet J 15(2):117–122. doi:10.1111/j.2042-3306.1983.tb01732.x

10.

Peham C, Licka T, Kapaum M, Scheidl M (2001) A new method to quantify harmony of the horse-rider system in dressage. Sports Eng J 30:412–415

11.

Garg R (2007) Normal pressure values and the repeatability of the Pliance system. MCh Orth dissertation, University of Dundee, June 2007

12.

Chahal PS (2009) Does cost matter? The evaluation of different professional bicycle saddles. MCh Orth dissertation, University of Dundee, June 2009
About this article
Cite this article
Nicol, G., Arnold, G.P., Wang, W. et al. Dynamic pressure effect on horse and horse rider during riding. Sports Eng 17, 143–150 (2014). https://doi.org/10.1007/s12283-014-0149-z
Keywords
Lower Back Pain

Ground Reaction Force

Gait Cycle

Pressure Testing

Left Front