Abstract
In this study, a new system for the calibration of bicycle ergometers, home trainers and bicycle power monitoring devices is described. This system contains a portable calibration rig as well as a specialised calibration software and is designed for easy and efficient use directly on-site by non-expert personnel. Key features of the calibration rig include a cradle used to implement a torque reaction measurement technique, roller casters, sliding coupling, and crowned splines to facilitate and speed up the calibration process. The maximum power uncertainty delivered by the calibration rig for a nominal power level range of 50–600 W is ±0.9%. A software to guide users through the calibration process and generate calibration charts is described. To illustrate how the calibration system is typically used, the calibration charts of two different brands of home trainers have been obtained, and the power output measurement accuracy of two bicycle power monitoring devices has been determined. Power discrepancies were noted. The results in this study reveal that the calibration system is an effective tool in characterising the behaviour of home trainers.
Access options
Buy single article
Instant access to the full article PDF.
USD 39.95
Price includes VAT (USA)
Tax calculation will be finalised during checkout.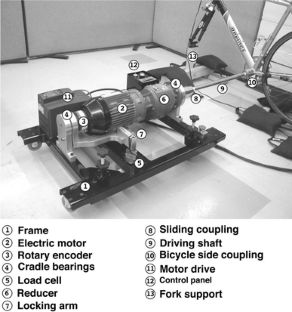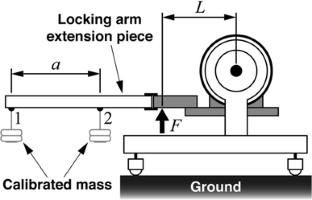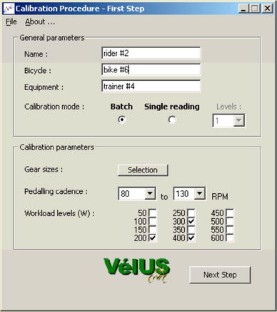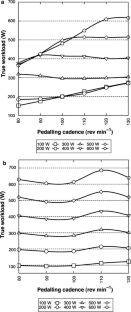 References
1.

Clark JH, Greenleaf JE (1971) Electronic bicycle ergometer: a simple calibration procedure. J Appl Physiol 30:440–442

2.

Cumming GR, Alexander WD (1968) The calibration of bicycle ergometers. Can J Physiol Pharmacol 46:917–919

3.

Gardner AS, Stephens S, Martin DT, Lawton E, Lee H, Jenkins D (2004) Acuracy of SRM and Power Tap Power Monitoring systems for bicycling. Med Sci Sports Exerc 36:1252–1258

4.

Raine JK, Trolove HP, Beveridge H (1994). Design and performance of a dynamic calibration rig for a bicycle ergometer. Hum Power 11:4–11

5.

Russel JC, Dale JD (1986) Dynamic torquemeter calibration of bicycle ergometers. J Appl Physiol 61:1217–1220

6.

Stein ES, Rothstein MS, Clements CJ Jr (1967) Calibration of two bicycle ergometers used by the health examination survey. Vital Health Stat 21:1–10

7.

Telford RD, Hooper LA, Chennells MHD (1980) Calibration and comparison of air-braked and mechanically-braked bicycle ergometers. Aust J Sports Med 12:40–46

8.

Woods GF, Day L, Withers RT, Ilsley AH, Maxwell BF (1994) The dynamic calibration of cycle ergometers. Int J Sports Med 15:168–171
Acknowledgments
The authors wish to thank the employees of the National Cycling Centre in Bromont (Canada), and specifically, Mr. Éric Van Den Eynde, the Canadian national track cycling coach and Guy Thibault at the Ministère des loisirs et des sports of the Province of Quebec (Canada). The authors also wish to thank the Centre National Multisport–Montreal, Intertechnology Inc. and Moteurs Gosselin for their financial support.
About this article
Cite this article
Drouet, JM., Champoux, Y. & Bergeron, F. A user-friendly calibration system for bicycle ergometers, home trainers and bicycle power monitoring devices. Sports Eng 11, 15 (2008). https://doi.org/10.1007/s12283-008-0003-2
Keywords
Bicycle

Calibration

Ergometers

Home trainers