Abstract
Background
Although communication between patients with breast cancer and physicians is central to treatment decision-making for patients and the concept of shared decision-making has been increasingly advocated worldwide, little is known about decision-making and perceptions among the population in Japan. Therefore, this cross-sectional study aimed to clarify the status of pharmacotherapy decision-making among patients with breast cancer in Japan and assess factors associated with patient satisfaction with patient–physician communication.
Methods
Data for women previously treated with pharmacotherapy agents for breast cancer in Japan were collected in July 2017 using an online survey. Respondents were categorized by their decision-making role (active, shared, passive). Characteristics, decisional conflict level, and satisfaction with communication with their physician at the time of pharmacotherapy selection were stratified by decision-making roles. Stepwise multivariate logistic regression was performed to assess factors associated with satisfaction.
Results
Of 486 women that responded, nearly half played an active decision-making role (48.4%) and 26.0% played a shared role. The lowest decisional conflict and higher satisfaction were observed among those who played a shared role. The highest decisional conflict and lower satisfaction were observed in passive decision-makers. Shared decision-making, a longer consultation time with the physician, and multiple treatment options provided by the physician were significantly associated with satisfaction with communication with the physician.
Conclusions
Our findings suggest that among patients with breast cancer, a shared role in treatment decision-making, longer consultation time at treatment selection, and having multiple treatment options are important for higher patient satisfaction with communication with their physician.
This is a preview of subscription content, log in to check access.
Access options
Buy single article
Instant access to the full article PDF.
US$ 39.95
Price includes VAT for USA
Subscribe to journal
Immediate online access to all issues from 2019. Subscription will auto renew annually.
US$ 99
This is the net price. Taxes to be calculated in checkout.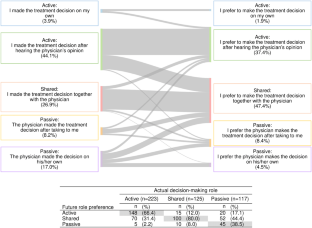 References
1.

Nakashima M, Kuroki S, Shinkoda H, Suetsugu Y, Shimada K, Kaku T. Information-seeking experiences and decision-making roles of Japanese women with breast cancer. Fukuoka Igaku Zasshi. 2012;103(6):120–30.

2.

Sutherland HJ, Llewellyn-Thomas HA, Lockwood GA, Tritchler DL, Till JE. Cancer patients: their desire for information and participation in treatment decisions. J R Soc Med. 1989;82(5):260–3.

3.

Elkin EB, Kim SH, Casper ES, Kissane DW, Schrag D. Desire for information and involvement in treatment decisions: elderly cancer patients' preferences and their physicians' perceptions. J Clin Oncol. 2007;25(33):5275–80.

4.

Gilligan T, Coyle N, Frankel RM, Berry DL, Bohlke K, Epstein RM, et al. Patient-clinician communication: American society of clinical oncology consensus guideline. J Clin Oncol. 2017;35(31):3618–32.

5.

Charles C, Gafni A, Whelan T. Shared decision-making in the medical encounter: what does it mean? (or it takes at least two to tango). Soc Sci Med. 1997;44(5):681–92.

6.

Mandelblatt J, Kreling B, Figeuriedo M, Feng S. What is the impact of shared decision making on treatment and outcomes for older women with breast cancer? J Clin Oncol. 2006;24(30):4908–13.

7.

Edwards A, Elwyn G. Inside the black box of shared decision making: distinguishing between the process of involvement and who makes the decision. Health Expect. 2006;9(4):307–20.

8.

Hack TF, Degner LF, Parker PA. SCRN communication team. The communication goals and needs of cancer patients: a review. Psychooncology. 2005;14(10):831–45 (discussion 846-7).

9.

Brown R, Butow P, Wilson-Genderson M, Bernhard J, Ribi K, Juraskova I. Meeting the decision-making preferences of patients with breast cancer in oncology consultations: impact on decision-related outcomes. J Clin Oncol. 2012;30(8):857–62.

10.

Yamauchi K, Nakao M, Nakashima M, Ishihara Y. Congruence between preferred and actual participation roles increases satisfaction with treatment decision making among Japanese women with breast cancer. Asian Pac J Cancer Prev. 2017;18(4):987–94.

11.

Bruera E, Willey JS, Palmer JL, Rosales M. Treatment decisions for breast carcinoma: patient preferences and physician perceptions. Cancer. 2002;94(7):2076–80.

12.

Ministry of Health, Labour and welfare: ethical guidelines for medical and health research involving human subjects [in Japanese]. http://www.mhlw.go.jp/file/06-Seisakujouhou-10600000-Daijinkanboukouseikagakuka/0000153339.pdf. Accessed 05 Jun 2018.

13.

Schaede U, Mahlich J, Nakayama M, Kobayashi H, Takahashi Y, Saito K, et al. Shared decision-making in patients with prostate cancer in Japan: patient preferences versus physician perceptions. J Glob Oncol. 2018;4:1–9.

14.

Bruera E, Sweeney C, Calder K, Palmer L, Benisch-Tolley S. Patient preferences versus physician perceptions of treatment decisions in cancer care. J Clin Oncol. 2001;19(11):2883–5.

15.

O'Connor AM. Validation of a decisional conflict scale. Med Decis Making. 1995;15(1):25–30.

16.

Kawaguchi T, Azuma K, Yamaguchi T, Soeda H, Sekine Y, Koinuma M, et al. Development and validation of the Japanese version of the decisional conflict scale to investigate the value of pharmacists' information: a before and after study. BMC Med Inform Decis Mak. 2013;13:50.

17.

Légaré F, Kearing S, Clay K, Gagnon S, D'Amours D, Rousseau M, et al. Are you SURE?: Assessing patient decisional conflict with a 4-item screening test. Can Fam Physician. 2010;56(8):e308–14.

18.

Linder SK, Swank PR, Vernon SW, Mullen PD, Morgan RO, Volk RJ. Validity of a low literacy version of the decisional conflict scale. Patient Educ Couns. 2011;85(3):521–4.

19.

Légaré F, Leblanc A, Robitaille H, Turcotte S. The decisional conflict scale: moving from the individual to the dyad level. Z Evid Fortbild Qual Gesundhwes. 2012;106(4):247–52.

20.

The Ottawa Hospital. Patient Decision Aids. Decisional conflict scale. User manual—Decisional conflict scale, 2010. https://decisionaid.ohri.ca/docs/develop/User_Manuals/UM_decisional_conflict.pdf. Accessed 05 Mar 2018.

21.

Atherton PJ, Smith T, Singh JA, Huntington J, Diekmann BB, Huschka M, et al. The relation between cancer patient treatment decision-making roles and quality of life. Cancer. 2013;119(12):2342–9.

22.

Kokufu H. Conflict accompanying the choice of initial treatment in breast cancer patients. Jpn J Nurs Sci. 2012;9(2):177–84.

23.

Ross L, Petersen MA, Johnsen AT, Lundstrøm LH, Groenvold M. Cancer patients' evaluation of communication: a report from the population-based study 'The Cancer Patient's World'. Support Care Cancer. 2013;21(1):235–44.

24.

Liang W, Burnett CB, Rowland JH, Meropol NJ, Eggert L, Hwang YT, et al. Communication between physicians and older women with localized breast cancer: implications for treatment and patient satisfaction. J Clin Oncol. 2002;20(4):1008–16.

25.

Japanese Breast Cancer Society (Ed.). The Japanese breast cancer society clinical practice guidelines for breast cancer treatment 2018, vol. 1. 4th ed. Tokyo: Kanehara-Shuppan Publishers; 2018 (in Japanese).
Acknowledgements
This study was funded by Eisai Co., Ltd. Medical writing assistance was provided by Clinical Study Support, Inc. under contract with Eisai Co., Ltd. This study was presented in part as an abstract presentation at the 26th annual meeting of the Japanese Breast Cancer Society on May 16, 2018.
Ethics declarations
Conflict of interest
Chikako Shimizu has been paid for consulting or advisory role by Eisai Co., Ltd. during the study; and outside the submitted study, been paid honoraria by AstraZeneca K.K., Kyowa Hakko Kirin Co., Ltd., Chugai Pharmaceutical Co., Ltd., ASKA Pharmaceutical Co., Ltd., and Taiho Pharmaceutical Co. Ltd.; been paid for consulting or advisory role by Eli Lilly Japan K.K., Pfizer Japan Inc., and AstraZeneca K.K.; and conducted research projects funded by Eli Lilly Japan K.K., MSD K.K., Chugai Pharmaceutical Co., Ltd., and Pfizer Japan Inc. Yukinori Sakata, Ruiko Sakai, Hiroki Ikezawa, and Toshiyuki Matsuoka are employees of Eisai Co., Ltd. Yoshiki Uetaki is an employee of Anterio Inc.
Additional information
Publisher's Note
Springer Nature remains neutral with regard to jurisdictional claims in published maps and institutional affiliations.
About this article
Cite this article
Shimizu, C., Sakata, Y., Sakai, R. et al. Pharmacotherapy decision-making among patients with breast cancer in Japan: results of an online survey. Breast Cancer 26, 799–807 (2019). https://doi.org/10.1007/s12282-019-00986-z
Received:

Accepted:

Published:

Issue Date:
Keywords
Breast neoplasms

Decision-making

Communication

Patient preference

Japan