Abstract
Background
Although BRCA1 or BRCA2 (BRCA1/2) genetic testing plays an important role in determining treatment modalities in patients with hereditary breast and ovarian cancer, sequence variants with unknown clinical significance or variant of uncertain significance (VUS) have limited use in medical decision-making. With vast quantities of gene-related data being updated, the clinical significance of VUS may change over time. We reinterpreted the sequence variant previously reported as BRCA1/2 VUS results in patients with breast or ovarian cancer and assessed whether the clinical significance of VUS was changed.
Methods
We retrospectively reviewed medical records of 423 breast or ovarian cancer patients who underwent BRCA1/2 genetic testing from 2010 to 2017. The VUSs in BRCA1/2 were reanalyzed using the 2015 American College of Medical Genetics and Genomics and the Association for Molecular Pathology standards and guidelines (ACMG/AMP 2015 guidelines) and the VUS was reclassified into five categories: "pathogenic", "likely pathogenic", "VUS", "likely benign", and "benign".
Results
A total of 75 patients (48 sequence types of VUS) were identified as carrying either one or more VUS in BRCA1/2. Among the 75 patients, two patients (2.7%) were reclassified as "likely pathogenic", 30 patients (40.0%) were reclassified as either "benign" or "likely benign", and the remaining 43 patients (57.3%) were still classified as VUS category.
Conclusions
Since the clinical significance of VUS in BRCA1/2 may vary from time to time, reinterpretation of the VUS results could contribute to clinical decision-making.
This is a preview of subscription content, log in to check access.
Access options
Buy single article
Instant access to the full article PDF.
US$ 39.95
Price includes VAT for USA
Subscribe to journal
Immediate online access to all issues from 2019. Subscription will auto renew annually.
US$ 99
This is the net price. Taxes to be calculated in checkout.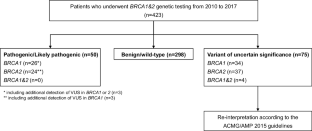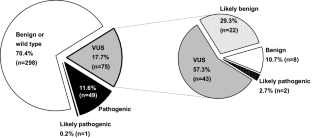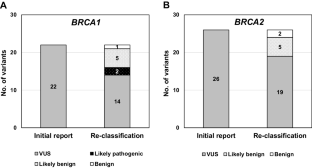 References
1.

Hall MJ, Forman AD, Pilarski R, Wiesner G, Giri VN. Gene panel testing for inherited cancer risk. J Natl Compr Canc Netw. 2014;12:1339–46.

2.

Daly MB, Pilarski R, Berry M, Buys SS, Farmer M, Friedman S, et al. NCCN guidelines insights: genetic/familial high-risk assessment: breast and ovarian, version 2.2017. J Natl Compr Canc Netw. 2017;15:9–20.

3.

Committee on Practice Bulletins-Gynecology CoGSoGO. Practice bulletin No 182: Hereditary breast and ovarian cancer syndrome. Obstet Gynecol. 2017;130:e110-e26.

4.

Krontiras H, Farmer M, Whatley J. Breast cancer genetics and indications for prophylactic mastectomy. Surg Clin North Am. 2018;98:677–85.

5.

Li S. Inhibition of poly(ADP-ribose) polymerase in BRCA mutation carriers. N Engl J Med. 2009;361:1707 (author reply-8).

6.

Robson M, Im SA, Senkus E, Xu B, Domchek SM, Masuda N, et al. Olaparib for Metastatic Breast Cancer in Patients with a Germline BRCA Mutation. N Engl J Med. 2017;377:523–33.

7.

Richards S, Aziz N, Bale S, Bick D, Das S, Gastier-Foster J, et al. Standards and guidelines for the interpretation of sequence variants: a joint consensus recommendation of the American College of Medical Genetics and Genomics and the Association for Molecular Pathology. Genet Med. 2015;17:405–24.

8.

Kurian AW. BRCA1 and BRCA2 mutations across race and ethnicity: distribution and clinical implications. Curr Opin Obstet Gynecol. 2010;22:72–8.

9.

Hall MJ, Reid JE, Burbidge LA, Pruss D, Deffenbaugh AM, Frye C, et al. BRCA1 and BRCA2 mutations in women of different ethnicities undergoing testing for hereditary breast-ovarian cancer. Cancer. 2009;115:2222–33.

10.

Lai KN, Ho WK, Kang IN, Kang PC, Phuah SY, Mariapun S, et al. Characterization of BRCA1 and BRCA2 variants in multi-ethnic Asian cohort from a Malaysian case-control study. BMC Cancer. 2017;17:149.

11.

Murray ML, Cerrato F, Bennett RL, Jarvik GP. Follow-up of carriers of BRCA1 and BRCA2 variants of unknown significance: variant reclassification and surgical decisions. Genet Med. 2011;13:998–1005.

12.

Hoffman-Andrews L. The known unknown: the challenges of genetic variants of uncertain significance in clinical practice. J Law Biosci. 2017;4:648–57.

13.

O'Neill SC, Rini C, Goldsmith RE, Valdimarsdottir H, Cohen LH, Schwartz MD. Distress among women receiving uninformative BRCA1/2 results: 12-month outcomes. Psychooncology. 2009;18:1088–96.

14.

Richards CS, Bale S, Bellissimo DB, Das S, Grody WW, Hegde MR, et al. ACMG recommendations for standards for interpretation and reporting of sequence variations: Revisions 2007. Genet Med. 2008;10:294–300.

15.

Steffensen AY, Dandanell M, Jonson L, Ejlertsen B, Gerdes AM, Nielsen FC, et al. Functional characterization of BRCA1 gene variants by mini-gene splicing assay. Eur J Hum Genet. 2014;22:1362–8.

16.

Burk-Herrick A, Scally M, Amrine-Madsen H, Stanhope MJ, Springer MS. Natural selection and mammalian BRCA1 sequences: elucidating functionally important sites relevant to breast cancer susceptibility in humans. Mamm Genome. 2006;17:257–70.

17.

Bouwman P, van der Gulden H, van der Heijden I, Drost R, Klijn CN, Prasetyanti P, et al. A high-throughput functional complementation assay for classification of BRCA1 missense variants. Cancer Discov. 2013;3:1142–55.

18.

Millot GA, Carvalho MA, Caputo SM, Vreeswijk MP, Brown MA, Webb M, et al. A guide for functional analysis of BRCA1 variants of uncertain significance. Hum Mutat. 2012;33:1526–37.

19.

Han SH, Lee KR, Lee DG, Kim BY, Lee KE, Chung WS. Mutation analysis of BRCA1 and BRCA2 from 793 Korean patients with sporadic breast cancer. Clin Genet. 2006;70:496–501.

20.

Lee MS, Green R, Marsillac SM, Coquelle N, Williams RS, Yeung T, et al. Comprehensive analysis of missense variations in the BRCT domain of BRCA1 by structural and functional assays. Cancer Res. 2010;70:4880–90.

21.

Karchin R, Monteiro AN, Tavtigian SV, Carvalho MA, Sali A. Functional impact of missense variants in BRCA1 predicted by supervised learning. PLoS Comput Biol. 2007;3:e26.

22.

Guidugli L, Carreira A, Caputo SM, Ehlen A, Galli A, Monteiro AN, et al. Functional assays for analysis of variants of uncertain significance in BRCA2. Hum Mutat. 2014;35:151–64.

23.

Biswas K, Das R, Alter BP, Kuznetsov SG, Stauffer S, North SL, et al. A comprehensive functional characterization of BRCA2 variants associated with Fanconi anemia using mouse ES cell-based assay. Blood. 2011;118:2430–42.

24.

Shimelis H, Mesman RLS, Von Nicolai C, Ehlen A, Guidugli L, Martin C, et al. BRCA2 hypomorphic missense variants confer moderate risks of breast cancer. Cancer Res. 2017;77:2789–99.

25.

Farrugia DJ, Agarwal MK, Pankratz VS, Deffenbaugh AM, Pruss D, Frye C, et al. Functional assays for classification of BRCA2 variants of uncertain significance. Can Res. 2008;68:3523–31.

26.

Park JS, Nam EJ, Park HS, Han JW, Lee JY, Kim J, et al. Identification of a novel BRCA1 pathogenic mutation in Korean patients following reclassification of BRCA1 and BRCA2 variants according to the ACMG standards and guidelines using relevant ethnic controls. Cancer Res Treat. 2017;49:1012–21.

27.

Macklin S, Durand N, Atwal P, Hines S. Observed frequency and challenges of variant reclassification in a hereditary cancer clinic. Genet Med. 2018;20:346–50.

28.

Park KS, Cho EY, Nam SJ, Ki CS, Kim JW. Comparative analysis of BRCA1 and BRCA2 variants of uncertain significance in patients with breast cancer: a multifactorial probability-based model versus ACMG standards and guidelines for interpreting sequence variants. Genet Med. 2016;18:1250–7.

29.

Guidugli L, Pankratz VS, Singh N, Thompson J, Erding CA, Engel C, et al. A classification model for BRCA2 DNA binding domain missense variants based on homology-directed repair activity. Cancer Res. 2013;73:265–75.

30.

Ryu JM, Kang G, Nam SJ, Kim SW, Yu J, Lee SK, et al. Suggestion of BRCA1 c.5339T> C (p.L1780P) variant confer from 'unknown significance' to 'Likely pathogenic' based on clinical evidence in Korea. Breast. 2017;33:109–16.

31.

Yoon KA, Park B, Lee BI, Yang MJ, Kong SY, Lee ES. Clinically significant unclassified variants in BRCA1 and BRCA2 genes among Korean Breast cancer patients. Cancer Res Treat. 2017;49:627–34.

32.

Zuntini R, Cortesi L, Calistri D, Pippucci T, Martelli PL, Casadio R, et al. BRCA1 p.His1673del is a pathogenic mutation associated with a predominant ovarian cancer phenotype. Oncotarget. 2017;8:22640–8.

33.

Kazazian HH, Boehm CD, Seltzer WK. ACMG recommendations for standards for interpretation of sequence variations. Genetics In Medicine. 2000;2:302.

34.

Amendola LM, Jarvik GP, Leo MC, McLaughlin HM, Akkari Y, Amaral MD, et al. Performance of ACMG-AMP variant-interpretation guidelines among nine laboratories in the clinical sequencing exploratory research consortium. Am J Hum Genet. 2016;99:247.

35.

Malone KE, Daling JR, Thompson JD, O'Brien CA, Francisco LV, Ostrander EA. BRCA1 mutations and breast cancer in the general population: analyses in women before age 35 years and in women before age 45 years with first-degree family history. JAMA. 1998;279:922–9.
Ethics declarations
Conflict of interest
The authors state that there are no conflicts of interest regarding the publication of this article.
Employment or leadership
None declared.
Honorarium
None declared.
Additional information
Publisher's Note
Springer Nature remains neutral with regard to jurisdictional claims in published maps and institutional affiliations.
About this article
Cite this article
So, M., Jeong, T., Lim, W. et al. Reinterpretation of BRCA1 and BRCA2 variants of uncertain significance in patients with hereditary breast/ovarian cancer using the ACMG/AMP 2015 guidelines. Breast Cancer 26, 510–519 (2019). https://doi.org/10.1007/s12282-019-00951-w
Received:

Accepted:

Published:

Issue Date:
Keywords
Variant of uncertain significance

BRCA

Breast cancer

Reclassification

Genetic testing