Abstract
Background
DNA double-strand breaks (DSBs) as a serious lesion are repaired by non-homologous end-joining and homologous recombination pathways. ATM, BRCA1, RAD51 genes are involved in HR pathways. While some studies have revealed individual expression changes of these genes in different types of cancer, there are limited studies attempting to evaluate correlation of expression variations of these genes in breast cancer pathogenesis. This study aimed to determine RAD51, ATM and BRCA1 gene expression level and its association with clinicopathological factors in fresh breast cancer tissues. Moreover, this study evaluates potential correlations among expression levels of these genes.
Methods
50 breast cancer tissues were collected and examined for BRCA1, RAD51 and ATM gene expression by Real Time PCR. Expression changes were analyzed with REST software version 2009.
Results
mRNA expression was reduced in all these three genes when compared with β-Actin as a control gene (P value < 0.001). Spearman's test demonstrated a significant positive correlation among ATM, BRCA1 and RAD51 gene down expression (P value < 0.0001). There was a significant association between down expression of ATM with stage (P value < 0.05), necrosis (P value < 0.05), perineural invasion (P value < 0.05), vascular invasion (P value < 0.01), malignancy (P value ≤ 0.001), PR (P value < 0.05) and ER status (P value < 0.01). In addition, there was a significant association between down expression of BRCA1 with Ki67 (P value ≤ 0.001). Moreover, there was a significant association between down expression of RAD51 with lymph node involvement (P value < 0.01), auxiliary lymph node metastasis (P value = 0.01), age (P = 0.001), grade (P value < 0.05) and PR status (P value < 0.05).
Conclusion
This study suggests association between expression changes in several DSB repair genes in a common functional pathway in breast cancer and the significant association between abnormal expression of these genes and important clinical prognostic factors.
This is a preview of subscription content,
to check access.
Access this article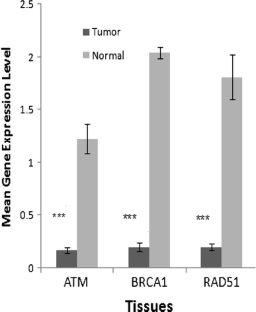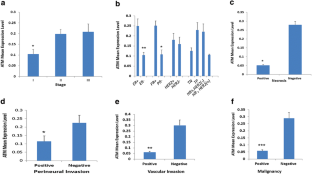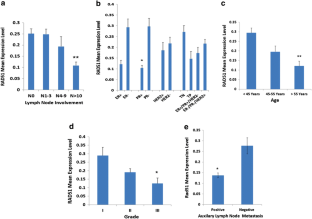 Similar content being viewed by others
References
Mendoza G, Portillo A, Olmos-Soto J. Accurate breast cancer diagnosis through real-time PCR her-2 gene quantification using immunohistochemically-identified biopsies. Oncol Lett. 2013;5(1):295–8.

Ralhan R, Kaur J, Kreienberg R, Wiesmüller L. Links between DNA double strand break repair and breast cancer: accumulating evidence from both familial and nonfamilial cases. Cancer Lett. 2007;248(1):1–17.

Bunz F. DNA damage signaling downstream of ATM. Molecular Determinants of Radiation Response. Berlin: Springer; 2011. p. 35–52.

Gatei M, Scott SP, Filippovitch I, Soronika N, Lavin MF, Weber B, et al. Role for ATM in DNA damage-induced phosphorylation of BRCA1. Cancer Res. 2000;60(12):3299–304.

Henning W, Stürzbecher H-W. Homologous recombination and cell cycle checkpoints: rad51 in tumour progression and therapy resistance. Toxicology. 2003;193(1):91–109.

Bau D-T, Mau Y-C, Shen C-Y. The role of BRCA1 in non-homologous end-joining. Cancer Lett. 2006;240(1):1–8.

Moynahan ME, Chiu JW, Koller BH, Jasin M. Brca1 controls homology-directed DNA repair. Mol Cell. 1999;4(4):511–8.

Söderlund K, Skoog L, Fornander T, Askmalm MS. The BRCA1/BRCA2/Rad51 complex is a prognostic and predictive factor in early breast cancer. Radiother Oncol. 2007;84(3):242–51.

Human Protein Atlas 2016 [cited 2016 12.05]. Available from: http://www.proteinatlas.org.

Lambert S, Lopez BS. Characterization of mammalian RAD51 double strand break repair using non-lethal dominant-negative forms. EMBO J. 2000;19(12):3090–9.

Bueno R, Canevari R, Villacis R, Domingues MAC, Caldeira J, Rocha R, et al. ATM down-regulation is associated with poor prognosis in sporadic breast carcinomas. Ann Oncol. 2014;25(1):69–75.

Tommiska J, Bartkova J, Heinonen M, Hautala L, Kilpivaara O, Eerola H, et al. The DNA damage signalling kinase ATM is aberrantly reduced or lost in BRCA1/BRCA2-deficient and ER/PR/ERBB2-triple-negative breast cancer. Oncogene. 2008;27(17):2501–6.

Guo X, Yang C, Qian X, Lei T, Li Y, Shen H, et al. Estrogen receptor α regulates ATM expression through miRNAs in breast cancer. Clin Cancer Res. 2013;19(18):4994–5002.

Rondeau S, Vacher S, De Koning L, Briaux A, Schnitzler A, Chemlali W, et al. ATM has a major role in the double-strand break repair pathway dysregulation in sporadic breast carcinomas and is an independent prognostic marker at both mRNA and protein levels. Br J Cancer. 2015;112(6):1059–66.

Angele S, Jones C, Reis Filho J, Fulford L, Treilleux I, Lakhani S, et al. Expression of ATM, p53, and the MRE11–Rad50–NBS1 complex in myoepithelial cells from benign and malignant proliferations of the breast. J Clin Pathol. 2004;57(11):1179–84.

Angèle S, Falconer A, Foster CS, Taniere P, Eeles RA, Hall J. ATM protein overexpression in prostate tumors. Am J Clin Pathol. 2004;121(2):231–6.

Ko JJ, Klimowicz AC, Jagdis A, Phan T, Laskin J, Lau HY, et al. ATM, THMS, and RRM1 protein expression in nasopharyngeal carcinomas treated with curative intent. Head Neck. 2016;38:E384–91.

Rio PG, Pernin D, Bay J-O, Albuisson E, Kwiatkowski F, De Latour M, et al. Loss of heterozygosity of BRCA1, BRCA2 and ATM genes in sporadic invasive ductal breast carcinoma. Int J Oncol. 1998;13(4):849–54.

Goldgar DE, Healey S, Dowty JG, Da Silva L, Chen X, Spurdle AB, et al. Rare variants in the ATM gene and risk of breast cancer. Breast Cancer Res. 2011;13(4):1.

Wei M, Grushko TA, Dignam J, Hagos F, Nanda R, Sveen L, et al. BRCA1 promoter methylation in sporadic breast cancer is associated with reduced BRCA1 copy number and chromosome 17 aneusomy. Cancer Res. 2005;65(23):10692–9.

Cousineau I, Abaji C, Belmaaza A. BRCA1 regulates RAD51 function in response to DNA damage and suppresses spontaneous sister chromatid replication slippage: implications for sister chromatid cohesion, genome stability, and carcinogenesis. Cancer Res. 2005;65(24):11384–91.

Turner N, Reis-Filho J, Russell A, Springall R, Ryder K, Steele D, et al. BRCA1 dysfunction in sporadic basal-like breast cancer. Oncogene. 2007;26(14):2126–32.

WU Jing-Jing CX, Xiong C. Clinical significance of BRCA1 and Ki-67 expression in breast cancer. Cancer Research and Clinic. 2014;26(1):1–5.

Garcia AI, Buisson M, Bertrand P, Rimokh R, Rouleau E, Lopez BS, et al. Down-regulation of BRCA1 expression by miR-146a and miR-146b-5p in triple negative sporadic breast cancers. EMBO Mol Med. 2011;3(5):279–90.

Choi YE, Pan Y, Park E, Konstantinopoulos P, De S, D'Andrea A, et al. MicroRNAs down-regulate homologous recombination in the G1 phase of cycling cells to maintain genomic stability. Elife. 2014;3:e02445.

Mitra A, Jameson C, Barbachano Y, Sanchez L, Kote-Jarai Z, Peock S, et al. Overexpression of RAD51 occurs in aggressive prostatic cancer. Histopathology. 2009;55(6):696–704.

Klein HL. The consequences of Rad51 overexpression for normal and tumor cells. DNA Repair. 2008;7(5):686–93.

Wu M, Wang X, Mcgregor N, Pienta KJ, Zhang J. Dynamic regulation of Rad51 by E2F1 and p53 in prostate cancer cells upon drug-induced DNA damage under hypoxia. Mol Pharmacol. 2014;85(6):866–76.

Maacke H, Opitz S, Jost K, Hamdorf W, Henning W, Krüger S, et al. Over-expression of wild-type Rad51 correlates with histological grading of invasive ductal breast cancer. Int J Cancer. 2000;88(6):907–13.

Hu J, Wang N, Wang Y-J. XRCC3 and RAD51 expression are associated with clinical factors in breast cancer. PLoS One. 2013;8(8):e72104.

Gasparini P, Lovat F, Fassan M, Casadei L, Cascione L, Jacob NK, et al. Protective role of miR-155 in breast cancer through RAD51 targeting impairs homologous recombination after irradiation. Proc Natl Acad Sci. 2014;111(12):4536–41.

Mueller CR, Roskelley CD. Regulation of BRCA1 expression and its relationship to sporadic breast cancer. Breast Cancer Res. 2002;5(1):1.

Peluso S, Chiappetta G. High-mobility group A (HMGA) proteins and breast cancer. Breast Care. 2010;5(2):81–5.

Wang A, Schneider-Broussard R, Kumar AP, MacLeod MC, Johnson DG. Regulation of BRCA1 expression by the Rb-E2F pathway. J Biol Chem. 2000;275(6):4532–6.

Gazy I, Zeevi DA, Renbaum P, Zeligson S, Eini L, Bashari D, et al. TODRA, a lncRNA at the RAD51 Locus, Is Oppositely Regulated to RAD51, and Enhances RAD51-Dependent DSB (Double Strand Break) Repair. PLoS One. 2015;10(7):e0134120.

Berkovich E, Ginsberg D. ATM is a target for positive regulation by E2F-1. Oncogene. 2003;22(2):161–7.

Lu J, Yang L, Tao Y, Sun L, Cao Y. Role of epidermal growth factor receptor in DNA damage repair. Chin Sci Bull. 2011;56(30):3132–7.

Chabalier-Taste C, Brichese L, Racca C, Canitrot Y, Calsou P, Larminat F. Polo-like kinase 1 mediates BRCA1 phosphorylation and recruitment at DNA double-strand breaks. Oncotarget. 2016;7(3):2269.
Acknowledgements
This research was financially supported by the National Institute of Genetic Engineering and Biotechnology Grant No: 412 M, Tehran, Iran.
Ethics declarations
Conflict of interest
The authors declare that they have no conflict of interest.
Human rights statement and informed consent
All procedures followed were approved by the local ethical standards of National Institute of Genetic Engineering and Biotechnology (NIGEB) with IR.NIGEB.EC.1395.5.6.B approval number. Written informed consent was obtained from each patient who participated in this study prior to sample collection.
Electronic supplementary material
Below is the link to the electronic supplementary material.
About this article
Cite this article
Hallajian, Z., Mahjoubi, F. & Nafissi, N. Simultaneous ATM/BRCA1/RAD51 expression variations associated with prognostic factors in Iranian sporadic breast cancer patients. Breast Cancer 24, 624–634 (2017). https://doi.org/10.1007/s12282-016-0750-z
Received:

Accepted:

Published:

Issue Date:

DOI: https://doi.org/10.1007/s12282-016-0750-z
Keywords