Abstract
Background
We evaluated the expression of aldehyde dehydrogenase 1 (ALDH1) between primary breast lesions and pulmonary metastatic (PM) lesions in breast cancer patients.
Methods
We retrospectively analyzed the clinicopathological features and the expression statuses of ER, PR, HER2, Ki-67 and ALDH-1 in both primary and metastatic breast cancer lesions and evaluated the discordance rates in the expressions of these markers between the primary and metastatic lesions, and also the prognostic value of these factors.
Results
None of the PM patients had metastases at any other sites, and all had undergone curative breast cancer surgery. The pulmonary operation was partial resection in 15 (88 %) patients and lobectomy in 2 (12 %) patients. The median overall survival (OS) after resection of the PNs (OS) was 48 months. The discordance rates in the expressions of ER, PR, HER2, Ki67 and ALDH-1 between the primary and metastatic lesions were 0, 29, 21, 43 and 50 %, respectively.
Conclusion
There was significant discordance in the biomarkers between the primary tumors and the metastatic lesions.
This is a preview of subscription content,
to check access.
Access this article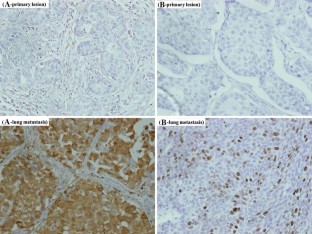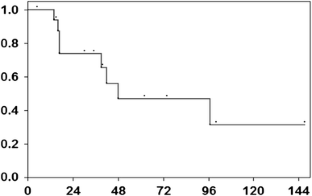 References
Gong Y, Booser DJ, Sneige N. Comparison of HER-2 status determined by fluorescence in situ hybridization in primary and metastatic breast carcinoma. Cancer. 2005;103:1763–9.

Simmons C, Miller N, Geddie W, Gianfelice D, Oldfield M, Dranitsaris G, et al. Does confirmatory tumor biopsy alter the management of breast cancer patients with distant metastases? Ann Oncol. 2009;20:1499–504.

Zidan J, Dashkovsky I, Stayerman C, Basher W, Cozacov C, Hadary A. Comparison of HER-2 overexpression in primary breast cancer and metastatic sites and its effect on biological targeting therapy of metastatic disease. Br J Cancer. 2005;93:552–6.

Khasraw M, Brogi E, Seidman AD. The need to examine metastatic tissue at the time of progression of breast cancer: is re-biopsy a necessity or a luxury? Curr Oncol Rep. 2011;13:17–25.

Ginestier C, Hur MH, Charafe-Jauffret E, Monville F, Dutcher J, Brown M, et al. ALDH1 is a marker of normal and malignant human mammary stem cells and a predictor of poor clinical outcome. Cell Stem Cell. 2007;1:555–67.

Tanei T, Morimoto K, Shimazu K, Kim SJ, Tanji Y, Taguchi T, et al. Association of breast cancer stem cells identified by aldehyde dehydrogenase 1 expression with resistance to sequential paclitaxel and epirubicin-based chemotherapy for breast cancers. Clin Cancer Res. 2009;15:4234–41.

Chute JP, Muramoto GG, Whitesides J, Colvin M, Safi R, Chao NJ, et al. Inhibition of aldehyde dehydrogenase and retinoid signaling induces the expansion of human hematopoietic stem cells. Proc Natl Acad Sci USA. 2006;103:11707–12.

Nogami N, Shien T, Tanaka T, Nishiyama K, Mizoo T, Iwamoto T, et al. Expression of ALDH1 in axillary lymph node metastases is a prognostic factor of poor clinical outcome in breast cancer patients with 1–3 lymph node metastases. Breast Cancer. 2012. [Epub ahead of print].

Goldhirsch A, Ingle JN, Gelber RD, Coates AS, Thurlimann B, Senn HJ. Thresholds for therapies: highlights of the St Gallen International Expert Consensus on the primary therapy of early breast cancer 2009. Ann Oncol. 2009;20:1319–29.

Friedel G, Pastorino U, Ginsberg RJ, Goldstraw P, Johnston M, Pass H, et al. Results of lung metastasectomy from breast cancer: prognostic criteria on the basis of 467 cases of the International Registry of Lung Metastases. Eur J Cardiothorac Surg. 2002;22:335–44.

Higaki K, Otani S, Kochi M. Pulmonary resection for metastatic breast cancer may result in a survival benefit in selected cases. Breast. 2011;20:S77.

Ludwig C, Stoelben E, Hasse J. Disease-free survival after resection of lung metastases in patients with breast cancer. Eur J Surg Oncol. 2003;29:532–5.

Planchard D, Soria JC, Michiels S, Grunenwald D, Validire P, Caliandro R, et al. Uncertain benefit from surgery in patients with lung metastases from breast carcinoma. Cancer. 2004;100:28–35.

Tanaka F, Li M, Hanaoka N, Bando T, Fukuse T, Hasegawa S, et al. Surgery for pulmonary nodules in breast cancer patients. Ann Thorac Surg. 2005;79:1711–4 (discussion 1714–5).

Casey JJ, Stempel BG, Scanlon EF, Fry WA. The solitary pulmonary nodule in the patient with breast cancer. Surgery. 1984;96:801–5.

Bathe OF, Kaklamanos IG, Moffat FL, Boggs J, Franceschi D, Livingstone AS. Metastasectomy as a cytoreductive strategy for treatment of isolated pulmonary and hepatic metastases from breast cancer. Surg Oncol. 1999;8:35–42.
Conflict of interest
All authors have no employment, consultancies, stock ownership, honoraria, paid expert testimony, patent applications/registrations, or grants or other funding to disclose.
About this article
Cite this article
Nogami, T., Shien, T., Tanaka, T. et al. The discordance between primary breast cancer lesions and pulmonary metastatic lesions in expression of aldehyde dehydrogenase 1-positive cancer cells. Breast Cancer 21, 698–702 (2014). https://doi.org/10.1007/s12282-013-0445-7
Received:

Accepted:

Published:

Issue Date:

DOI: https://doi.org/10.1007/s12282-013-0445-7
Keywords