Abstract
Background
The sentinel lymph node (SLN) biopsy technique using superparamagnetic iron oxide (SPIO) as a tracer instead of radioisotopes has been described. To further advance this technique, we evaluated preoperative SPIO-MR sentinel lymphography to facilitate the accurate identification of the lymphatic pathways and primary SLN.
Methods
A prospective study was performed in ten patients with breast cancer and clinically negative axillary lymph nodes. None of the patients received preoperative chemotherapy. After 1.6 ml of SPIO (ferucarbotran) was injected in the subareolar breast tissue, sentinel axillary lymph nodes were detected by MRI in T2*-weighted gradient echo images and resected using the serial SPIO-SLN biopsy procedure with a handheld magnetometer.
Results
In one patient, gadolinium-enhanced MR imaging was performed at the same time as SPIO-MR lymphography, and this patient was excluded from further analysis. In all patients (9/9) SLNs were detected by SPIO-MR sentinel lymphography and successfully identified at surgery. The number of SLNs detected by lymphography (mean 2.7) significantly correlated with SLNs identified at surgery (mean 2.2). One patient had nodal metastases. In one patient, skin color changed to brown at the injection site and resolved spontaneously. There were no severe reactions to the procedure or complications in any patient.
Conclusions
This is the first study to evaluate SPIO both as a contrast material in MR sentinel lymphography and as a tracer in SLN biopsy using an integrated method. The acquired three-dimensional imaging demonstrated excellent image quality and usefulness to identify SLN in conjunction with SLN biopsy.
Access options
Buy single article
Instant access to the full article PDF.
USD 39.95
Price excludes VAT (USA)
Tax calculation will be finalised during checkout.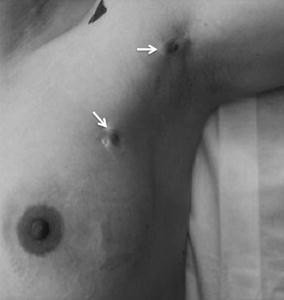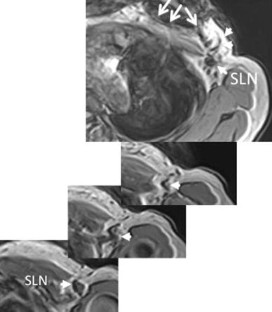 References
Giuliano AE, Kirgan DM, Guenther JM, Morton DL. Lymphatic mapping and sentinel lymphadenectomy for breast cancer. Ann Surg. 1994;220:391–8.

Cody HS. Sentinel lymph node mapping in breast cancer. Breast Cancer. 1999;6:13–22.

Ferrucci JT, Stark DD. Iron oxide-enhanced MR imaging of the liver and spleen: review of the first 5 years. AJR Am J Roentgenol. 1990;155:943–50.

Motomura K, Ishitobi M, Komoike Y, Koyama H, Noguchi A, Sumino H, et al. SPIO-enhanced magnetic resonance imaging for the detection of metastases in sentinel nodes localized by computed tomography lymphography in patients with breast cancer. Ann Surg Oncol. 2011;18:3422–9.

Shiozawa M, Lefor AT, Hozumi Y, Kurihara K, Sata N, Yasuda Y, et al. Sentinel lymph node biopsy in patients with breast cancer using superparamagnetic iron oxide and a magnetometer. Breast Cancer. 2012. doi:10.1007/s12282-011-0327-9.

Yamashiro N, Tozaki M, Ogawa T, Kawano N, Suzuki T, Ozaki S, et al. Preoperative MRI marking technique for the planning of breast-conserving surgery. Breast Cancer. 2009;16:223–8.

Bellin MF, Beigelman C, Precetti-Morel S. Iron oxide-enhanced MR lymphography: initial experience. Eur J Radiol. 2000;34:257–64.

Houssami N, Ciatto S, Macaskill P, Lord SJ, Warren RM, Dixon JM, et al. Accuracy and surgical impact of magnetic resonance imaging in breast cancer staging: systematic review and meta-analysis in detection of multifocal and multicentric cancer. J Clin Oncol. 2008;26:3248–58.

Harisinghani MG, Barentsz J, Hahn PF, Deserno WM, Tabata-baei S, van de Kaa CH, et al. Noninvasive detection of clinically occult lymph-node metastases in prostate cancer. N Engl J Med. 2003;348:2491–9.

Rockall AG, Sohaib SA, Harisinghani MG, Babar SA, Singh N, Jeyarajah AR, et al. Diagnostic performance of nanoparticle-enhanced magnetic resonance imaging in the diagnosis of lymph node metastases in patients with endometrial and cervical cancer. J Clin Oncol. 2005;23:2813–21.

Stets C, Brandt S, Wallis F, Buchmann J, Gilbert FJ, Heywang-Kobrunner SH. Axillary lymph node metastases: a statistical analysis of various parameters in MRI with USPIO. J Magn Reson Imaging. 2002;16:60–8.

Suga K, Yamamoto S, Tangoku A, Oka M, Kawakami Y, Matsunaga N. Breast sentinel lymph node navigation with three-dimensional interstitial multidetector-row computed tomographic lymphography. Invest Radiol. 2005;40:336–42.

Nakamura R, Nagashima T, Sakakibara M, Sangai T, Fujimoto H, Arai M, et al. Breast-conserving surgery using supine magnetic resonance imaging in breast cancer patients receiving neoadjuvant chemotherapy. Breast. 2008;17:245–51.

Ishiyama K, Sashi R, Katayose Y, Tomura N, Watarai J, Narita K. Sentinel lymph node after intramammary injection of superparamagnetic iron oxide (in Japanese with English abstract). Nippon Igaku Hoshasen Gakkai Zasshi. 2002;62:744–6.

Suga K, Yuan Y, Ogasawara N, Okada M, Matsunaga N. Localization of breast sentinel lymph nodes by MR lymphography with a conventional gadolinium contrast agent. Preliminary observations in dogs and humans. Acta Radiol. 2003;44:35–42.

Mariani G, Moresco L, Viale G, Villa G, Bagnasco M, Canavese G, et al. Radioguided sentinel lymph node biopsy in breast cancer surgery. J Nucl Med. 2001;42:1198–215.

Lawaczeck R, Bauer H, Frenzel T, Hasegawa M, Ito Y, Kito K, et al. Magnetic iron oxide particles coated with carboxydextran for parenteral administration and liver contrasting. Pre-clinical profile of SH U555A. Acta Radiol. 1997;38:584–97.

March DE, Wechsler RJ, Kurtz AB, Rosenberg AL, Needleman L. CT-pathologic correlation of axillary lymph nodes in breast carcinoma. J Comput Assist Tomogr. 1991;15:440–4.

Fazel R, Krumholz HM, Wang Y, Ross JS, Chen J, Ting HH, et al. Exposure to low-dose ionizing radiation from medical imaging procedures. N Engl J Med. 2009;27(361):849–57.

Anderson LJ, Holden S, Davis B, Prescott E, Charrier CC, Bunce NH, et al. Cardiovascular T2-star (T2*) magnetic resonance for the early diagnosis of myocardial iron overload. Eur Heart J. 2001;22:2171–9.

Takada S, Inoue T, Niizuma K, Shimizu H, Tominaga T. Hemosiderin detected by T2*-weighted magnetic resonance imaging in patients with unruptured cerebral aneurysms: indication of previous bleeding? Neurol Med Chir. 2011;51:275–81.

Kimura K, Tanigawa N, Matsuki M, Nohara T, Iwamoto M, Sumiyoshi K, et al. High-resolution MR lymphography using ultrasmall superparamagnetic iron oxide (USPIO) in the evaluation of axillary lymph nodes in patients with early stage breast cancer: preliminary results. Breast Cancer. 2010;17:241–6.
Acknowledgments
This work was partially supported by a Jichi Medical University Young Investigator Award.
About this article
Cite this article
Shiozawa, M., Kobayashi, S., Sato, Y. et al. Magnetic resonance lymphography of sentinel lymph nodes in patients with breast cancer using superparamagnetic iron oxide: a feasibility study. Breast Cancer 21, 394–401 (2014). https://doi.org/10.1007/s12282-012-0401-y
Received:

Accepted:

Published:

Issue Date:

DOI: https://doi.org/10.1007/s12282-012-0401-y
Keywords
Breast cancer

Sentinel lymph node biopsy

Superparamagnetic iron oxide

MR lymphography