Abstract
Purpose
Whether postoperative chemotherapy should be added to endocrine therapy or not is an important issue in patients with hormone receptor-positive and human epidermal growth factor receptor (HER)2-negative breast cancer. To identify patients who should be treated with additional chemotherapy, prognostic factors were investigated in breast cancer patients postoperatively treated with endocrine therapy alone.
Patients and methods
Tumor samples and clinicopathological data were collected from patients who underwent curative surgery and were postoperatively treated with endocrine therapy alone between 1999 and 2003 in three different institutes. Expression levels of estrogen receptor (ER), progesterone receptor (PgR), and HER2 in primary tumors were centrally retested. Patients with ER-negative and/or HER2-positive tumors and/or with unknown nodal status were excluded from the study subjects. Immunohistochemical analysis of Ki67, HER1, insulin-like growth factor-1 receptor, and aldehyde dehydrogenase-1 was also performed. Prognostic factors were investigated by univariate and multivariate analyses.
Results
A total of 261 patients were the subjects of this study. The median age was 59 years old, the mean tumor size was 1.9 cm, the node-positive rate was 20 %, and 65 % received tamoxifen alone. Distant metastases were observed in 11 patients at a median follow-up of 98 months, and four patients had died of breast cancer at a median follow-up of 99 months. Univariate analysis showed that marked lymphovascular invasion (LVI), PgR negativity, high Ki67 labeling index (LI), and high nuclear grade were significantly worse prognostic factors for distant metastasis. Multivariate analysis revealed that marked LVI [hazard ratio (HR) 21.8] and PgR negativity (HR 10.3) were independently worse prognostic factors for distant metastasis, respectively. Multivariate analysis also revealed that marked LVI (HR 287.3), PgR negativity (HR 25.1), and high Ki67 LI (HR 19.6) were independently worse prognostic factors for breast cancer-specific death, respectively.
Conclusions
The results of this multi-institute cohort study indicated that endocrine therapy alone could not prevent distant metastasis in breast cancer patients with PgR-negative tumors and/or with tumors showing marked LVI or high cell proliferation. These patients may need postoperative adjuvant chemotherapy in addition to endocrine therapy.
Access options
Buy single article
Instant access to the full article PDF.
USD 39.95
Price includes VAT (USA)
Tax calculation will be finalised during checkout.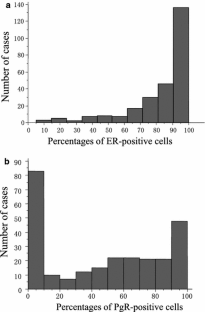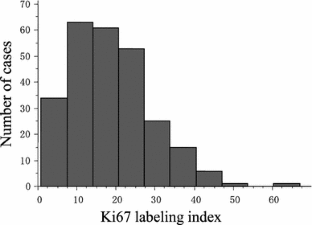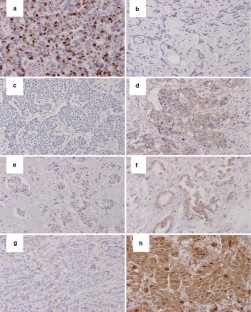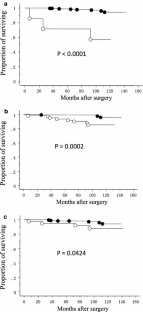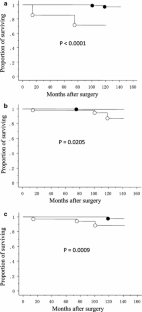 References
1.

Goldhirsch A, Wood WC, Coates AS, Gelber RD, Thürlimann B, Panel members. Strategies for subtypes—dealing with the diversity of breast cancer: highlights of the St. Gallen International Expert Consensus on the Primary Therapy of Early Breast Cancer 2011. Ann Oncol. 2011;22:1736–47.

2.

Lim E, Winer EP. Adjuvant chemotherapy in luminal breast cancers. Breast. 2011;20(Suppl 3):S128–31.

3.

Goldhirsch A, Ingle JN, Gelber RD, Coates AS, Thürlimann B, Panel members. Thresholds for therapies: highlights of the St Gallen International Expert Consensus on the primary therapy of early breast cancer 2009. Ann Oncol. 2009;20:1319–29.

4.

Hammond ME, Hayes DF, Dowsett M, Allred DC, Hagerty KL, Badve S, et al. American Society of Clinical Oncology/College of American Pathologists guideline recommendations for immunohistochemical testing of estrogen and progesterone receptors in breast cancer. J Clin Oncol. 2010;28:2784–95.

5.

Elston CW, Ellis IO. Pathological prognostic factors in breast cancer. I. The value of histological grade in breast cancer: experience from a large study with long-term follow-up. Histopathology. 1991;19:403–10.

6.

Ito M, Moriya T, Ishida T, Usami S, Kasajima A, Sasano H, Ohuchi N. Significance of pathological evaluation for lymphatic vessel invasion in invasive breast cancer. Breast Cancer. 2007;14(4):381–7.

7.

Moriya T, Sakamoto K, Sasano H, Kawanaka M, Sonoo H, Manabe T, Ito J. Immunohistochemical analysis of Ki-67, p53, p21, and p27 in benign and malignant apocrine lesions of the breast: its correlation to histologic findings in 43 cases. Mod Pathol. 2000;13:13–8.

8.

Hudis CA, Barlow WE, Costantino JP, Gray RJ, Pritchard KI, Chapman JA, et al. Proposal for standardized definitions for efficacy end points in adjuvant breast cancer trials: the STEEP system. J Clin Oncol. 2007;25:2127–32.

9.

Cabioglu N, Gong Y, Islam R, Broglio KR, Sneige N, Sahin A, et al. Expression of growth factor and chemokine receptors: new insights in the biology of inflammatory breast cancer. Ann Oncol. 2007;18:1021–9.

10.

Fu P, Ibusuki M, Yamamoto Y, Hayashi M, Murakami K, Zheng S, Iwase H. Insulin-like growth factor-1 receptor gene expression is associated with survival in breast cancer: a comprehensive analysis of gene copy number, mRNA and protein expression. Breast Cancer Res Treat. 2011;130:307–17.

11.

Ohi Y, Umekita Y, Yoshioka T, Souda M, Rai Y, Sagara Y, et al. Aldehyde dehydrogenase 1 expression predicts poor prognosis in triple-negative breast cancer. Histopathology. 2011;59:776–80.

12.

Hanrahan EO, Valero V, Gonzalez-Angulo AM, Hortobagyi GN. Prognosis and management of patients with node-negative invasive breast carcinoma that is 1 cm or smaller in size (stage 1; T1a, bN0M0): a review of the literature. J Clin Oncol. 2006;24:2113–22.

13.

Mohammed RA, Martin SG, Mahmmod AM, Macmillan RD, Green AR, et al. Objective assessment of lymphatic and blood vascular invasion in lymph node-negative breast carcinoma: findings from a large case series with long-term follow-up. J Pathol. 2011;223:358–65.

14.

Bardou VJ, Arpino G, Elledge RM, Osborne CK, Clark GM. Progesterone receptor status significantly improves outcome prediction over estrogen receptor status alone for adjuvant endocrine therapy in two large breast cancer databases. J Clin Oncol. 2003;21:1973–9.

15.

Arpino G, Weiss H, Lee AV, Schiff R, De Placido S, Osborne CK, Elledge RM. Estrogen receptor-positive, progesterone receptor-negative breast cancer: association with growth factor receptor expression and tamoxifen resistance. J Natl Cancer Inst. 2005;97:1254–61.

16.

Rampaul RS, Pinder SE, Nicholson RI, Gullick WJ, Robertson JF, Ellis IO. Clinical value of epidermal growth factor receptor expression in primary breast cancer. Adv Anat Pathol. 2005;12:271–3.

17.

Kurebayashi J. Possible treatment strategies for triple-negative breast cancer on the basis of molecular characteristics. Breast Cancer. 2009;16:275–80.

18.

Rakha EA, El-Sayed ME, Green AR, Lee AH, Robertson JF, Ellis IO. Prognostic markers in triple-negative breast cancer. Cancer. 2007;109:25–32.

19.

Cheang MC, Voduc D, Bajdik C, Leung S, McKinney S, Chia SK, et al. Basal-like breast cancer defined by five biomarkers has superior prognostic value than triple-negative phenotype. Clin Cancer Res. 2008;14:1368–76.

20.

Viale G, Rotmensz N, Maisonneuve P, Bottiglieri L, Montagna E, Luini A, et al. Invasive ductal carcinoma of the breast with the "triple-negative" phenotype: prognostic implications of EGFR immunoreactivity. Breast Cancer Res Treat. 2009;116:317–28.

21.

Ellis MJ, Jenkins S, Hanfelt J, Redington ME, Taylor M, Leek R, et al. Insulin-like growth factors in human breast cancer. Breast Cancer Res Treat. 1998;52:175–84.

22.

Nahta R, Yu D, Hung MC, Hortobagyi GN, Esteva FJ. Mechanisms of disease: understanding resistance to HER2-targeted therapy in human breast cancer. Nat Clin Pract Oncol. 2006;3:269–80.

23.

Fox EM, Miller TW, Balko JM, Kuba MG, Sánchez V, Smith RA, et al. A kinome-wide screen identifies the insulin/IGF-I receptor pathway as a mechanism of escape from hormone dependence in breast cancer. Cancer Res. 2011;71:6773–84.

24.

Pollak M. Insulin and insulin-like growth factor signalling in neoplasia. Nat Rev Cancer. 2008;8:915–28.

25.

Liu S, Wicha MS. Targeting breast cancer stem cells. J Clin Oncol. 2010;28:4006–12.

26.

Douville J, Beaulieu R, Balicki D. ALDH1 as a functional marker of cancer stem and progenitor cells. Stem Cells Dev. 2009;18:17–25.

27.

Park SY, Lee HE, Li H, Shipitsin M, Gelman R, Polyak K. Heterogeneity for stem cell-related markers according to tumor subtype and histologic stage in breast cancer. Clin Cancer Res. 2010;16:876–87.

28.

Ricardo S, Vieira AF, Gerhard R, Leitão D, Pinto R, Cameselle-Teijeiro JF, et al. Breast cancer stem cell markers CD44, CD24 and ALDH1: expression distribution within intrinsic molecular subtype. J Clin Pathol. 2011;64:937–46.
Acknowledgments
This study was supported by grants from Kawasaki Medical School (no. 22-A9, 23-18), the Ministry of Education, Culture, Sports, Science, and Technology (no. 20591561), and the National Cancer Center Research and Development Fund (no. 21-4-4). We thank the members of the Working Group sponsored by a grant from the National Cancer Center Research and Development Fund (no. 21-4-4) for their helpful discussion. We also thank Ms. Megumi Ogoh for her technical assistance.
About this article
Cite this article
Kurebayashi, J., Kanomata, N., Shimo, T. et al. Marked lymphovascular invasion, progesterone receptor negativity, and high Ki67 labeling index predict poor outcome in breast cancer patients treated with endocrine therapy alone. Breast Cancer 21, 214–222 (2014). https://doi.org/10.1007/s12282-012-0380-z
Received:

Accepted:

Published:

Issue Date:
Keywords
Endocrine therapy

Distant metastasis

Lymphovascular invasion

Progesterone receptor

Ki67 labeling index