Abstract
Cosmetic breast enlargement surgery has become common in Japan. There are some reports suggesting that implants can interfere with mammography (MMG) and may lead to delayed breast cancer diagnosis, even when implant-displaced MMG (Eklund technique) is performed. Screening MMG was recommended in a notification issued by the Japanese Ministry of Health, Labor and Welfare in 1999, and MMG is just coming into widespread use in Japanese breast cancer screening. Recent reports suggest that screening MMG may not be appropriate in augmented women, but breast self-examination may be effective in these women. Ultrasonography (US) may be useful in screening augmented women without risk of rupturing the implant. In appropriate cases, magnetic resonance imaging should be considered as an adjunct to MMG and US. The question of whether augmented women should not undergo core needle biopsy because of the possibility of damage to the implant should be considered. This review discusses diagnostic methods for augmented women and suggests the optimal screening method for augmented women. The challenge of the screening and diagnosis of breast cancer in augmented women is important in order to detect more of their cancer at a preclinical stage, because we can expect to see breast cancer in augmented women with increasing frequency over the next decade.
This is a preview of subscription content,
to check access.
Access this article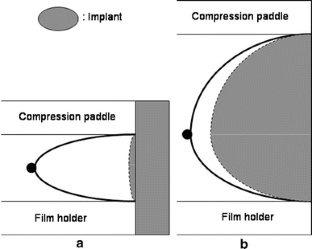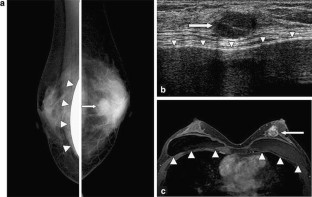 Abbreviations
MMG:

Mammography

US:

Ultrasonography

MRI:

Magnetic resonance imaging
References
American Society for Aesthetic Plastic Surgery. The American Society for Aesthetic Plastic Surgery 2004 Cosmetic Surgery National Data Bank Statistics. New York: American Society for Aesthetic Plastic Surgery, 2005.

Iinuma TJ. Time trend on the incidence risk of breast cancer among Japanese women—comparison between US and Japan. (in Japanese). Jpn Assoc Breast Cancer Screen. 2006;15:462.

Silverstein MJ, Handel N, Gamagami P. The effect of silicone-gel-filled implants on mammography. Cancer. 1991;68:1159–63.

Handel N, Silverstein MJ, Gamagami P, Jensen JA, Collins A. Factors affecting mammographic visualization of the breast after augmentation mammaplasty. JAMA. 1992;268:1913–7.

Skinner KA, Silberman H, Dougherty W et al. Breast cancer after augmentation mammoplasty. Ann Surg Oncol. 2001;8:138–44.

Handel N, Silverstein MJ. Breast cancer diagnosis and prognosis in augmented women. Plast Reconstr Surg. 2006;118:587–93.

Berry DA, Cronin KA, Plevritis SK, Fryback DG, Clarke L, Zelen M et al. Effect of screening and adjuvant therapy on mortality from breast cancer. N Engl J Med. 2005;353(17):1784–92.

Humphrey LL, Helfand M, Chan BK, Woolf SH. Breast cancer screening: a summary of the evidence for the US Preventive Services Task Force. Ann Intern Med. 2002;137:347–60.

Morimoto T, Okazaki M, Endo T. Current status and goals of mammographic screening for breast cancer in Japan. Breast Cancer. 2004;11:73–81.

Ohnuki K. Mammographic screening for non-palpable breast cancer in Japan. Breast Cancer. 2005;12:258–66.

Dershaw DD, Chaglassian TA. Mammography after prosthesis placement for augmentation or reconstructive mammoplasty. Radiology. 1989;170:69–74.

Leibman AJ, Kruse B. Breast cancer: mammographic and sonographic findings after augmentation mammoplasty. Radiology. 1990;174:195–8.

Eklund GW, Busby RC, Miller SH, Job JS. Improved imaging of the augmented breast. AJR Am J Roentgenol. 1988;151:469–73.

Fajardo LL, Harvey JA, McAleese KA, Roberts CC, Granstrom P. Breast cancer diagnosis in women with subglandular silicone gel filled augmentation implants. Radiology. 1995;194:859–62.

Holland R, Hendriks JHCL, Mravunac M. Mammographically occult breast cancer. Cancer. 1983;52:1810–9.

Miglioretti DL, Rutter CM, Geller BM, Cutter G, Barlow WE, Rosenberg R, Weaver DL, Taplin SH, Ballard-Barbash R, Carney PA, Yankaskas BC, Kerlikowske K. Effect of breast augmentation on the accuracy of mammography and cancer characteristics. JAMA. 2004;28:442–50.

Smathers RL, Boone JM, Lee LJ, Berns EA, Miller RA, Wright AM. Radiation dose reduction for augmentation mammography. AJR Am J Roentgenol. 2007;188:1414–21.

Brown SL, Silverman BG, Berg WA. Rupture of silicone-gel breast implants: causes, sequelae, and diagnosis. Lancet. 1997;350:1531–7.

Brown SL, Todd JF, Luu HM. Breast implant adverse events during mammography: reports to the Food and Drug Administration. J Womens Health. 2004;13:371–80.

Kolb TM, Lichy J, Newhouse JH. Comparison of the performance of screening mammography, physical examination, and breast US and evaluation of factors that influence them: an analysis of 27,825 patient evaluations. Radiology. 2002;225:165–75.

Kaplan SS. Clinical utility of bilateral whole-breast US in the evaluation of women with dense breast tissue. Radiology. 2001;221:641–9.

Kolb TM, Lichy J, Newhouse JH. Occult cancer in women with dense breasts: detection with screening US-diagnostic yield and tumor characteristics. Radiology. 1998;207:191–9.

Gordon PB, Goldenberg SL. Malignant breast masses detected only by ultrasound: a retrospective review. Cancer. 1995;76:626–30.

Hou MF, Ou-Yang F, Chuang CH, Wang JY, Lee LW, Huang YS, Huang CJ, Hsieh JS, Lai CS, Lin SD, Huang TJ. Comparison between sonography and mammography for breast cancer diagnosis in oriental women after augmentation mammoplasty. Ann Plast Surg. 2002;49:120–6.

Liberman L. Breast cancer screening with MRI-what are the data for patients at high risk? N Eng J Med. 2004;351:497–500.

Huch RA, Kunzi W, Debatin JF, Wiesner W, Krestin GP. MR imaging of the augmented breast. Eur Radiol. 1998;8:371–6.

Orel SG, Schnall MD. MR imaging of the breast for the detection, diagnosis, and staging of breast cancer. Radiology. 2001;220:13–30.

Kriege M, Brekelmans C, Boetes C, Besnard P, Zonderland H, Obdeijn IM, Manoliu R, Kok T, Peterse H, Tilanus-Linthorst M, Muller S, Meijer S, Oosterwijk J, Beex L, Tollenaar R, Koning H, Rutgers E, Klijn J. Efficacy of MRI and mammography for breast-cancer screening in women with a familial or genetic predisposition. N Eng J Med. 2004;351:427–37.

Lehman CD, Blume JD, Weatherall P, Thickman D, Hylton N, Warner E, Pisano E, Schnitt SJ, Gatsonis C, Schnall M. Screening women at high risk for breast cancer with mammography and magnetic resonance imaging. Cancer. 2005;103:1898–905.

Jinde L, Jianliang S, Xiaoping C, Xiaoyan T, Jiaqing L, Qun M, Bo L. Anatomy and clinical significance of pectoral fascia. Plast Reconstr Surg. 2006;118:1557–60.

Zahavi A, Sklair ML, Ad-El DD. Capsular contracture of the breast. Working towards a better classification using clinical and radiologic assessment. Ann Plast Surg. 2006;57:248–51.

Liberman L. Percutaneous imaging-guided core breast biopsy: state of the art at the millennium. AJR Am J Roentgenol. 2000;174:1191–9.

Jackman RJ, Lamm RL. Stereotactic histologic biopsy in breasts with implants. Radiology. 2002;222:157–64.

Fornage BF, Sneige N, Singletary SE. Masses in breast with implants: diagnosis with US-guided fine-needle aspiration biopsy. Radiology. 1994;191:339–42.

Lannin DR, Ponn T, Andrejeva L, Philpotts L. Should all breast cancers be diagnosed by needle biopsy? Am J Surg. 2006;192:450–4.

Monstrey S, Delanghe J, Christophe A, Dhooge W, de Greyt W, Bernarad D, van Landuyt K, Blondeel P. Biocompatibility and oxidative stability of radiolucent breast implants. Plast Reconstr Surg. 2000;105:1429–34.

Monstrey S, Christophe A, Delanghe J, Vriese SD, Hamdi M, van Landuyt K, Blondeel P. What exactly was wrong with the trilucent breast implants? A unifying hypothesis. Plast Reconstr Surg. 2004;113:847–56.

Scuderi N, Mazzocchi M, Alfano C, Onesti MG. Prospective study on trilucent soybean oil-filled breast prosthesis. Plast Reconstr Surg. 2005;116:1130–6.

Elmore JG, Armstrong K, Lehman CD, Fletcher SW. Screening for breast cancer. JAMA. 2005;293:1245–56.
About this article
Cite this article
Uematsu, T. Screening and diagnosis of breast cancer in augmented women. Breast Cancer 15, 159–164 (2008). https://doi.org/10.1007/s12282-008-0036-1
Received:

Accepted:

Published:

Issue Date:

DOI: https://doi.org/10.1007/s12282-008-0036-1
Keywords