Abstract
We have investigated protein kinase C (PKC) signaling, a putative differentiation-related and metastasis suppressor gene Cap43/NDRG1/Drg-1, and Y-box binding protein-1 (YB-1) to identify new molecular targeting for breast cancer. PKC is a family of serine/threonine kinases that is involved in the regulation of cell growth. We have demonstrated that PKC caused G1 arrest in a breast cancer cell line through a mechanism involving a PKC–ERK MAPK–JNK–Rb protein signaling pathway. We have also characterized a novel mechanism through which all-trans retinoic acid (ATRA) and antineoplaston, anticancer drug, caused cell growth inhibition in breast cancer cells through effects on intracellular pathways. ATRA decreased the expression of PKCα, as well as reduced ERK MAPK phosphorylation, and consequently caused G1 arrest. Antineoplaston caused the down-regulation of PKCα protein expression, resulting in inhibition of ERK MAPK phosphorylation, with resultant inhibition of Rb phosphorylation leading to G1 arrest. PKC signaling represents a promising target for development of novel therapeutic agents. Cap43 is known as N-myc downstream-regulated gene 1 (NDRG1). Treatment with estradiol (E2) significantly decreased the expression of Cap43 in ER-α-positive breast cancer cell lines. Co-administration of tamoxifen abrogated the E2-induced downregulation of Cap43 in ER-α-positive cell lines. These results suggested that Cap43 may hold the potential of being a molecular marker to determine the therapeutic efficacy of anti-estrogenic anticancer agents in breast cancer. YB-1 is a member of the cold shock domain protein family. The expression of nuclear YB-1 was correlated with HER2 positively in clinical specimens of human breast cancer. Immunostaining studies showed that nuclear YB-1 expression was an independent prognostic factor of overall survival. Expression of nuclear YB-1 played an essential role in acquirement of malignant characteristics through HER2-dependent pathways in breast cancer patients. PKC, Cap43 and YB-1 may be useful in new molecular-targeting diagnosis and therapeutics in breast cancer.
Access options
Buy single article
Instant access to the full article PDF.
US$ 39.95
Tax calculation will be finalised during checkout.
Subscribe to journal
Immediate online access to all issues from 2019. Subscription will auto renew annually.
US$ 79
Tax calculation will be finalised during checkout.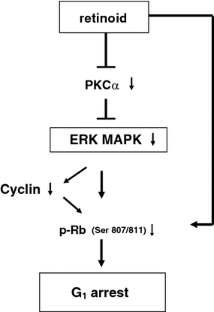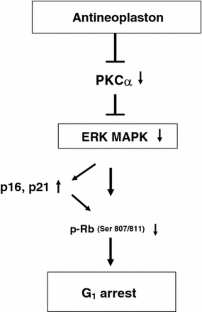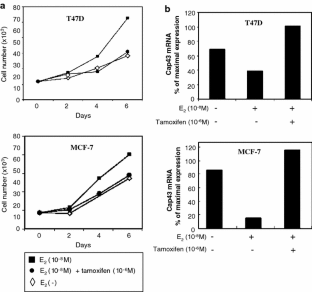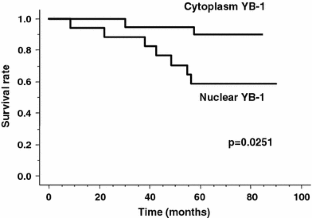 Abbreviations
PKC:

Protein kinase C

NDRG1:

N-myc downstream-regulated gene 1

Drg-1:

Differentiation-related gene-1

YB-1:

Y-box binding protein-1

MAPK:

Mitogen-activated protein kinase

ERK:

Extracellular signal-regulated kinase

JNK:

c-Jun NH2-terminal kinase

Rb:

Retinoblastoma

ATRA:

All-trans retinoic acid

E2 :

Estradiol

VEGF:

Vascular endothelial growth factor

EGFR:

Epidermal growth factor receptor

DAG:

Diacylglycerol

PMA:

Phorbol 12-myristate 13 acetate
References
1.

Baselga J, Albanell J, Ruiz A, Lluch A, Gascón P, Guillém V, González S, Sauleda S, Marimón I, Tabernero JM, Koehler MT, Rojo F. Phase II and tumor pharmacodynamic study of gefitinib in patients with advanced breast cancer. J Clin Oncol. 2005;23:5323–33.

2.

Cobleigh MA, Langmuir VK, Sledge GW, Miller KD, Haney L, Novotny WF, Reimann JD, Vassel A. A phase I/II dose-escalation trial of bevacizumab in previously treated metastatic breast cancer. Semin Oncol. 2003;30:117–24.

3.

Canney PA, Machin MA, Curto J. A feasibility study of the efficacy and tolerability of the combination of Exemestane with the COX-2 inhibitor Celecoxib in post-menopausal patients with advanced breast cancer. Eur J Cancer. 2006;42:2751–6.

4.

Musashi M, Ota S, Shiroshita N. The role of protein kinase C isoforms in cell proliferation and apoptosis. Int J Hematol. 2000;72:12–9.

5.

Newton AC. Protein kinase C: structure, function, and regulation. J Biol Chem. 1995;270:28495–8.

6.

Schönwasser DC, Marais RM, Marshall CJ, Parker PJ. Activation of the mitogen-activated protein kinase/extracellular signal-regulated kinase pathway by conventional, novel, and atypical protein kinase C isotypes. Mol Cell Biol. 1998;18:790–8.

7.

Yokoyama G, Fujii T, Tayama K, Yamana H, Kuwano M, Shirouzu K. PKCδ and MAPK mediate G1 arrest induced by PMA in SKBR-3 breast cancer cells. Biochem Biophys Res Commun. 2005;327:720–6.

8.

Donato LJ, Suh JH, Noy N. Suppression of mammary carcinoma cell growth by retinoic acid: the cell cycle control gene Btg2 is a direct target for retinoic acid receptor signaling. Cancer Res. 2007;67:609–15.

9.

Veronesi U, Mariani L, Decensi A, Formelli F, Camerini T, Miceli R, Di Mauro MG, Costa A, Marubini E, Sporn MB, De Palo G. Fifteen-year results of a randomized phase III trial of fenretinide to prevent second breast cancer. Ann Oncol. 2006;17:1065–71.

10.

Cho Y, Talmage DA. Protein kinase Cα expression confers retinoic acid sensitivity on MDA-MB-231 human breast cancer cells. Exp Cell Res. 2001;269:97–108.

11.

Nakagawa S, Fujii T, Yokoyama G, Kazanietz MG, Yamana H, Shirouzu K. Cell growth inhibition by all-trans retinoic acid in SKBR-3 breast cancer cells: involvement of protein kinase Cα and extracellular signal-regulated kinase mitogen-activated protein kinase. Mol Carcinog. 2003;38:106–16.

12.

Burzynski SR. The present state of antineoplaston research (1). Integr Cancer Ther. 2004;3:47–58.

13.

Fujii T, Nakamura AM, Yokoyama G, Yamaguchi M, Tayama K, Miwa K, Toh U, Kawamura D, Shirouzu K, Yamana H, Kuwano M, Tsuda H. Antineoplaston induces G1 arrest by PKCα and MAPK pathway in SKBR-3 breast cancer cells. Oncol Rep. 2005;14:489–94.

14.

Bandyopadhyay S, Pai SK, Hirota S, Hosobe S, Takano Y, Saito K, Piquemal D, Commes T, Watabe M, Gross SC, Wang Y, Ran S, Watabe K. Role of the putative tumor metastasis suppressor gene Drg-1 in breast cancer progression. Oncogene. 2004;23:5675–81.

15.

Guan RJ, Ford HL, Fu Y, Li Y, Shaw LM, Pardee AB. Drg-1 as a differentiation-related, putative metastatic suppressor gene in human colon cancer. Cancer Res. 2000;60:749–55.

16.

Bandyopadhyay S, Pai SK, Gross SC, Hirota S, Hosobe S, Miura K, Saito K, Commes T, Hayashi S, Watabe M, Watabe K. The Drg-1 gene suppresses tumor metastasis in prostate cancer. Cancer Res. 2003;63:1731–6.

17.

Fotovati A, Fujii T, Yamaguchi M, Kage M, Shirouzu K, Oie S, Basaki Y, Ono M, Yamana H, Kuwano M. 17β-estradiol induces down-regulation of Cap43/NDRG1/Drg-1, a putative differentiation-related and metastasis suppressor gene, in human breast cancer cells. Clin Cancer Res. 2006;12:3010–8.

18.

Kuwano M, Oda Y, Izumi H, Yang SJ, Uchiumi T, Iwamoto Y, Toi M, Fujii T, Yamana H, Kinoshita H, Kamura T, Tsuneyoshi M, Yasumoto K, Kohno K. The role of nuclear Y-box binding protein 1 as a global marker in drug resistance. Mol Cancer Ther. 2004;3:1485–92.

19.

Janz M, Harbeck N, Dettmar P, Berger U, Schmidt A, Jürchott K, Schmitt M, Royer HD. Y-box factor YB-1 predicts drug resistance and patient outcome in breast cancer independent of clinically relevant tumor biologic factors HER2, uPA and PAI-1. Int J Cancer. 2002;97:278–82.
Acknowledgments
We would like to thank Yuji Basaki, Abbas Fotovati, Anna Nakamura, and Akihiko Kawahara for invaluable help in completing the studies presented in this article.
Additional information
This article is based on a presentation delivered at Symposium 3, "Molecular target therapy: basics and clinical application," held on 30 June 2007 at the 15th Annual Meeting of the Japanese Breast Cancer Society in Yokohama.
About this article
Cite this article
Fujii, T., Yokoyama, G., Takahashi, H. et al. Preclinical studies of molecular-targeting diagnostic and therapeutic strategies against breast cancer. Breast Cancer 15, 73–78 (2008). https://doi.org/10.1007/s12282-007-0015-y
Keywords
Breast cancer

Molecular targeting

Protein kinase C

Cap43

YB-1