Abstract
Moiré superlattice has recently been found in topological insulators, which can lead to periodic modulation on the electronic structure. In this work, we report the low-temperature scanning tunneling microscopy study of Sb2Te3 films grown on graphitized 4H-SiC. We find that substrate temperature can strongly influence the rotation angles between Sb2Te3 film and graphene substrate. Three kinds of moiré patterns are observed at the first quintuple layer Sb2Te3 film under different substrate temperatures. One shows complicated patterns with a rotation angle of nearly 0° relative to the substrate, another just exhibits simple 1 × 1 structure with a rotation angle of 30°. Other rotation angle like 8.2° is observed at higher substrate temperature as well, which is relatively rare. Comparison of the dI/dV curves from Sb2Te3 films with different moiré patterns indicates that the superstructure can offer degrees of freedom in tailoring electronic structure. This work may stimulate the further study on the moiré modulation to the electronic properties of topological insulators.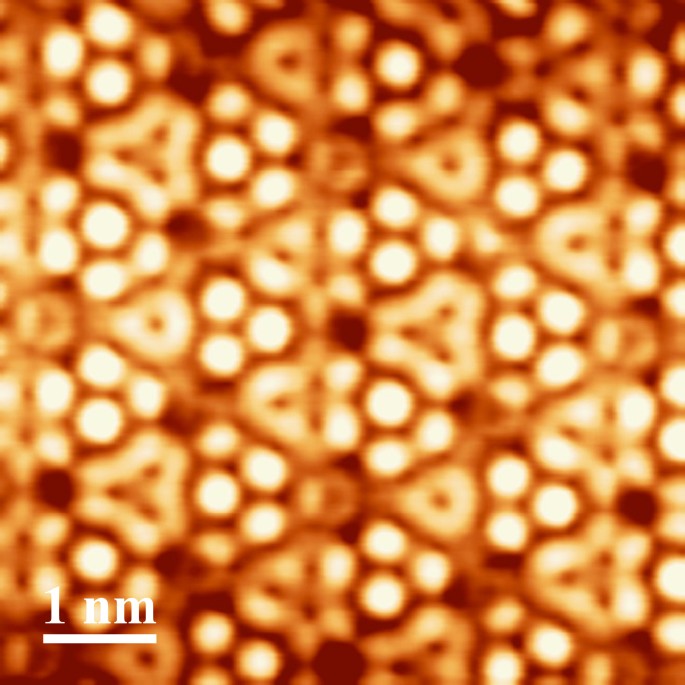 Access options
Buy single article
Instant access to the full article PDF.
USD 39.95
Price excludes VAT (USA)
Tax calculation will be finalised during checkout.
References
Pong, W. T.; Durkan, C. A review and outlook for an anomaly of scanning tunnelling microscopy (STM): Superlattices on graphite. J. Phys. D Appl. Phys. 2005, 38, R329–R355.

Balents, L.; Dean, C. R.; Efetov, D. K.; Young, A. F. Superconductivity and strong correlations in moiré flat bands. Nat. Phys. 2020, 16, 725–733.

Andrei, E. Y.; MacDonald, A. H. Graphene bilayers with a twist. Nat. Mater. 2020, 19, 1265–1275.

Cao, Y.; Fatemi, V.; Fang, S. A.; Watanabe, K.; Taniguchi, T.; Kaxiras, E.; Jarillo-Herrero, P. Unconventional superconductivity in magic-angle graphene superlattices. Nature 2018, 556, 43–50.

Carr, S.; Fang, S. A.; Kaxiras, E. Electronic-structure methods for twisted moiré layers. Nat. Rev. Mater. 2020, 5, 748–763.

Hennighausen, Z.; Lane, C.; Buda, I. G.; Mathur, V. K.; Bansil, A.; Kar, S. Evidence of a purely electronic two-dimensional lattice at the interface of TMD/Bi2Se3 heterostructures. Nanoscale 2019, 11, 15929–15938.

Zhang, C. D.; Chuu, C. P.; Ren, X. B.; Li, M. Y.; Li, L. J.; Jin, C. H.; Chou, M. Y.; Shih, C. K. Interlayer couplings, moiré patterns, and 2D electronic superlattices in MoS2/WSe2 hetero-bilayers. Sci. Adv. 2017, 3, e1601459.

Song, C. L.; Wang, Y. L.; Jiang, Y. P.; Zhang, Y.; Chang, C. Z.; Wang, L. L.; He, K.; Chen, X.; Jia, J. F.; Wang, Y. Y. et al. Topological insulator Bi2Se3 thin films grown on double-layer graphene by molecular beam epitaxy. Appl. Phys. Lett. 2010, 97, 143118.

Schouteden, K.; Li, Z.; Chen, T. S.; Song, F. Q.; Partoens, B.; Van Haesendonck, C.; Park, K. Moiré superlattices at the topological insulator Bi2Te3. Sci. Rep. 2016, 6, 20278.

Hasan, M. Z.; Kane, C. L. Colloquium: Topological insulators. Rev. Mod. Phys. 2010, 82, 3045–3067.

Wang, T.; Yuan, N. F. Q.; Fu, L. Moiré surface states and enhanced superconductivity in topological insulators. Phys. Rev. X 2021, 11, 021024.

Jiang, Y. P.; Sun, Y. Y.; Chen, M.; Wang, Y. L.; Li, Z.; Song, C. L.; He, K.; Wang, L. L.; Chen, X.; Xue, Q. K. et al. Fermi-level tuning of epitaxial Sb2Te3 thin films on graphene by regulating intrinsic defects and substrate transfer doping. Phys. Rev. Lett. 2012, 108, 066809.

Plucinski, L. P.; Herdt, A.; Fahrendorf, S.; Bihlmayer, G.; Mussler, G.; Döring, S.; Kampmeier, J.; Matthes, F.; Bürgler, D. E.; Grützmacher, D. et al. Electronic structure, surface morphology, and topologically protected surface states of Sb2Te3 thin films grown on Si(111). J. Appl. Phys. 2013, 113, 053706.

Wang, G.; Zhu, X. G.; Wen, J.; Chen, X.; He, K.; Wang, L. L.; Ma, X. C.; Liu, Y.; Dai, X.; Fang, Z. et al. Atomically smooth ultrathin films of topological insulator Sb2Te3. Nano Res. 2010, 3, 874–880.

Zhang, T.; Ha, J.; Levy, N.; Kuk, Y.; Stroscio, J. Electric-field tuning of the surface band structure of topological insulator Sb2Te3 thin films. Phys. Rev. Lett. 2013, 111, 056803.

Jiang, Y. P.; Wang, Y. L.; Chen, M.; Li, Z.; Song, C. L.; He, K.; Wang, L. L.; Chen, X.; Ma, X. C.; Xue, Q. K. Landau quantization and the thickness limit of topological insulator thin films of Sb2Te3. Phys. Rev. Lett. 2012, 108, 016401.

Hass, J.; De Heer, W. A.; Conrad, E. H. The growth and morphology of epitaxial multilayer graphene. J. Phys. Condens. Matter 2008, 20, 323202.

Xu, J. P.; Liu, C. H.; Wang, M. X.; Ge, J. F.; Liu, Z. L.; Yang, X. J.; Chen, Y.; Liu, Y.; Xu, Z. A.; Gao, C. L. et al. Artificial topological superconductor by the proximity effect. Phys. Rev. Lett. 2014, 112, 217001.

Tersoff, J.; Hamann, D. R. Theory of the scanning tunneling microscope. Phys. Rev. B Condens Matter. 1985, 31, 805–813.

Omambac, K. M.; Hattab, H.; Brand, C.; Jnawali, G.; N'Diaye, A. T.; Coraux, J.; Van Gastel, R.; Poelsema, B.; Michely, T.; Heringdorf, F. J. M. Z. et al. Temperature-controlled rotational epitaxy of graphene. Nano Lett. 2019, 19, 4594–4600.

Lu, C. I.; Butler, C. J.; Huang, J. K.; Chu, Y. H.; Yang, H. H.; Wei, C. M.; Li, L. J.; Lin, M. T. Moiré-related in-gap states in a twisted MoS2/graphite heterojunction. npj 2D Mater. Appl. 2017, 1, 24.

Hermann, K. Periodic overlayers and moiré patterns: Theoretical studies of geometric properties. J. Phys. Condens. Matter 2012, 24, 314210.

Huang, Y. L.; Chen, Y. F.; Zhang, W. J.; Quek, S. Y.; Chen, C. H.; Li, L. J.; Hsu, W. T.; Chang, W. H.; Zheng, Y. J.; Chen, W. et al. Bandgap tunability at single-layer molybdenum disulphide grain boundaries. Nat. Commun. 2015, 6, 6298.

Shao, Z. B.; Fu, Z. G.; Li, S. J.; Cao, Y.; Bian, Q.; Sun, H. G.; Zhang, Z. Y.; Gedeon, H.; Zhang, X.; Liu, L. J. et al. Strongly compressed few-layered SnSe2 films grown on a SrTiO3 substrate: The coexistence of charge ordering and enhanced interfacial superconductivity. Nano Lett. 2019, 19, 5304–5312.

Zhang, Y. M.; Fan, J. Q.; Wang, W. L.; Zhang, D.; Wang, L. L.; Li, W.; He, K.; Song, C. L.; Ma, X. C.; Xue, Q. K. Observation of interface superconductivity in a SnSe2/epitaxial graphene van der Waals heterostructure. Phys. Rev. B 2018, 98, 220508.

Giovannetti, G.; Khomyakov, P. A.; Brocks, G.; Karpan, V. M.; Van Den Brink, J.; Kelly, P. J. Doping graphene with metal contacts. Phys. Rev. Lett. 2008, 101, 026803.

Kim, S.; Mo, J. H.; Jang, K. S. High-performance n-type carbon nanotubes doped by oxidation of neighboring Sb2Te3 for a flexible thermoelectric generator. ACS Appl. Mater. Interfaces 2020, 12, 43778–43784.

Wang, Y. L.; Jiang, Y. P.; Chen, M.; Li, Z.; Song, C. L.; Wang, L. L.; He, K.; Chen, X.; Ma, X. C.; Xue, Q. K. Scanning tunneling microscopy of interface properties of Bi2Se3 on FeSe. J. Phys. Condens. Matter 2012, 24, 475604.

Zhang, S.; He, D. J.; Huang, P.; Wang, F. Moiré pattern at graphene/Al (111) interface: Experiment and simulation. Mater. Des. 2021, 201, 109509.
Acknowledgements
We thank the Ministry of Science and Technology of China (Nos. 2019YFA0308600, 2020YFA0309000, 2016YFA0301003, and 2016YFA0300403), the National Natural Science Foundation of China (NSFC) (Nos. 11521404, 11634009, 92065201, 11874256, 11874258, 12074247, 11790313, and 11861161003), the Strategic Priority Research Program of Chinese Academy of Sciences (No. XDB28000000) and the Science and Technology Commission of Shanghai Municipality (Nos. 2019SHZDZX01, 19JC1412701, and 20QA1405100) for partial support. GYW is funded by China Postdoctoral Science Foundation (No. 2021M693095)
Electronic Supplementary Material
About this article
Cite this article
Yin, Y., Wang, G., Liu, C. et al. Moiré-pattern-modulated electronic structures in Sb2Te3/graphene heterostructure. Nano Res. 15, 1115–1119 (2022). https://doi.org/10.1007/s12274-021-3613-7
Received:

Revised:

Accepted:

Published:

Issue Date:

DOI: https://doi.org/10.1007/s12274-021-3613-7
Keywords
moiré pattern

topological insulator

electronic structure

scanning tunneling microscopy