Unlocking the door to highly efficient Ag-based nanoparticles catalysts for NaBH4-assisted nitrophenol reduction
Abstract
Ag-based nanoparticles (NPs) catalysts have recently attracted increasing attention in NaBH4-assisted nitrophenol reduction, especially in 4-nitrophenol (4-NP) reduction. Moreover, Ag-based NPs catalysts are considered to be very promising for practical applications because of their fascinating advantages, e.g., easy preparation, relatively low cost and less toxicity, high activity and good stability. Basically, the size and shape of Ag NPs are well known as the key factors for achieving highly efficient catalytic reduction of 4-NP. In this review, three highly efficient Ag-based NPs catalysts (supported Ag NPs, anisotropic Ag NPs and bimetallic Ag NPs) are highlighted for the 4-NP reduction, including the catalytic mechanism and reaction rate caused by their adjustments in size and shape. Although high catalytic activity has been demonstrated by several Ag-based NPs catalysts, further improvement in the catalytic performance is still desired. In terms of the most recent progress in Ag-based NPs catalysts for 4-NP reduction, this review provides a comprehensive assessment on the material selection, synthesis and catalytic characterizations of these catalysts. Moreover, this review aims to correlate the catalytic performance of Ag-based NPs catalysts with their size and shape, guiding the development of novel cost-effective and high-performance catalysts.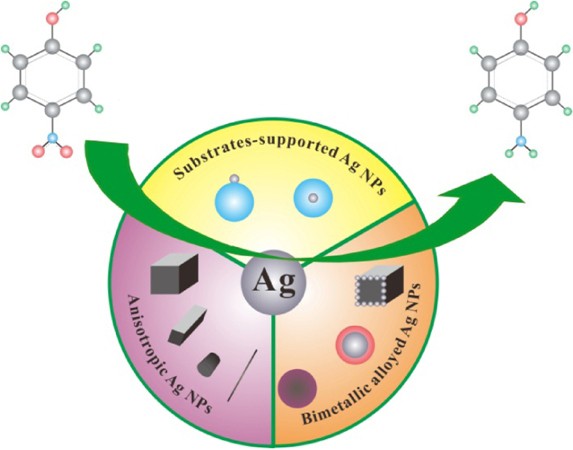 Keywords
Ag-based nanoparticles catalysts 
catalytic reduction 
4-nitrophenol 
catalytic activity 
stability 
Notes
Acknowledgements
This work is supported by the National Natural Science Foundation of China (NSFC) (Nos. 21674130, 51873234 and 51573039), the Natural Science Foundation of Guangdong Province (Nos. 2017A030313254 and 2017A030310349), the Fundamental Research Funds for the Central Universities (No. 17lgjc02), PetroChina Innovation Foundation (No. 2017D-5007-0505), and Research Start-up Funds of DGUT (No. GC300501-116). Key Laboratory Opening Fund of PCFM is also gratefully acknowledged.
Copyright information
© Tsinghua University Press and Springer-Verlag GmbH Germany, part of Springer Nature 2019