Drug targeting through platelet membrane-coated nanoparticles for the treatment of rheumatoid arthritis
Abstract
The effective drug treatment of rheumatoid arthritis (RA) is hindered by poor delivery efficiency to the diseased site and the serious side effects caused by wide-spread drug distribution. Traditional drug-targeting strategies, such as ligand modification, are complex, laborious, and inefficient. Inspired by the intrinsic relationship between platelets and RA, platelet-mimetic nanoparticles (PNPs) were developed for targeted drug delivery in RA. Through platelet receptor-mediated adhesion, an intact platelet membrane was coated onto poly (lactic-co-glycolic acid) nanoparticles, endowing the resulting PNPs with various functional receptors. By coating with platelet membranes, the nanoparticles were stabilized and had a better circulation profile, providing a benefit for passive targeting. In vitro binding of PNPs to inflamed endothelium, and in vivo accumulation in joints of a collagen-induced arthritis (CIA) mouse model of RA were significantly improved via P-selectin and GVPI recognition, indicating that the PNPs could effectively target to RA tissues through multiple mechanisms, similar to natural platelets. Moreover, FK506, a model drug, was loaded into the PNPs and used to treat RA. Pharmacodynamic studies demonstrated that the FK506-PNPs had a notable anti-arthritic effect in CIA mice. This study provides a new biomimetic targeting strategy with great potential for the treatment of RA.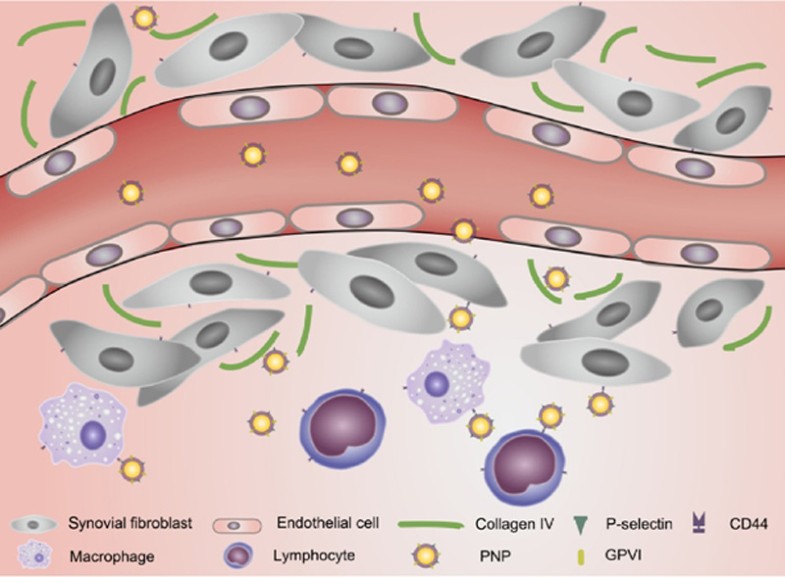 Keywords
biomimetic nanoparticles 
platelet membrane 
rheumatoid arthritis 
targeted drug delivery 
Notes
Acknowledgements
We acknowledge the financial support of the National Natural Science Foundation of China (Nos. 81690263, 81472757, 81361140344, 81773283, and 81773911). Thanks are given to Dr. Yang Yang from Shanghai University of Traditional Chinese Medicine for his kind help with the CIA model.
Copyright information
© Tsinghua University Press and Springer-Verlag GmbH Germany, part of Springer Nature 2018