Facile synthesis based on novel carbon-supported cyanogel of structurally ordered Pd3Fe/C as electrocatalyst for formic acid oxidation
Abstract
A novel carbon-supported cyanogel (C@cyanogel)-derived strategy is used to synthesize an intermetallic Pd3Fe/C compound of the desired ordered Pd3Fe phase with a small particle size. The novelty of this work lies in using carbon-supported K2PdIICl4/K4FeII(CN)6 cyanogel as a reaction precursor, generated through the substitution of two chloride ligands by the nitrogen ends of the cyanide ligands on the metal center. The inherent nature of cyanogels can effectively suppress the movement of Pd0 and Fe0 nuclei in the crystal, benefiting the formation of the intermetallic, which is otherwise challenging via traditional synthesis techniques. The ordered Pd3Fe/C catalyst exhibits excellent catalytic activity and good cycle stability for the formic acid oxidation (FAO) reaction relative to the properties of disordered Pd3Fe/C and commercial Pd/C catalysts, demonstrating that the ordered Pd3Fe/C is a promising replacement for commercial Pd-based catalysts. The outstanding performance can be ascribed to the full isolation of active sites in the ordered Pd3Fe structure and the modified electronic structure of the active components. This work provides an effective and novel route to obtain Pd-based intermetallic compounds with potential applications in a wide range of electrocatalysis.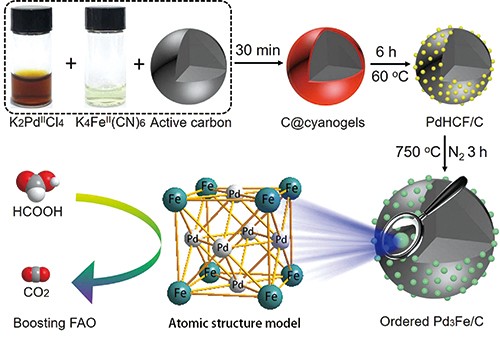 Keywords
carbon@cyanogel 
Pd3Fe/C 
ordered intermetallic 
electrocatalyst 
formic acid oxidation 
Notes
Acknowledgements
This work was financially supported by the National Natural Science Foundation of China (Nos. 21503111, 21576139, and 21376122), Natural Science Foundation of Jiangsu Province (No. BK20171473), Natural Science Foundation of Jiangsu Higher Education Institutions of China (No. 16KJB150020) and Key Laboratory of Renewable Energy, Chinese Academy of Sciences (No. Y607k51001). The authors are also grateful for the supports from National and Local Joint Engineering Research Center of Biomedical Functional Materials and a project sponsored by the Priority Academic Program Development of Jiangsu Higher Education Institutions.
Copyright information
© Tsinghua University Press and Springer-Verlag GmbH Germany, part of Springer Nature 2018