Highly bonded T-Nb2O5/rGO nanohybrids for 4 V quasi-solid state asymmetric supercapacitors with improved electrochemical performance
Abstract
T-Nb2O5/reduced graphene oxide nanohybrids were fabricated via the hydrothermal attachment of Nb2O5 nanowires to dispersed graphene oxide nanosheets followed by a high-temperature phase transformation. Electrochemical measurements showed that the nanohybrid anodes possessed enhanced reversible capacity and superior cycling stability compared to those of a pristine T-Nb2O5 nanowire electrode. Owing to the strong bonds between graphene nanosheets and T-Nb2O5 nanowires, the nanohybrids achieved an initial capacity of 227 mAh·g−1. Additionally, non-aqueous asymmetric supercapacitors (ASCs) were fabricated with the synthesized nanohybrids as the anode and activated carbon as the cathode. The 3 V Li-ion ASC with a LiPF6-based organic electrolyte achieved an energy density of 45.1 Wh·kg−1 at 715.2 W·kg−1. The working potential could be further enhanced to 4 V when a polymer ionogel separator (PVDF-HFP/LiTFSI/EMIMBF4) and formulated ionic liquid electrolyte were employed. Such a quasi-solid state ASC could operate at 60 °C and delivered a maximum energy density of 70 Wh·kg−1 at 1 kW·kg−1.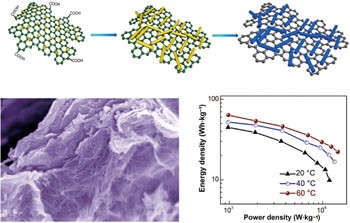 Keywords
solid-state supercapacitor 
nanohybrid electrode 
ionogel polymer electrolyte 
electrochemical performance 
Notes
Acknowledgements
The National Key Research and Development Program of China (No. 2016YFB0100303), International Cooperation and Exchange of the National Natural Science Foundation of China (No. 51561145020), Instrument and Equipment Research and Development Project of CAS (No. YZ201221), and CAS/SAFEA International Partnership Program for Creative Research Team (No. 20140491518).
Copyright information
© Tsinghua University Press and Springer-Verlag GmbH Germany, part of Springer Nature 2018