Conversion of confined metal@ZIF-8 structures to intermetallic nanoparticles supported on nitrogen-doped carbon for electrocatalysis
Abstract
We report a facile strategy to synthesize intermetallic nanoparticle (iNP) electrocatalysts via one-pot pyrolysis of a zeolitic imidazolate framework, ZIF-8, encapsulating precious metal nanoparticles (NPs). ZIF-8 serves not only as precursor for N-doped carbon (NC), but also as Zn source for the formation of intermetallic or alloy NPs with the encapsulated metals. The resulting sub-4 nm PtZn iNPs embedded in NC exhibit high sintering resistance up to 1,000 °C. Importantly, the present methodology allows fine-tuning of both composition (e.g., PdZn and RhZn iNPs, as well as AuZn and RuZn alloy NPs) and size (2.4, 3.7, and 5.4 nm PtZn) of the as-formed bimetallic NPs. To the best of our knowledge, this is the first report of a metal-organic framework (MOF) with multiple functionalities, such as secondary metal source, carbon precursor, and size-regulating reagent, which promote the formation of iNPs. This work opens a new avenue for the synthesis of highly uniform and stable iNPs.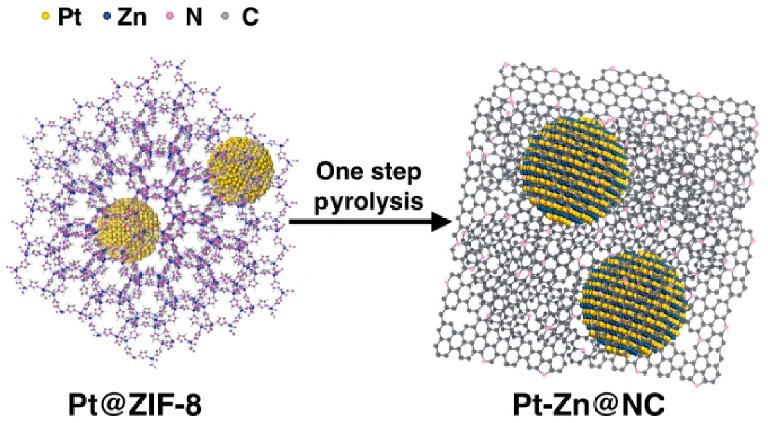 Keywords
intermetallic compounds 
cage confinement 
pyrolysis 
electrocatalysis 
sintering resistance 
Notes
Acknowledgements
Acknowledgment is made to the donors of the American Chemical Society Petroleum Research Fund for support of this research. We thank Gordon J. Miller for the use of the X-ray diffractometer. We also thank Dapeng Jing at the Materials Analysis and Research Laboratory (MARL) of Iowa State University for the assistance on XPS measurement.
Copyright information
© Tsinghua University Press and Springer-Verlag GmbH Germany, part of Springer Nature 2018