Versatile multiplexed super-resolution imaging of nanostructures by Quencher-Exchange-PAINT
Open Access
Research Article
Abstract
The optical super-resolution technique DNA-PAINT (Point Accumulation Imaging in Nanoscale Topography) provides a flexible way to achieve imaging of nanoscale structures at ∼10-nanometer resolution. In DNA-PAINT, fluorescently labeled DNA "imager" strands bind transiently and with high specificity to complementary target "docking" strands anchored to the structure of interest. The localization of single binding events enables the assembly of a super-resolution image, and this approach effectively circumvents photobleaching. The solution exchange of imager strands is the basis of Exchange-PAINT, which enables multiplexed imaging that avoids chromatic aberrations. Fluid exchange during imaging typically requires specialized chambers or washes, which can disturb the sample. Additionally, diffusional washout of imager strands is slow in thick samples such as biological tissue slices. Here, we introduce Quencher-Exchange-PAINT—a new approach to Exchange-PAINT in regular open-top imaging chambers—which overcomes the comparatively slow imager strand switching via diffusional imager washout. Quencher-Exchange-PAINT uses "quencher" strands, i.e., oligonucleotides that prevent the imager from binding to the targets, to rapidly reduce unwanted single-stranded imager concentrations to negligible levels, decoupled from the absolute imager concentration. The quencher strands contain an effective dye quencher that reduces the fluorescence of quenched imager strands to negligible levels. We characterized Quencher-Exchange-PAINT when applied to synthetic, cellular, and thick tissue samples. Quencher-Exchange-PAINT opens the way for efficient multiplexed imaging of complex nanostructures, e.g., in thick tissues, without the need for washing steps.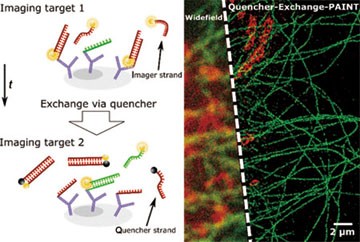 Keywords
super-resolution microscopy 
fluorescence imaging 
DNA nanotechnology 
DNA-PAINT 
fluorescence quencher 
Notes
Acknowledgements
We thank Rikke Morrish for help with the fixation of COS-7 cells and Anna Meletiou, Cecilia Afonso Rodrigues, Carl Harrison for their help with antibody conjugations and labelling of tissue sections and fixed cells. The authors also acknowledge useful discussions with B.M. Mognetti. The work was supported by funding from the Human Frontier Science Program (No. 0027/2013) and the Engineering and Physical Sciences Research Council of the UK (No. EP/N008235/1).
Copyright information
© The author(s) 2018
Open Access: This article is distributed under the terms of the Creative Commons Attribution 4.0 International License (https://doi.org/creativecommons.org/licenses/by/4.0/), which permits unrestricted use, distribution, and reproduction in any medium, provided you give appropriate credit to the original author(s) and the source, provide a link to the Creative Commons license, and indicate if changes were made.