Calcium carbonate-doxorubicin@silica-indocyanine green nanospheres with photo-triggered drug delivery enhance cell killing in drug-resistant breast cancer cells
Abstract
Calcium carbonate-doxorubicin@silica-indocyanine green nanospheres with high uniformity and monodispersity were designed and synthesized, in order to provide a photo-triggered strategy for drug-resistant cancer therapy. Under near-infrared laser irradiation, the nanospheres transformed laser power into local heat and reactive oxygen species via the connected indocyanine green molecule, thus exhibiting photothermal and photodynamic effects. Moreover, the photo-triggered drug release based on calcium-assisted silica degradation was observed, endowing the nanospheres with chemotherapeutic properties. Finally, combined therapeutic effects against drug-resistant human breast cancer cells were successfully obtained. These photo-triggered materials based on calcium carbonate could provide a promising platform for enhanced multimodal cancer therapies.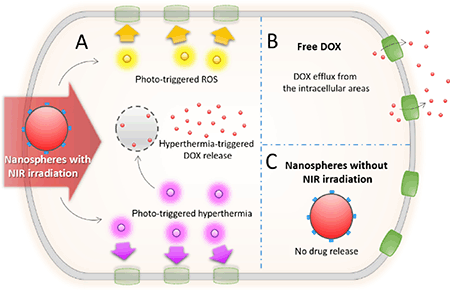 Keywords
calcium carbonate-based structures 
photothermal therapy 
photodynamic therapy 
combined therapeutic effects 
Notes
Acknowledgements
We acknowledge the funding support from the National Natural Science Foundation of China (Nos. 21431006, 21761132008, and 21501163), the Foundation for Innovative Research Groups of the National Natural Science Foundation of China (No. 21521001), Key Research Program of Frontier Sciences, CAS (No. QYZDJ-SSW-SLH036), the National Basic Research Program of China (No. 2014CB931800), the Users with Excellence and Scientific Research Grant of Hefei Science Center of CAS (No. 2015HSC-UE007), and Anhui Provincial Natural Science Foundation (No. 1608085QB25).
Copyright information
© Tsinghua University Press and Springer-Verlag GmbH Germany, part of Springer Nature 2017