Promoting osteogenic differentiation in pre-osteoblasts and reducing tibial fracture healing time using functional nanofibers
Abstract
Various composite materials are now used as artificial tissue substitutes, and are defining new frontiers in tissue engineering. In the present study, composite membranes based on silk fibroin (SF) were fabricated to form a synthetic periosteum. The fabricated membranes were physicochemically characterized by their morphology, porosity, biocompatibility, biodegradability, chemical structure, and mechanical properties. Following the addition of polycaprolactone (PCL) to the silk fibers, there was a 3–5-fold increase in the elongation at break compared with the pure silk membranes, and surface wettability was retained. The degradation time of the SF within the membranes was also prolonged by adding PCL. Compared with pure PCL membranes or plastic culture plates, the SF-based membranes significantly enhanced the cellular viability and osteogenic differentiation capability of MC3T3-E1 cells. Higher expression levels of osteogenic differentiation markers (runt-related transcription factor 2 (RUNX2), alkaline phosphatase (ALP), and osteopontin (OP)) further supported the use of the SF component in bone-related applications. A non-rigid internal fixation (non-RIF) fracture model that healed via endochondral bone formation was created, and fracture callus samples were collected to perform micro-computed tomography, histology, and immunohistochemistry analyses at 8 weeks after surgery. A smaller bone volume accompanied by a mineralized bony callus was observed in SF/PCL membrane-treated rats. Immunohistochemistry also indicated that the SF/PCL membrane-treated rats exhibited increased osteocalcin expression but reduced collagen type X expression. These findings could lead to an alternative strategy for treating comminuted fractures with enhanced intramembranous ossification and reduced endochondral ossification.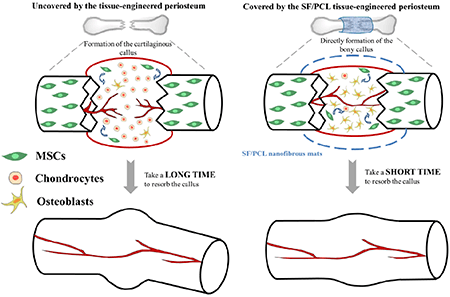 Keywords
silk fibroin 
polycaprolactone 
scaffold 
bone tissue engineering 
Notes
Acknowledgements
This work was supported by the National Key Research and Development Program of China (No. 2016YFB0303303), the National High-tech R&D Program of China (863 program, No. 2015AA020313), and the National Natural Science Foundation of China (No. 81271107), and was partially supported by the Natural Science Foundation of Hubei Province of China (Team Project, No. 2015CFA017).
Copyright information
© Tsinghua University Press and Springer-Verlag GmbH Germany, part of Springer Nature 2017