Soft thermal nanoimprint lithography using a nanocomposite mold
Abstract
Soft nanoimprint lithography has been limited to ultraviolet (UV) curable resists. Here, we introduce a novel approach for soft thermal nanoimprinting. Thisunprecedented combination of the terms "soft" and "thermal" for nanoimprinting became possible thanks to an innovative nanocomposite mold consisting of aflexible polydimethylsiloxane (PDMS) substrate with chemically attached rigidrelief features. We used soft thermal nanoimprinting to produce high-resolution nanopatterns with a sub-100 nm feature size. Furthermore, we demonstrate the applicability of our nanoimprint approach for the nanofabrication of thermallyimprinted nanopatterns on non-planar surfaces such as lenses. Our new nanofabrication strategy paves the way to numerous applications that require the direct fabrication of functional nanostructures on unconventional substrates.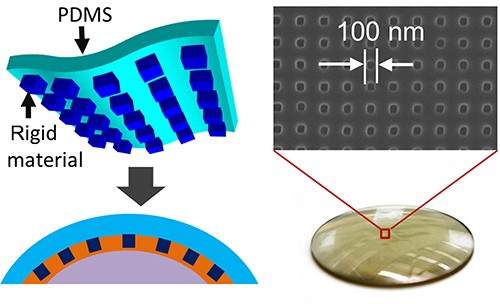 Keywords
soft lithography 
nanoimprint lithography 
PDMS 
non-planar substrates 
Notes
Acknowledgements
This work was supported by Adelis Foundation for Renewable Energy (No. 2021611) and Israel Science Foundation (No. 1401/15). Viraj Bhingardive thanks the Negev-Tsin Scholarship for its support.
Copyright information
© Tsinghua University Press and Springer-Verlag GmbH Germany, part of Springer Nature 2017