Sodium-doped carbon nitride nanotubes for efficient visible light-driven hydrogen production
Abstract
Sodium-doped carbon nitride nanotubes (Na x -CNNTs) were prepared by a green and simple two-step method and applied in photocatalytic water splitting for the first time. Transmission electron microscopy (TEM) element mapping and X-ray photoelectron spectroscopy (XPS) measurements confirm that sodium was successfully introduced in the carbon nitride nanotubes (CNNTs), and the intrinsic structure of graphitic carbon nitride (g-C3N4) was also maintained in the products. Moreover, the porous structure of the CNNTs leads to relatively large specific surface areas. Photocatalytic tests indicate that the porous tubular structure and Na+ doping can synergistically enhance the hydrogen evolution rate under visible light (λ > 420 nm) irradiation in the presence of sacrificial agents, leading to a hydrogen evolution rate as high as 143 μmol·h−1 (20 mg catalyst). Moreover, other alkali metal-doped CNNTs, such as Li x -CNNTs and K x -CNNTs, were tested; both materials were found to enhance the hydrogen evolution rate, but to a lower extent compared with the Na x -CNNTs. This highlights the general applicability of the present method to prepare alkali metal-doped CNNTs; a preliminary mechanism for the photocatalytic hydrogen evolution reaction in the Na x -CNNTs is also proposed.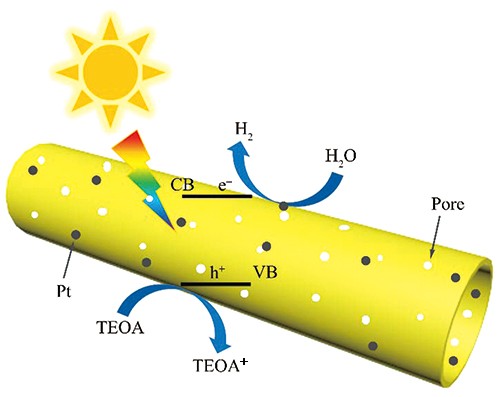 Keywords
graphitic carbon nitrides 
nanotubes 
alkali metal doping 
photocatalytic hydrogen production 
hydrothermal/thermopolymerization processes 
two-step synthesis 
Notes
Acknowledgements
The authors would like to thank the financial support from Sakura Science Program (Japan Science and Technology Agency), National Natural Science Foundation of China (Nos. 51627803, 51402348, 11474333, 91433205, 51421002, and 51372270) and the Knowledge Innovation Program of the Chinese Academy of Sciences.
Copyright information
© Tsinghua University Press and Springer-Verlag GmbH Germany, part of Springer Nature 2018