Oxygen-assisted preparation of mechanoluminescent ZnS:Mn for dynamic pressure mapping
Abstract
Mechanoluminescent materials that convert mechanical stimuli to light emission have attracted extensive attention for potential applications in human-machine interactions. Here, we report a simple and available novel approach for the oxygen-assisted preparation of ZnS:Mn particles by solid-state reaction at atmospheric pressure without the formation of the corresponding oxides. The existence of O2 has a positive impact on the formation of S vacancies in wurtzite-phase ZnS, leading to the introduction of Mn2+ ion luminescent centers and shallow donor levels, which can improve the electron-hole recombination rate. The O2 ratio and Mn2+ ion doping concentration have significant effects on the luminous efficiency, which is optimal at 1%–20% and 1 at.%–2 at.% respectively. In addition, a device based on the piezo-photonic effect with excellent pressure sensitivity of 0.032 MPa−1 was fabricated, which can map the two-dimensional pressure distribution ranging from 2.2 to 40.6 MPa in situ. This device can be applied to real-time pressure mapping, smart sensor networks, high-level security systems, human-machine interfaces, and artificial skins.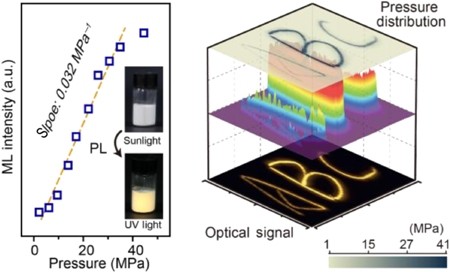 Keywords
oxygen assistance 
piezo-photonic effect 
pressure mapping 
ZnS:Mn 
Notes
Acknowledgements
The authors are thankful for support from National Natural Science Foundation of China (Nos. 51622205, 61675027, 61405040, 51432005, 61505010, and 51502018), National Key R & D project from Minister of Science and Technology, China (No. 2016YFA0202703), National Postdoctoral Program for Innovative Talents (No. BX201600040), China Postdoctoral Science Foundation Funded Project (No. 2016M600976) and the "Thousand Talents" program of China for pioneering researchers and innovative teams.
Copyright information
© Tsinghua University Press and Springer-Verlag GmbH Germany, part of Springer Nature 2018