Superelastic wire-shaped supercapacitor sustaining 850% tensile strain based on carbon nanotube@graphene fiber
Abstract
Stretchable and flexible supercapacitors are highly desired due to their many potential applications in wearable devices. However, it is challenging to fabricate supercapacitors that can withstand large tensile strain while maintaining high performance. Herein, we report an ultra-stretchable wire-shaped supercapacitor based on carbon nanotube@graphene@MnO2 fibers wound around a superelastic core fiber. The supercapacitor can sustain tensile strain up to 850%, which is the highest value reported for this type of device to date, while maintaining stable electrochemical performance. The energy density of the supercapacitor is 3.37 mWh·cm–3 at a power density of 54.0 mW·cm–3. The results show that 82% of the specific capacitance is retained after 1,000 stretch–release cycles with strains of 700%, demonstrating the superior durability of the elastic supercapacitor and showcasing its potential application in ultra-stretchable flexible electronics.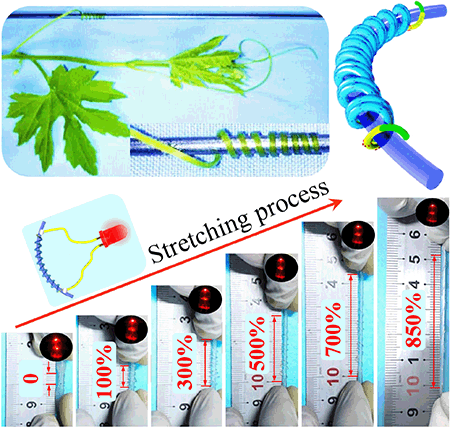 Keywords
ultra-stretchable supercapacitor 
carbon nanotube fiber 
helix structure 
flexible energy device 
bionic 
Notes
Acknowledgements
This work was supported by the National Natural Science Foundation of China (Nos. 51422204, 51372132, and 51672153) and the National Basic Research Program of China (Nos. 2016YFA0200103 and 2013CB228506).
Copyright information
© Tsinghua University Press and Springer-Verlag GmbH Germany, part of Springer Nature 2017