Strain-induced band gap engineering in layered TiS3
Abstract
By combining ab initio calculations and experiments, we demonstrate how the band gap of the transition metal trichalcogenide TiS3 can be modified by inducing tensile or compressive strain. In addition, using our calculations, we predicted that the material would exhibit a transition from a direct to an indirect band gap upon application of a compressive strain in the direction of easy electrical transport. The ability to control the band gap and its nature could have a significant impact on the use of TiS3 for optical applications. We go on to verify our prediction via optical absorption experiments that demonstrate a band gap increase of up to 9% (from 0.99 to 1.08 eV) upon application of tensile stress along the easy transport direction.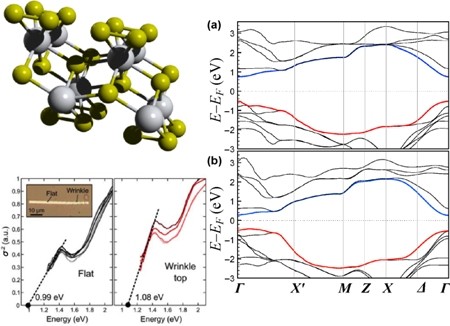 Keywords
band gap engineering 
titanium trisulfide 
2-D materials 
strain 
Notes
Acknowledgements
R. B. and R. D'A. acknowledge financial support by the projects DYN-XC-TRANS (No. FIS2013-43130-P), SELECT-DFT (No. FIS2016-79464-P), the Grupo Consolidado UPV/EHU del Gobierno Vasco (No. IT578-13), and NANOTherm (No. CSD2010-00044) of the Ministerio de Economia y Competitividad (MINECO). R. B. acknowledges the financial support of Ministerio de Educacion, Cultura y Deporte (No. FPU12/01576). R. D'A. is grateful to the Physics Department of King's College London for its hospitality during the completion of this work supported by the Grant No. MV- 2015-1-17 of the Diputacion Foral de Guipuzkoa. A.C.-G. acknowledges financial support from the European Commission under the Graphene Flagship, contract CNECTICT-604391 and from the MINECO (Ramón y Cajal 2014 program RYC-2014- 01406 and MAT2014-58399-JIN) and from the Comunidad de Madrid (MAD2D-CM Program (S2013/MIT-3007)). G. R.-B. acknowledges financial support from the Grant No. MAT2014-57915-R from the MINECO. The MIRE group acknowledge financial support from MINECO (No. MAT2015-65203R) and E. F. thanks the Mexican National Council for Science and Technology (CONACyT) for providing a PhD. Grant.
Copyright information
© Tsinghua University Press and Springer-Verlag GmbH Germany 2018