N-doped carbon-stabilized PtCo nanoparticles derived from Pt@ZIF-67: Highly active and durable catalysts for oxygen reduction reaction
Abstract
The development of catalysts with high activity and durability for the cathodic oxygen reduction reaction (ORR) in both alkaline and acidic media is important for improving the performance of the proton exchange membrane (PEM) fuel cells. This can be achieved by dispersing Pt-based alloy nanoparticles inside N-doped porous carbon frameworks. However, it still requires the development of a facile method towards synthesizing this unique hybrid structure. In this work, we demonstrate that N-doped carbon-stabilized PtCo nanoparticles (PtCo@NC) can be facilely synthesized via thermal decomposition of Pt-incorporated Co-based zeolitic imidazolate framework (Pt@ZIF-67). The thickness of the carbon framework can be optimized to enable excellent durability, in sharp contrast to a commercial Pt/C catalyst. The mass activities achieved by optimizing the thickness of the carbon framework are 0.80 and 0.82 A·mgPt –1 at 0.9 V vs. RHE in alkaline and acidic electrolytes, respectively, which are nearly 8 times greater than those of the Pt/C. This work provides an alternative approach to low-cost and high-performance catalysts for both alkaline and acidic fuel cells.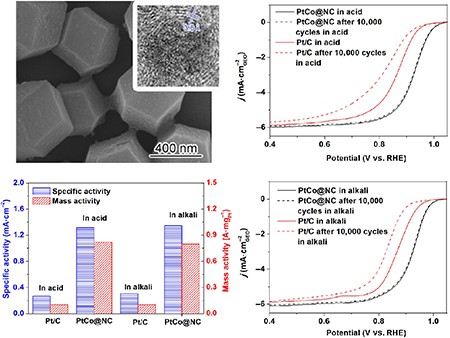 Keywords
oxygen reduction reaction 
PtCo nanoparticles 
ZIF-67 
N-doped carbon 
metal organic frameworks 
Notes
Acknowledgements
This work was financially supported by the National Natural Science Foundation of China (Nos. 21471141, U1532135, 21573212, and 21601173), CAS Key Research Program of Frontier Sciences (No. QYZDB-SSWSLH018), CAS Interdisciplinary Innovation Team, Recruitment Program of Global Experts, CAS Hundred Talent Program, Anhui Provincial Natural Science Foundation (Nos. 1608085QB24 and 1508085MB24), Natural Science Foundation of Anhui Education Department (No. 2015KJ015) and Fuyang Normal College Natural Science Foundation (No. 2013FSKJ21).
Copyright information
© Tsinghua University Press and Springer-Verlag GmbH Germany 2017