Surface states in TiO2 submicrosphere films and their effect on electron transport
Abstract
Owing to their special three-dimensional network structure and high specific surface area, TiO
2
submicrospheres have been widely used as electron conductors in photoanodes for solar cells. In recent years, utilization of TiO
2
submicrospheres in solar cells has greatly boosted the photovoltaic performance. Inevitably, however, numerous surface states in the TiO
2
network affect electron transport. In this work, the surface states in TiO
2
submicrospheres were thoroughly investigated by charge extraction methods, and the results were confirmed by the cyclic voltammetry method. The results showed that ammonia can effectively reduce the number of surface states in TiO
2
submicrospheres. Furthermore, in-depth characterizations indicate that ammonia shifts the conduction band toward a more positive potential and improves the interfacial charge transfer. Moreover, charge recombination is effectively prevented. Overall, the cell performance is essentially dependent on the effect of the surface states, which affects the electron transfer and recombination process.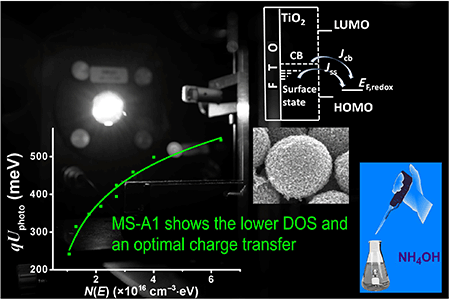 Keywords
surface states 
TiO2 submicrospheres 
solar cells 
charge extraction methods 
cyclic voltammetry 
Notes
Acknowledgements
This work was supported by the National High-tech R&D Program of China (No. 2015AA050602), the External Cooperation Program of BIC, Chinese Academy of Sciences (No. GJHZ1607), the National Natural Science Foundation of China (Nos. U1205112, 51572080 and 21273242) and Natural Science Foundation of Anhui Province (No. 1508085SMF224).
Copyright information
© Tsinghua University Press and Springer-Verlag GmbH Germany 2017