Amorphous nickel-iron oxides/carbon nanohybrids for an efficient and durable oxygen evolution reaction
Abstract
Highly efficient and durable water oxidation electrocatalysts are critically important in a wide range of clean energy technologies, including water electrolyzers and rechargeable metal-air batteries. Here, we report a novel sonochemical approach to synthesize amorphous nickel-iron oxides/carbon nanohybrids with tunable compositions for the oxygen evolution reaction (OER). The sonochemically synthesized amorphous electrocatalysts with optimal composition exhibit a low overpotential of 290 mV at 10 mA·cm−2 and a Tafel slope of 31 mV·decade−1 in a 0.1 M KOH electrolyte, outperforming the benchmark RuO2 catalyst. Meanwhile, these nanohybrids are also highly stable and remain amorphous even after prolonged cycling. In addition to amorphism, sonochemistry endows as-prepared nickel-iron oxides/carbon nanohybrids with a simultaneously formed carbon scaffold and internal Ni(0), which can enhance the stability and activity for the OER. This work demonstrates that sonochemistry is a unique method for synthesizing amorphous metal oxides toward an efficient and durable OER.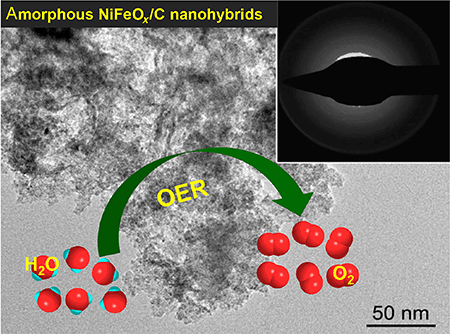 Keywords
amorphous metal oxides 
electrocatalysis 
oxygen evolution reaction 
sonochemistry 
X-ray absorption near edge structure 
Notes
Acknowledgements
We thank the Photoemission Endstation (BL10B) in National Synchrotron Radiation Laboratory (NSRL) for collecting X-ray data. This work was supported by the National Key Basic Research Program of China (Nos. 2015CB351903 and 2014CB848900), the National Natural Science Foundation of China (Nos. 21474095, 11574280, 11605201, and U1532112), CAS Key Research Program of Frontier Sciences (No. QYZDB-SSW-SLH018), and the Fundamental Research Funds for the Central Universities.
Copyright information
© Tsinghua University Press and Springer-Verlag Berlin Heidelberg 2017