Effect of interface on mid-infrared photothermal response of MoS2 thin film grown by pulsed laser deposition
Abstract
This study reports on the mid-infrared (mid-IR) photothermal response of multilayer MoS2 thin films grown on crystalline (p-type silicon and c-axis-oriented single crystal sapphire) and amorphous (Si/SiO2 and Si/SiN) substrates by pulsed laser deposition (PLD). The photothermal response of the MoS2 films is measured as the changes in the resistance of the MoS2 films when irradiated with a mid-IR (7 to 8.2 μm) source. We show that enhancing the temperature coefficient of resistance (TCR) of the MoS2 thin films is possible by controlling the film-substrate interface through a proper choice of substrate and growth conditions. The thin films grown by PLD are characterized using X-ray diffraction, Raman, atomic force microscopy, X-ray photoelectron microscopy, and transmission electron microscopy. The high-resolution transmission electron microscopy (HRTEM) images show that the MoS2 films grow on sapphire substrates in a layer-by-layer manner with misfit dislocations. The layer growth morphology is disrupted when the films are grown on substrates with a diamond cubic structure (e.g., silicon) because of twin growth formation. The growth morphology on amorphous substrates, such as Si/SiO2 or Si/SiN, is very different. The PLD-grown MoS2 films on silicon show higher TCR (−2.9% K−1 at 296 K), higher mid-IR sensitivity (ΔR/R = 5.2%), and higher responsivity (8.7 V·W–1) compared to both the PLD-grown films on other substrates and the mechanically exfoliated MoS2 flakes transferred to different substrates.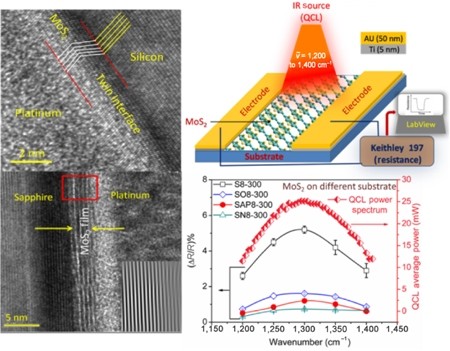 Keywords
MoS2 
pulsed laser deposition 
photothermal effect 
infrared (IR) detector 
interface 
Notes
Acknowledgements
This work was supported by the Canada Excellence Research Chair (CERC) program (No. SF0926). The authors acknowledge the characterization facilities provided by Alberta Centre for Surface Engineering & Sciences (ACSES), Oil Sands & Coal Interfacial Engineering Facility (OSCIEF) and the Nanofab at the University of Alberta. Authors also thank Mr. Richard Hull for useful discussions on noise analysis. Discussions with Dr. Naresh Miriyala regarding substrate-film interface was illuminating. Mr. Abinash Tripathy from Indian Institute of Science, Bangalore for carrying out the PL measurement and Mr. Kalvin Schofield from (CME U of A) for I–V and electrical measurements were gratefully acknowledged.
Copyright information
© Tsinghua University Press and Springer-Verlag GmbH Germany 2017